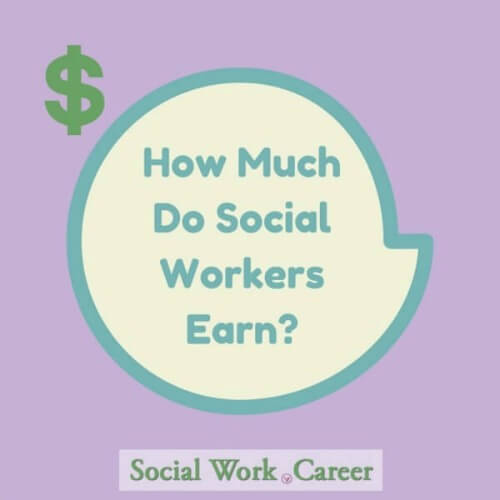 To answer this question, I looked at figures from two sources: the National Association of Social Workers (NASW) and Indeed.com. Regretfully, both sources seem to provide different numbers…
According to a 2009 study commissioned by the NASW (results of which were released in May 2010), social workers with less than 5 years experience have a median annual salary of $43,700; those with 10-19 years earn $52,000; and those with 20-29 years earn $60,000.
Interestingly, this is the range provided for social worker salaries on Indeed.com:
Government $97K
Supervisory Social Worker $92
Supervisor Social Worker $91
Social Worker Hud Vash $82K
Clinical Social Worker $65K
Social Worker $65K
Social Worker MSW $61K
Psychiatric Social Worker $60K
Social Worker Case Manager $58K
Senior Social Worker $50K
Social Work Supervisor $48K
Licensed Social Worker $48K
Eligibility Social Worker $38K
Residential Social Worker $36K
Client Social Worker $18K
The titles in this list with their respective compensation levels do not necessarily make sense though. A social worker with a Master's degree is listed at $61K vs. a social worker with an unspecified degree at $65K.
The learning that I think we may take away from this list is that there is a wider range of compensation available to social workers than indicated by the NASW study.
Furthermore, this wide variation means that if we want to increase our likelihood of being paid on the higher end, we had better arm ourselves with better credentials, licensing and experience.
In addition, I suspect that we need to engage some advocating skills on our own behalf during interviews with potential employers. Unless we want to be stuck on the low end, it is critical to negotiate our starting salary to be as close to the highest end of the starting range as possible.
Lastly, some of the differences between the two sources may be explained by the fact that some surveys excluded social workers with graduate degrees and some may be attributed to variances by region. To see my post on the breakdown by region, social work practice and type of setting, click on Social Worker Pay By Type of Setting, Practice Area & Region.
I hope you found this information helpful. How do you feel about this compensation range? Do you feel that it is fair given the amount of time and education that social workers need to invest in order to move up the ladder, so to speak? Do you know of other (perhaps better) compensation sources for social workers? Please share any thoughts or comments you have below.
June 2013 update: To find out pay differences by gender and setting, or by educational attainment and experience, check out:  Do You Earn Above or Below Average for a Social Worker?.
January 2016 update: To get the most recent negotiation advice, try out one of the below listed salary tool calculators:
National Wage Data
PayScale
Salary
Salary Expert
Like this post? Please share it!
Sources:
NASW Compensation Study
Indeed Source of Income on Social Workers