Are you looking for some quotes to inspire and motivate you?
Here are 20 inspiring quotes that are especially apropos for those who are looking to make a difference, or are thinking about making an important change in their life…
Also make sure to check out 25 Social Workers Share Why They Love Social Work!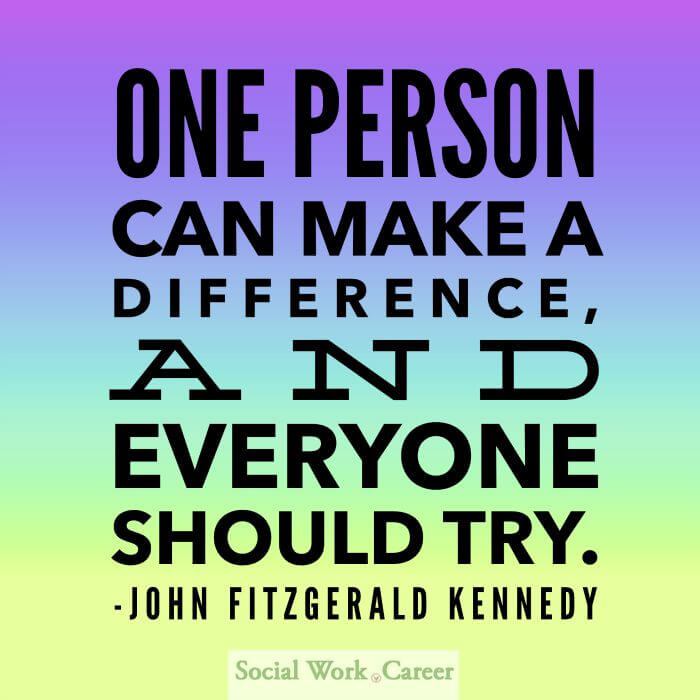 One person can make a difference, and everyone should try. – John Fitzgerald Kennedy
 Do what you can, with what you have, where you are. – Theodore Roosevelt
The time is always right to do what is right. – Martin Luther King, Jr.
Each time a man stands up for an ideal, or acts to improve the lot of others, or strikes out against injustice, he sends forth a tiny ripple of hope… and crossing each other from a million different centers of energy and daring those ripples build a current that can sweep down the mightiest walls of oppression and resistance.  – Robert F. Kennedy
The greatest good you can do for another is not just share your riches, but reveal to them their own. – Benjamin Disraeli 
At this very moment, there are people only you can reach…and differences only you can make. –
Mike Dooley
Never, never, be afraid to do what's right, especially if the well-being of a person or animal is at stake. Society's punishments are small compared to the wounds we inflict on our soul when we look the other way. – Martin Luther King, Jr.
It is not only for what we do that we are held responsible, but also for what we do not do. – Moliere
It is one of the most beautiful compensations of this life that you cannot sincerely try to help another without helping yourself. – Ralph Waldo Emerson 
Diversity makes for a rich tapestry. We must understand that all the threads of the tapestry are equal in value, no matter their colour; equal in importance no matter their texture. – Maya Angelou
How wonderful it is that nobody need wait a single moment to improve the world. – Anne Frank 
There is no greater joy nor greater reward than to make a fundamental difference in someone's life. – Mary Rose McGeady
True peace is not merely the absence of tension, it is the presence of justice. – Martin Luther King
The price of inaction is far greater than the cost of making a mistake. – Meister Eckhart
 No act of kindness, however small, is ever wasted. – Aesop

 

Constant kindness can accomplish much. As the sun makes ice melt, kindness causes misunderstanding, mistrust and hostility to evaporate. – Albert Schweitzer
 Everyone has a purpose in life…a unique gift or special talent to give to others. And when we blend this unique talent with service to others, we experience the ecstasy and exultation of our own spirit, which is the ultimate goal of all goals.  – Deepak Chopra
I've come to believe that each of us has a personal calling that's as unique as a fingerprint – and that the best way to succeed is to discover what you love and then find a way to offer it to others in the form of service, working hard, and also allowing the energy of the universe to lead you. –
Oprah Winfrey
Ignoring your passion is like dying a slow death…Passion whispers to you through your feelings, beckoning you toward your highest good. Pay attention to what makes you feel energized, connected, stimulated- what gives you your juice. Do what you love, give it back in the form of service, and you will do more than succeed. You will triumph. – Oprah Winfrey
Life is either a daring adventure, or it is nothing. – Helen Keller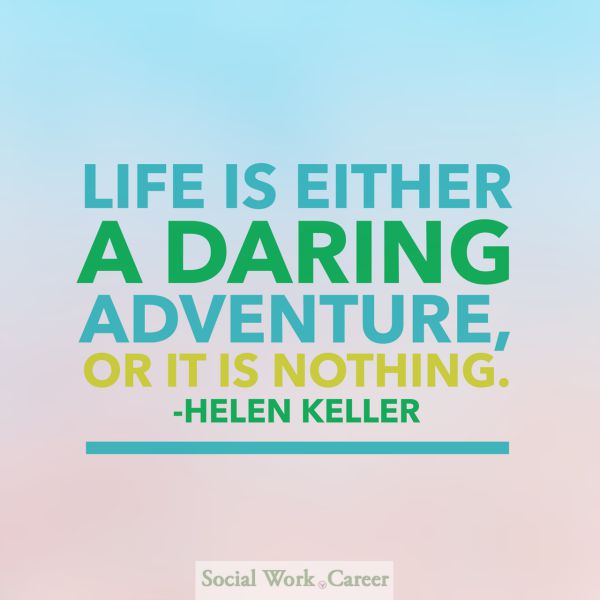 What do you think of these quotes? Is there one quote that speaks to you in particular and if so, how? Do you have any other motivating quotes that you'd like to share?