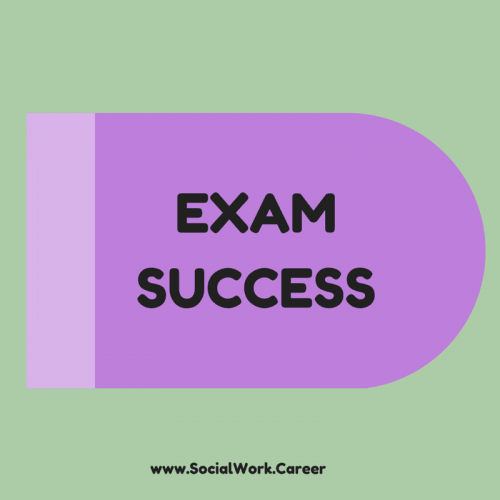 Are you looking for some good study guide tools to help you pass the LMSW exam?
This post will provide you with links to free sample practice exams, as well as helpful study guide tools and information about a wonderful google+ hangout study group.
Below are links to sites that allow you to take a Free Sample Practice Exam:

AATBS
Academic Review
LEAP
SWES
Socialworkexam.com Daily Quiz Question
Socialworkexam Practice Test
Social Work Exam Zone – 20 practice questions
Each of these sites provide free access to one free sample exam because they are hoping that you will become interested in paying for access to their additional practice exams and/or study course.
Helpful Study Guides/Tools
LMSW flashcards – are helpful for quick reviews; there are tons of free flashcards for all the content areas covered in the social work licensure exams.
Erikson's Theory of Psychosocial Development – Erik Erikson's theory and a quiz to test your knowledge of it.
LCSW Study Buddy blog – covers the ego defense mechanisms with easy-to-understand examples, and provides nice comparison charts of Erikson's vs. Freud's stages of development
Studying for the Clinical Social Work Exam blog – jessbp provides very thorough posts that follow the content areas in the ASWB "Content Outlines & KSAs" booklet.
Social Work Podcasts – excellent podcasts covering some of the subject areas covered on exam
How to Avoid Choking Under Pressure to Perform – podcast to listen to to address test anxiety 
Participate in a Google+ Study Group
Step 1: Join Google+  (watch this video for an intro to Google+ )
You can either join google+ on your own or you can ask for an invitation from Cam Murdock, the study group's leader, to join. To do so, you will need a gmail email account.

If you want to ask Cam for the invite, send an email from your gmail email account to LCSWStudyGroup@gmail.com.

Alternatively, if you are already on google+, simply circle Cam Murdock.
Step 2: Participate in Study Group  (watch this video for info on how to join a google+ hangout)
Log in to Google+ at group's study times 3x/week on Mondays, Wednesdays and Fridays at 6:00 PM PST.
In the middle section, the Stream, you will see a blue button that says "JOIN THIS HANG OUT?" Click on that and you will be instantly connected to the group.
Are there any additional tips or suggestions that should be added to this list? 
Also, if you use some of these resources, could you please come back and share your experience? This way, the rest of the community will be updated on how helpful these resources are etc.