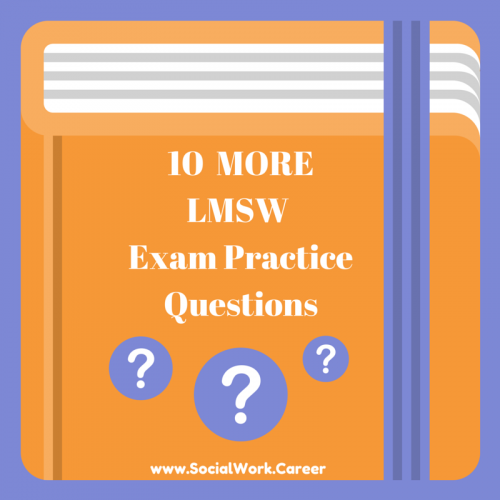 Would you like to test out your knowledge on some more LMSW (ASWB) exam questions?
Below are another 10 questions that we went over during a review class at my school:
1. The phase of the helping process which leads to subsequent implementation of intervention is:
a. exploration and summation
b. exploration, assessment and planning
c. initiation of established rapport
d. clarification and analysis
2. When reviewing a social worker's performance, the supervisor notes that the social worker conveys little empathy toward clients who have recently left welfare and holding first jobs. In order to help the social worker develop empathy with her clients, the supervisor should:
a. explain welfare-to-work procedures from the client's perspective
b. suggest the social worker enter therapy to become a more empathetic person
c. model empathetic communication when engaging with the social worker
d. clarify the agency's reason for supporting these clients

3. The purpose of feedback in a social worker interview is to:
a. allow the social worker to confront distortions in the client's thinking
b. summarize main points of the interview
c. let the client know social worker understands the issue
d. give the social worker opportunity to self-disclose for benefit of the client
4. A social worker is leading a women's group with the purpose of improving personal and environmental circumstances. The social worker asks the members to identify the area in which they feel most competent. The social worker is following an intervention strategy BEST described as:
a. reinforcement
b. endorsement
c. enhancement
d. empowerment
5. The BEST example of the educational component of supervision is:
a. monitoring the caseload
b. providing in-service training
c. utilizing individual and group conferences
d. refining knowledge and skills

6. In facilitating a hospital support group for bereaved parents, a social worker can discuss a personal experience of a death of a child to:
a. create empathy with the participants
b. receive help from the group
c. create a sense of shared experience
d. establish role as expert on grief issues
7. The primary role of a social worker is:
a. building rapport
b. providing support systems
c. acting as a resource
d. curing emotional or mental dysfunction
8. A client with a history of drug abuse was referred to a social worker by a concerned relative. The social worker should FIRST:
a. conduct a family interview
b. begin treatment, focusing on the reason for the drug abuse
c. refer the client for substance abuse treatment
d. evaluate the client's motivation for change
9. In adult survivors of childhood sexual abuse, the most frequently encountered defense mechanism is:
a. denial
b. intellectualism
c. suppression
d. projection
10. Which of the following approaches would be MOST appropriate to use in evaluating client satisfaction with the social worker's provision of services?
a. using a single system design, evaluating the quality of services
b. in the final interview, ask the clients about their level of satisfaction
c. through process recordings, ask the supervisor for feedback
d. at termination, ask clients to complete a services evaluation and satisfaction form
1. b 2. c 3. c 4. d 5. d 6. c 7. c 8. c 9. a 10. d
I'm hoping that you found these additional practice questions helpful.
Please share your comments below 🙂
SaveSave
SaveSave