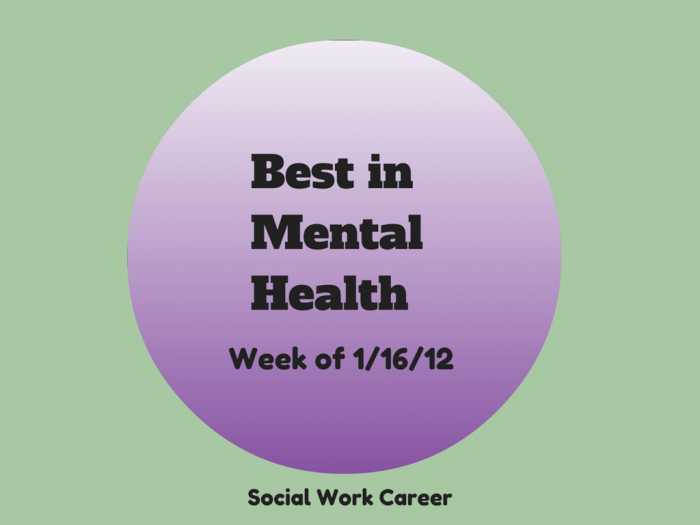 I'm watching twitter, google+ and the web so you don't have to…
This post is part of a weekly series, Best in Mental Health, featuring the best posts of the week, in social work, psychology, evidence-based practice/healthcare, non-profit and private practice concerns on Social Work Career Development.
Topics this week include: the integration of health care and mental health, the pursuit of social justice in honor of Martin Luther King, mindfulness, dialectical behavior therapy (DBT), helpful tips for looking for looking for employment within the nonprofit sector, ways to build/run your private practice and more…
Evidence Based Practice/Healthcare:
Payment by results and personalization may undermine each other, according to new report
The Mental Elf (Andre Tomlin)
"The approach being taken to introduce payment by results in mental health care is to cluster people into groups according to their needs and clinical description. Personalization is concerned with people having greater control over their services…"
Why engagement in healthcare will change the game
Occupy Healthcare
"When engaged, and a relationship is formed, both the provider and the patient better see the others needs. They become acutely aware of the issues that impact on health (and also the delivery of service)… It becomes less about me and more about "we"…"
Social Work:
Advice-Giving
College of Social Work (Daisy Bogg)
"For me the value of advice-giving is not about social workers imposing their knowledge on others, but rather social workers sharing knowledge with each other and those they support, making sure that the individual, family or community has…"
Article about racial identity in transracial adoption
JaeRan Kim
What we find is that parents are pretty good about the culture part, but not very good about the race part," Victor Groza, professor of parent-child studies at Case Western Reserve University, said. "They don't recognize racism."
Communication Blockers
Cathy Hanville, LCSW
"I will start by reviewing communication blockers. These are all the things we do when we are not willing to communicate with another person… Interrupting – When you interrupt, you do not allow the other person to tell their side which indicates…"
I Am Not Sure How To Tell You This: Delivering Unwelcome News
New Social Worker (Misty L. Wall, Ph.D, LCSW)
"A great deal of work happens before you actually meet with the client to deliver the bad news, and you can use four simple steps (pause, react, evaluate, plan—or PREP) to prepare to deliver challenging news…"
First Contact
Going Mental (Nectarine)
"Meeting a new client for the first time can present many challenges.  Not least of these is figuring out WHO you are meeting.  I mean this literally – as I rarely see clients in the office, and won't go into their home until I know them a bit…"
From Clicktivism to Activism
The Not So Big Society (Ermintrude2)
"Actions don't have to be running 160 miles (fortunately!)… The presence of main stream media particularly on 'Twitter' and skilful promotion and dessemination has a real value but sometimes, it's necessary to move beyond the 'click of support'…"
How social workers fit into health care
Health Relay (Laura Gabbay)
"Betsy Clark, executive director of the NASW, predicted that public health social work may be the future of social work… Partnering social workers with primary care providers addresses some important challenges to the successful integration of mental health…"
Integrating Health & Social Care: How Can Social Work Meet the Challenge?
Social Work/Social Care & Media (Dr. Nancy Smyth)
"Among other things, the problem with most Western health systems is that they were created on a Western paradigm of illness, that is, one that assumes an agent that causes an acute condition and that this condition can be eradicated with the correct drug or surgical procedure…"
Justice is Every Step: How all kinds of social work can advance social justice
Classroom to Capitol (Megan Hope)
"Indeed, in our criticism of direct services and clinical interventions as superficial or soft, I think we inadvertently dismiss the real, felt, multilevel needs of people; wrongly assume that they don't understand how systems work… or think micro-level work can't be political…"
Looking for Justice
Practice Wisdom (Natalie L. Hill, LICSW)
"On the positive side, we've seen an upsurge in community organizing and activism worldwide, from the "Arab Spring" revolutions, to the Occupy movement. The former has not fully realized the goal of justice, but has moved in that direction…"
Reclaiming Good Supervision
How not to do Social Work
"The obvious factor for supervision is that you are not disturbed… The other important barrier in supervision itself is an anxious worker or even anxious Manager. These feelings can quickly take up a major part of the supervision process…"
Social workers and the discussion of social policy with clients
Diary of a Social Worker (Dave Ray)
"The difference and similarities between policy and purpose of a social program are often very subtle, and if it helps a client take better advantage of a program in terms of their forward progress, I'm glad to utilize this a tool that improves rapport and client motivation…"
To Serve
N.A.H. (Relando Thompkins, MSW)
"I love Dr. King's words on service… No matter what your position is, no matter what your interests are, you can be great, because you can serve… I'm a firm believer that our life experiences and challenges can sometimes enhance our abilities to help others… "
You down with MLK?
SocialJerk
"Dr. King reminds us of an extremely important part of our profession–a commitment to social justice. Without this component, social work is incomplete. We see the same problems, day in and day out…"
Psychology:
10 Practical Examples of Opposite Action – Part One
Laura Schenck, M.A.
"Dialectical Behavior Therapy (DBT) encourages the use of opposite action when emotions are maladaptive, harmful, or overwhelming in some way… We are all capable of a wide variety of complex emotions, but most of us have patterns or habits…."
Anxiety Symptoms, Mindfulness and the Enlargement of the Self
After Psychotherapy (Joseph Burgo, PhD)
"For me, the quiet of mindfulness is not the goal in itself, a kind of enlightenment, but rather a means to silence my defense mechanisms and focus on the emotional experience that lies behind them…"
After the Crisis
Dr. Ann Becker Schutte
"Whether you are talking about grieving, or talking about how life gets radically restructured after medical emergencies, moments of crisis change our lives.  And the growing pains that result from that change can last for a really long time…"
How To Succeed At Work With Schizophrenia
HealthyPlace (Dan Hoeweler)
"Working, while living with Schizophrenia, is a great challenge and many are not at the point were having a job is a viable option.  There are those, however, who could work, given a proper environment, good medical treatment and a supportive community…"
Interview with a Foster Parent
The Trauma and Attachment Report (Noam Bin-Noon)
"When they first arrive, children are mostly in denial and are certain that soon they will get back to their parents… A child who hasn't moved around much will be able to form a stronger relationship with us than a child who went through several homes…"
January is Stalking Awareness Month
Dr. Deb (Dr. Deborah Serani)
"According to data in the United States, 1 in 12 women and 1 in 45 men will be stalked in their lifetime… It's important to know that a stalker can be anyone, male or female, a stranger or someone familiar… Stalking can occur in real time, and even in cyberspace…"
Toxic Couple Relationships – 5 Steps to Breaking-Free of Toxic Patterns, Healing & Restoring Balance, 4 of 4
Neuroscience and Relationships (Dr. Athena Staik)
"Here are 5 steps to get you started in putting together an action plan that can serve as a springboard for considering healthier options – and making conscious choices to stay free of toxic relating patterns. 1. Cultivate awareness of one another's triggers…"
What's the Worst Mental Illness?
Bipolar Burble (Natasha Tracy)
"That depends on how you judge it. You could judge it by suicide rate, in which case: Anorexia is the worst with about a 20-25% suicide rate; Bipolar is second worst with about a 15% suicide rate; Schizophrenia is third worst with about a 10% suicide rate…"
When Help isn't Helpful: Holding onto Hope after a Bad Therapy Experience
Dr. Greg Hinkle
"Every therapist has a "range of competence", that is, we work well with certain people in certain situations. A good therapist has a wide range of competence, but we still have blind spots or areas of limitation…  the mere fact that the therapy (or medication) didn't work out can mean so many things…"
'Your Life After Trauma' Radio: Leaving Your Trauma Behind and Reclaiming Your True Nature
Heal My PTSD (Michele Rosenthal)
"This week, expert coach, Martha Beck, Ph.D., joins us to discuss her new book that gives a simple plan for reclaiming your natural self. Plus, survivor Debbie Schmidt joins us to explain how she released the past and learned to live with uncertainty…"
Nonprofit:
11 Tips for a Successful Nonprofit Job Search
Rosetta Thurman
"Here are a few ideas for how you might go about launching a successful search if you're seeking a nonprofit job right now or in the near future. 1. Get clear on what you're good at: Here are some tools to use: VIA Character Strengths Assessment… StrengthsFinder 2.0…"
Private Practice:
A Tale of Two Conferences
Gamer Therapist (Mike Langlois, LICSW)
"There needs to be at least a sense of mutual value, mutual ROI that has to come from the speaker and the speaking engagement… Your time is valuable and limited, and you need to set the tone for that…"
Are You Comfortable Asking Clients For Money?
Private Practice Toolbox (Julie Hanks, LCSW)
"Here are a few things I've learned to help you get more comfortable with money in your private practice: Value your expertise; Ask for payment at the beginning of the session; Set firm payment policies and stick to them; Write a money script and practice it…"
Skiing and Business Advice: "Go Faster if You Want to Make the Jump!"
Dr. Susan Giurleo
"Just like AJ needed more speed and momentum to safely clear his ski jump, you need more speed and momentum to leap from where you are now to where you want to be… Sitting in a perpetual state of "deciding" and "thinking about it" won't…"
Skype-Assisted Therapy – How Secure Is It?
Private Practice from the Inside Out (Tamara Suttle, M.Ed., LPC)
"When it comes to hacking, anything is theoretically possible. However, given the encryption that Skype uses, it [listening in to a conversation] would be extremely difficult to do so… I am not an attorney, but I would argue that if a phone line is secure enough…"
Please share any thoughts or comments you have below. Also, feel free to mention any great posts that I may have missed.