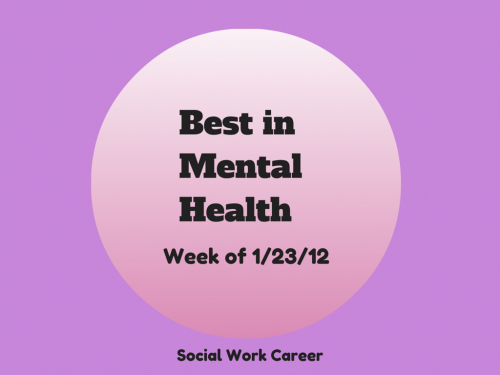 I'm watching twitter, google+ and the web so you don't have to…
This post is part of a weekly series, Best in Mental Health, featuring the best posts of the week, in social work, psychology, evidence-based practice/healthcare, non-profit and private practice concerns on Social Work Career Development.
Topics this week include: problems with the way our current healthcare system is set up, partner/child abuse, the value of process recordings, harnessing the power of observation, what is a healthy ego, facing pain/trauma and the loss of a sibling.
In addition, the importance of finding a terrific supervisor as well as how to find one, information on two scholarship/fellowship opportunities, building/running your private practice and much, much more…
Evidence Based Practice/Healthcare:
Including the voice of the patient in healthcare part 2: Organizational decision making
Occupy Healthcare
"Providers, caregivers, and leaders of healthcare organizations have a limited view of the operations and performance of the organization they work with… Whatever the process that is used, including the voices of those that are served by the organization is essential…"
Unicorns, my anus*, and healthcare for all: Three things adults don't discuss in polite conversation
Occupy Healthcare (Dr. April Foreman)
"The current healthcare system requires insurance, and lots of advance notice and bureaucracy for regular primary healthcare to be delivered. My family is lucky. This experience is a fluke, and we'll have access to this care shortly. But anyone with fewer resources is stuck…"
Social Work:
Attitudes Toward Intimate Partner Violence Among Women in Kazakhstan, Kyrgyzstan, and Tajikistan (podcast)
Living Proof Podcast (UB School of Social Work)
"In episode 88, Dr. Manisha Joshi describes her research regarding the role of changing attitudes related to intimate partner violence (IPV)… Dr. Joshi discusses what she has learned about the context in which IPV occurs… and its impact on help-seeking…"
Bearing Witness to the Pain of Child Abuse Survivors
From Where I Stand (Andrea B. Goldberg, LCSW)
"The intergenerational impact of childhood abuse is staggering. When parents abuse their children, it is unfortunately common for the children to end up marrying abusers or become abusers themselves – and the abuse is passed on… until somebody breaks the cycle by seeking help…"
Benefit Caps and the Politics of Envy
The Not So Big Society (Ermintrude2)
"The game of playing the 'deserving vs undeserving poor' is one enjoyed by those in politics… Many people are losing their jobs in this recession and being unable to find other work would force people to claim benefits which they are wholly entitled to…" 
Defining 'Best Interest…
Social Work/Social Care & Media (Nick Berbiers)
"Best interest is a deeply challenging concept for social work. It can be legally defined, and yet have far broader moral, ethical, and philosophical components. The definitions can change over time, and have. There are aspects to it…some…term 'universal truths'…"
How To Get An Epic Supervisor
Gamer Therapist (Mike Langlois, LICSW)
"Most primary supervisors I know may have good skills and an interest in doing the same [integrating theory and practice and discussing difficult cases], but they don't have the time.  Their role has become reduced in the age of managed care to…"
Post Traumatic Stress Disorder and the Service Culture
The Zen Social Worker (Tim)
"We as a society are hard on our first responders and military personnel… Counselors need to be competent… establishing a therapeutic alliance is not as simple or involve the same skills it would take with a non-service member client…"
Re: Process Recordings
I See Things Upside Down (Brandi E McNeil, MSW Student)
"A major part of my supervision time with my supervisor is going over my process recordings. Supervision can be a very…personal time. I think if you're using it correctly, it requires you to lay yourself raw before this other person… "
Social Work Overview Is Crucial for Adoption Debate
College of Social Work (Amy Norris)
"Social workers and children need choice so that a family that best meets the child's needs is found. I would urge more people to consider adoption as a service to children, not as a right of the adult…"
The Power of Observation
Practice Wisdom (Natalie L. Hill, LICSW)
"Whenever someone is the treatment process, we can harness the Hawthorne Effect by judiciously adding more direct observation. For ex., having a client observe and track a target behavior, thoughts, feelings – whatever – is likely to change the frequency of the target…"
The State of the SocialJerk
SocialJerk
"As good, loyal Americans, I'm sure we all watched the State of the Union address… We have over one million students in the New York City public school system. They're not all going to graduate. I'm not talking about giving up on kids who are not succeeding…"
Thoughts on having a parent with dementia who lives far away
Cathy Hanville, LCSW
"When your family lives far away, it can be very hard to tell what is… going on… Just because you are far away and do not see your parent often does not mean that their illness doesn't affect you…negotiate how decisions will be made for the parent who is ill…"
The relationship between mindful participation and "flow"
This Is Me (spldbch)
"According to Csikszentmihalyi, only certain activities can stimulate flow. To enter a state of flow, a person must engage in an activity that is challenging, but within his ability… If we leave it to chance, flow is likely to be a state of mind that we achieve…"
Psychology:
3rd Annual Student and Faculty Scholarship Competition
Beck Institute Blog
"The Beck Institute will award 10 recipients (graduate students, postdoctoral fellows, residents, and faculty in psychology, psychiatry, social work, nursing, and counseling) with full tuition scholarships to our 3-day Student and Faculty Workshop…"
Autism Symptoms Get a Second Look
After Psychotherapy (Joseph Burgo, PhD)
"the autistic defense seeks to shut out the world because it feels far too threatening to acknowledge it. In one way or another, the autistic finds contact with the outside world catastrophic, and through characteristic defensive maneuvers, seeks to shut out the awareness of that separate world…"
Be Good and Don't Die: Stressors in Child Bereavement
The Trauma and Attachment Report (Tessie Mastorakos)  
"When a child dies, the surviving children each respond in their own unique way… There is often a role reversal, where the child begins looking after their parents… The child is forced to meet the emotional and psychological needs of their parents…"
Dr. Oz Show – The Shock That Could Save Your Life – Electroshock Therapy for Depression
Bipolar Burble (Natasha Tracy)
"I'm going to talk a little about the Dr. Oz show's representation of electroshock therapy and add a few additional facts… What the Dr. Oz show did right: Represented the modern procedure accurately…; Tried to reduce stigma and fear and increase awareness…"
Ego Versus Ego-Strength: The Characteristics of Healthy Ego
Neuroscience and Relationships (Dr. Athena Staik)
"the term ego can take on different meanings depending on where it falls on a continuum between a healthy ego, on the one end of the spectrum, and an unhealthy one on the other… "ego-strength' refers to the resiliency or strength of your core sense of self…"
Mental Illness Diagnosis Removes Responsibility from the Patient
HealthyPlace (Natasha Tracy)
"What I am saying is that if you're not doing the work you certainly aren't going to get better. And your responsibility – as a person who wants to be well – is to do everything in your power to get well… Choosing health means making good decisions all day…"
NAMIWalks Makes Mental Illness Awareness a Community Issue
Nami Blog (Blair A. Young)
"From the very beginning of the NAMI movement, part of the challenge was always the need to educate the public about serious mental illness—to let people know that mental illness… is an illness like any other, that it is indiscriminate in nature…"
Remember, You Are Free, Even When You Accept Help
A Friend to Yourself (Sana Johnson-Quijada, MD)
"None of the tools we use are meant to been seen, when looked at, alone as a weapon to box us up.  They are each in turn just a tool to be used to improve our ability to be friendly with ourselves… We build suspicions when things work that well…"
So Much Pain
Dr. Ann Becker Schutte
"In this post, I wanted to explore some steps to take when you feel like there is so much pain facing you that you don't know a way forward… Focus on your breathing, find something to touch…Make sure that you are doing as much as you can to manage your basic self-care…"
Understanding Lip Service
American Counseling Association (Jennifer Bingaman)
"As I learned, lip service is what the client says to everyone when they are in the throes of their addiction. It's not quite a lie and it's not quite the truth… So when they say… "This is the last time I drink," they truly believe it will be the last time they drink…"
Why and How the Body Holds Trauma – And How To Release It
Your Life After Trauma (Michele Rosenthal)
"If you haven't already read Levine's amazing book, Waking the Tiger: Healing Trauma, that should be the first book on your reading list…  is full of information… that illuminate in-depth how the body responds to trauma, and then how we can respond to the body to help it process trauma out…"
Nonprofit:
What Do Facebook's New Timeline Apps Mean for Nonprofits?
Beth's Blog (Beth Kanter)
"…I think the greatest Timeline app benefit is in the information the nonprofit will gain about app users, and how committed a supporter is to the cause... Open Graph is particularly exciting for those of us in the social good space because awareness-raising and advocacy are often core to the work we do…"
Young Business Professionals: Applications Open for ProInspire Nonprofit Fellowship Program
Rosetta Thurman
"This highly competitive program offers targeted positions with leading nonprofits, monthly trainings with a cohort of peers, a coach, and a network to support career growth. Previous ProInspire Fellows come from across the U.S…"
Private Practice:
Behind the Curtain: My Business Plan for 2012
Dr. Susan Giurleo
"I can't sell half-truths. Building any business is work. I am writing this blog post at 9:30pm. I have clients from 9am – 8pm, with an hour off for lunch on Friday of this week…Do I make good money? Yes, it's good enough…"
Naming Your Pratice Is Like Naming A Child
Private Practice Toolbox (Julie Hanks, LCSW)
"Don't worry about being clever or deep with your practice name. Since most people are finding their mental health information and providers online, consider including searchable terms in your practice name…"
Taking the Plunge
What a Shrink Thinks (Martha Crawford, LCSW)
"I encourage all therapists who are thinking of transitioning to private practice to seek out a private supervisor… A mentor that understands that the boundary between supervision and therapy is simultaneously distinct and porous, as our own wounds, hopes and fears will be activated by the work…"
Please share any thoughts or comments you have below. Also, feel free to mention any great posts that I may have missed.