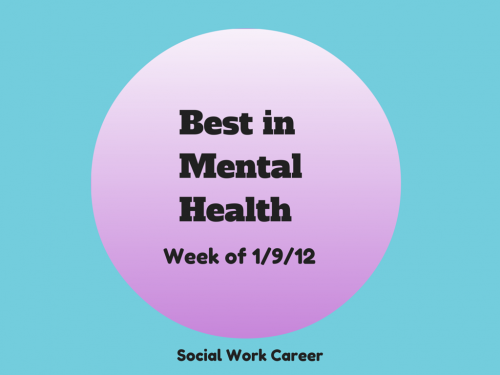 I'm watching twitter, google+ and the web so you don't have to…
This post is part of a weekly series, Best in Mental Health, featuring the best posts of the week, in social work, psychology, evidence-based practice/healthcare, non-profit and private practice concerns on Social Work Career Development.
Topics this week include: termination, resilience, end-of-life decision-making, play therapy, meditation with Jack Kornfield, the new working definition of recovery and much, much more…
On the private practice building side, Casey Truffo is offering a 300+ page book for free! Enjoy:)
Evidence Based Practice/Healthcare:
Seven principles of better adoption of evidence in practice, from new MeReC bulletin
The Mental Elf (Andre Tomlin)
"The most recent MeReC Bulletin (December 2011) considers the problem of the implementation gap: the best evidence often does not get adopted quickly into practice… Several principles can be identified from the evidence and models highlighted in the bulletin…"
No More "Partiality "in Healthcare: Fighting Partiality at Clinical Level
Occupy Healthcare
"We do better when all aspects of us are addressed simultaneously. In the face of studies like these (and there are many more studies to support addressing mental health and medical conditions), the question that continues to come into my mind is why are we not expecting more comprehensive…"
Social Work:
Another Take on Termination
Practice Wisdom (Natalie L. Hill, LICSW)
"My theory is that my feelings about terminating with clients are countertransferential (reflective of the client's degree of attachment to me), while feelings toward colleagues perhaps reflect the degree to which the team, versus individual clinicians, is the central therapeutic relationship…"
Comment Policy
N.A.H. (Relando Thompkins, MSW)
"We acknowledge that we all hold conscious and unconscious attitudes and behaviors toward people who are not like/unlike us… We acknowledge that one of the meanings of racism is that we have been systematically taught misinformation about our own group…"
Creating a sense of "Hardiness"
Child Protection Lessons (Peter Choate)
"they defined hardiness as a sense of control or influence in one's life especially when faced with adversity… Building self efficacy and resiliency in a parent increases their hardiness. This, in turn, improves the way in which they can engage parenting…"
Enormous Stresses for Clients and Dedicated Social Workers
NASW (Sue Matorin, MS, ACSW)
"The impact of a punishing economic climate in which those able to work can't find any work, combined with amplified pressures to cut costs by "managing care", have created enormous additional stresses for clients and dedicated social workers…"
The Fun Fair
How not to do Social Work
"When riding on the social work 'merry go round' it is possible that every time we complete a visit we may also see different sides of the same piece of cheese. Which, due to the nature of social work requires real analytical skill to decipher…"
I'm back, but only because I don't know where I live
SocialJerk
"To not even be able to do something so simple as call your mom when you need to. If I can't track down a working number for her, neither can the school. Very often, neither can the child. It's got to be disconcerting… "
Oregon's Death with Dignity Act: Hospice Social Work and End-of-Life Decision-Making
Living Proof Podcast (UB School of Social Work)
"In episode 87, Dr. Pam Miller discusses her research on social worker attitudes, values, and practices since the enactment of Oregon's Death with Dignity Act."
Stretched
What a Shrink Thinks (Martha Crawford, LCSW)
"For the therapist, the profession, by its very nature, acts as a chronic, seductive call to hand over all of your better nature, all your altruistic and charitable impulses… In my non-work relationships I am ravenous for full mutuality, equality, for a balanced…"
Technology and Mindfulness 
This Is Me (spldbch)
"In my opinion, people who are motivated to enrich their lives by being conscious of their internal and external environments will find a number of ways to support their efforts, to include online sources and social media…"
Therapy with the Experts: Adlerian Play Therapy with Dr. Kottman
The Nudge Patrol (Laura, MSW student)
"…Dr. Terry Kottman, a registered play therapist, goes on to provide viewers with a very concrete example of how she utilizes core Adlerian concepts in the therapeutic space with a young child… demonstrates how to create choices for children when playing therapy games, as well as how to roll with resistance…"
Theory: Stages of Change (Prochaska & DiClementi)
Hack Social Work (Ignacio)
"Although the word "Relapse" may suggest that this model applies to drug/alcohol treatment, this model applies to all types of desired change, whether it is as trivial as ceasing to bite your fingernails or as serious as controlling one's anger…"
The Uses of Disenchantment
Gamer Therapist (Mike Langlois, LICSW)
"Neurosis is like an enchanted armor that we can no longer use. Maybe we have outgrown it.  Maybe it never really fit well but it was the best compromise we could come up with… That's where disenchantment comes in…"
Psychology:
Awakening Your Boundless and Loving Heart (video/podcast)
Sounds True (Jack Kornfield)
A recorded interactive meditation session with Jack Kornfield – exploring the practice of lovingkindness and forgiveness, and the infinite nature of our hearts. This will be available for 30 days beginning January 10, 2012.
5 Ways to "Sit" with Anxious Feelings
Laura Schenck, M.A.
"When you learn how to have a new relationship with anxious feelings by developing the ability to "sit with" and tolerate them, anxiety is no longer frightening… It's not always necessary to face your anxiety head on, particularly when you are in the early stages…."
A Key Aspect of Being Authentically You – Identifying Your Triggers
Neuroscience and Relationships (Dr. Athena Staik)
"The first step in setting limits is identifying the specific situations that challenge or trigger you when it comes to either standing up for yourself with courage and, or doing so in a way that treats the other (thus also your self) with dignity…"
CBT and Learning Disabilities (Video)
Beck Institute Blog
"Dr. Aaron Beck coaches a school counselor through cognitive conceptualization of a specific case – a student with learning disabilities (e.g. dyslexia) and high anxiety. Dr. Beck helps her to identify her client's stimulus situation, beliefs, emotions, and maladaptive behaviors…"
Counselor's Role as Teacher and Life Skills Educator
ACA (Judy Belmont)
"Insight into thinking patterns alone does not change things, especially if habits are deeply ingrained… That is where the idea of psychotherapist as psycho-educator comes in… Teaching life skills is not telling clients what to do – it is teaching them strategies…"
Invisible Pain
Dr. Ann Becker Schutte
"Invisible pain is often discounted… Invisible pain may not receive support… Sometimes even the person suffering the pain has a hard time treating it as real… And that can mean that we push ourselves to "push through" our pain, even when we need… compassion…"
Living with Depression: Why Biology and Biography Matter on the Path to Hope and Healing
Heal My PTSD (Deborah Serani, Psy.D)
"Now, a therapist doesn't need to live through an event or have firsthand knowledge to help someone heal. However, the subjective experience of my mental illness, its long-standing trajectory, and my familiarity with medication informed me in ways that clinical training and education never could…"
Narcissistic Rage and the Failure of Empathy: 'Citizen Kane'
After Psychotherapy (Joseph Burgo, PhD)
"…when Charlie falls in love, he chooses a woman who reflects well upon him and feeds his own idealized self-image. Emily Norton is the niece of a president and an important socialite. Charlie adores her … that is, until her perfect admiration for him begins to wane…"
Oxygen Masks and the Big Easy
A Friend to Yourself  (Wendy Young, LMSW, BCD)
"In the unlikely event of an emergency, put on your own oxygen mask first… Proverbial oxygen masks are easy.  Doing the real work of self-care is not necessarily so easy… Bidding adieu to our habits, even though we know they are counterproductive, is often difficult…"
Recovery: What's in a Word?
HealthyPlace (Randye Kaye)
"The new working definition of Recovery from Mental Disorders and Substance Use Disorders is as follows:  A process of change through which individuals improve their health and wellness, live a self-directed life, and strive to reach their full potential."
The Safe Emergency of Therapeutic Situations: Fritz Perls and Gloria (and me)
The Irreverent Psychologist (Jason Evan Mihalko, Psy.D)
"I rediscovered the "Gloria" tapes that every psychotherapist-in-training has likely had some exposure… Gestalt therapy, beyond anything else, is about learning to pay attention to what is figural–that is, what part of the environment (and what parts of my clients'…"
The Yoga Revolution… and Its Opponents
The Mindful Self-Express (Melanie Greenberg, PhD)
"Yoga is an ancient Indian discipline with the ultimate goals of uniting mind, body, and spirit, and of transcending the boundaries of the self to become one with the universal consciousness… Respect the limits of your own body, be gentle with yourself…"
Nonprofit:
How to Create Your 2012 Nonprofit Career Plan
Rosetta Thurman
"Ask good questions…What are you hoping to learn and do that will help you grow professionally and personally?…Create a portfolio of your accomplishments…Whatever you do, don't set ANY goals for your nonprofit career in 2012 if they don't fit with who you really are or who you want to be…"
Private Practice:
Happy New Year: Get the Book for Free!
International Leadership Therapist Institute (Casey Truffo)
"The 300+ page book 'Be A Wealthy Therapist: Finally You Can Make A Living While Making a Difference' is now available for the next ten days (January 21st) to anyone anywhere as a PDF Download AT NO-CHARGE…"
How to Cope with Technology Overwhelm
Dr. Susan Giurleo
"Before you dive in to learning a whole new way of using online tools, consider what you want your practice to look like and how you want to work… Offering online services is a great, new way to make a living. But it's not as simple as having a website…."
Please share any thoughts or comments you have below. Also, feel free to mention any great posts that I may have missed.