Have you wondered how to incorporate art therapy in a session with a client?
I took a [post] graduate class on the use of art therapy within a social work framework. Art therapy is something that I wanted to learn for a variety of reasons.
Art is something that I hadve always enjoyed. It is also a medium of expression that can make it easier for some people to express themselves, as well as find a healthy release for some of their emotions (and/or traumas).
In addition, I believe that the more tools you have in your mental health professional toolkit, the better. This way, you are better equipped to meet your client where he/she is.

2 Key Take-Aways from Class:
* Art therapy is a client-centered strategy; in other words, if a client misinterprets an instruction, let the client go with the assignment as per his/her interpretation.
For example, if you ask a client to draw a picture of his family and instead the client draws a picture of his/her classroom, let the client do so and then question the client about his/her class and teacher(s) and when you feel you can, use this as a jumping point to asking some questions about his/her family sans a drawing (for now). In this way, you are meeting the client where he/she is.
* Similar to dream interpretation, there is no secret formula to reading another person's art. You have to ask the person questions about their drawing in order to be able to figure out what a picture means. Different people may have completely different associations with the same items or attach different significance to those objects. In short, one cannot make any assumptions…
How do I feel about this class? I love it !
It is a very experiential class in that you are not just learning about art therapy/theory but actually practicing it as well.
Engagement Exercise
For example, in last week's class, we didn't just learn about an art therapy engagement exercise via lecture but actually participated in such an exercise ourselves. [In this context, an engagement exercise refers to one that allows the therapist to to start building a rapport or a connection with the client.)
The particular exercise that we participated in involved our splitting up into pairs and then taking turns with our partner drawing a shape on a paper followed by decorating or supplementing something your partner made on his/her respective shape.
In other words, after I drew a circle, my partner drew lines coming out of the circle, turning the circle into a sun. Or when my partner drew a diamond shape, I added lines/ribbons so as to turn it into a present. Initially, my partner and I were shy with one another but as time went on, we loosened up and became more playful with one another, reflecting the natural progression of how a dialogue would progress between two strangers who are meeting for the first time.
Role Play Assignment
This week, we once again split into pairs (albeit different ones), and the assignment entailed some role play; one person was assigned the role of therapist and the other partner, the role of client. The therapist was to find a way to conduct a session incorporating some of the art materials out on the table with her/his client as if it was their first session together.
The main goals of a first session with a client include:
* establishing rapport
* finding out the client's presenting problem/main issue
* setting treatment goals
* gathering client data/information
* contracting (this includes discussing confidentiality, clarifying roles/expectations, setting up meeting times etc.)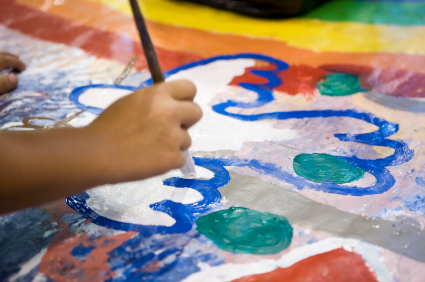 It so happened that my partner (let's call him P) preferred to take on the role of client; therefore, I took on the role of therapist. I asked P what brought him in today and P proceeded to tell me what his concerns were and how he was feeling.
I then explained to P that I often work with art with clients because some things can be best expressed with pictures. I pointed at the art materials laid out and asked P whether he could try to share how he was feeling with one (or more) of these materials. The materials laid out included: colored pencils, cray pas oil pastels and one regular pencil as well as a few sheets of paper.
While P initially felt a bit hesitant, P let down his guard and started drawing and as he drew, I asked him various questions. These questions helped me better understand what he was trying to convey via his drawing and how he was currently feeling.
I was then able to make the leap from the drawing to question P on when he started feeling his current emotions/mood so that his artwork was a terrific segue for more discussion. By the time, we concluded our "session," we had a good feeling for the probable cause of P's current state of distress, as well as the beginning of a plan for how to address it.
While this was only role play, this exercise gave me a taste of what it would be like incorporating the art element into a session with a client; I so enjoyed it.
What are your thoughts and/or experiences regarding art therapy? Is this something that you would like to add to your work with clients?
Photo credit:
http://www.flickr.com/photos/savethechildrencanada/5534877330/
image of paint
Caveats:
1) I am a social worker and not an art therapist. The above information is only meant to be seen as a taste of what is involved in art therapy.
2) Please do not substitute material on this site for consultation with an art therapist or mental health professional. It is not intended to serve as mental health advice, let alone assessment, diagnosis, or treatment.
3) Before practicing art therapy, one must obtain sufficient training, supervision and licensing.  So You Want to be an Art Therapist, Part Two: Art Therapy Education describes some of the different paths available to those interested in art therapy as a profession or as an additional technique for those who have a master's degree in licensed mental health professions like counseling and social work.
Reference:
D. Fagen, LCSW, LCAT, ATR-BC, Creative arts therapy in clinical social work lecture, January 30, 2012.