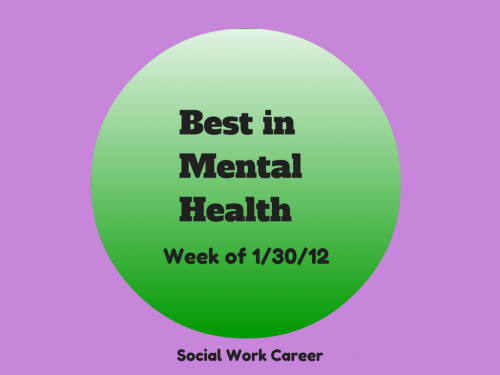 I'm watching twitter, google+ and the web so you don't have to…
This post is part of a weekly series, Best in Mental Health, featuring the best posts of the week, in social work, psychology, evidence-based practice/healthcare, non-profit and private practice concerns on Social Work Career Development.
Evidence Based Practice/Healthcare:
There is something wrong
Occupy Healthcare (Dr Becker Schutte)
"Mental health is health. Not an extra. Not an add-on. Not a luxury. As long as we have a system that ignores this, patients like this one will miss out on the services and support that they need and deserve. Something is wrong…"
Toolkit for Modifying Evidence-Based Practices to Increase Cultural Competence
NKI (Judith Samuels, PhD, Wendy Schudrich, MSW and Deborah Altschul, PhD)
"The Toolkit for Modifying Evidence-Based Practices to Increase Cultural Competence provides a step-by-step methodology for mental health practitioners and agency administrators to identify and evaluate evidence-based practices (EBPs) for possible modification for cultural groups."
Did I understand you?
How not to do Social Work
"As a Social Worker working with young people I find people myself very conscious about how I communicate and often consider how I can create an environment that promotes communication. Each person I meet is different…"
Do Theories Have Any Relevance for Social Work Practice? A Case Example
Social Work/Social Care & Media (Dr. Nancy Smyth)
"Listening and learning from our clients about who they are and what their lives are like is essential. We need to practice mindfully, that is, to see and hear with fresh eyes. While we may immediately hear how something they describe might fit with a theory, we must be careful that our theories don't become blinders…"
Enough about you…
SocialJerk
"The professor posed a hypothetical situation–someone comes in to see you, depressed over the death of a relative. What can you say?…We all kind of froze. No one wants to be the idiot who gets the answer wrong…"
Hedonism and Happiness
This Is Me (spldbch)
"For most people, desire is an insatiable state.  We see something we want and we buy it.  Immediately, we experience positive feelings associated with our new purchase.  These feelings, however, are always transient…"
Learning to Play
Practice Wisdom (Natalie L. Hill, LICSW)
"Sometimes I help clients learn to play by modeling humor, playfulness, imagination, curiosity, and yes, even actual play… I see it as not only legitimate, but down-right important, therapy to help clients find ways to build in positive life experiences…"
Making Social Justice Personal
Classroom to Capitol (Melinda K Lewis)
"There's something incredibly hopeful about starting an intense discussion about nonprofit advocacy with a focus on those we serve–and how we can win victories for justice only by releasing their full participation and their latent power…"
Social workers and the 'dirty people'
Diary of a Social Worker (Dave Ray)
"No one goes into social work, or at least is successful at it, without realizing that their profession is about people. People that are short, tall, black, white, brown and yes, even ones who can't take care of the basic needs that the rest of the world takes for granted…"
Some thoughts on reforming child protection
Child Protection Lessons (Peter Choate)
"This is the major content of a speech I [Peter Choate] gave February 3, 2012 on reconsidering child protection… CHILD PROTECTION HAS BECOME THE ORGANIZATION THAT CLEANS UP MESSES THAT SOCIETY DOES NOT WANT TO ACKNOWLEDGE EXISTS… "
The Kids Are All Right
Gamer Therapist (Mike Langlois, LICSW)
"A discussion about education and video games was in full swing, and a debate about how much screen time is too much… I observed that for the past 2 hours children, siblings, spanning an age difference of 8 years had been engaged in cooperative learning…"
What They Don't Teach You In Grad School
Private Practice Toolbox (Julie Hanks, LCSW)
"Most of what I learned about psychotherapy and private practice came after I graduated… here are a few things I wish I'd known earlier: Getting my MSW was a license to actually do what I wanted, but the most valuable learning came from my post-graduate school clinical supervisor…"
When Social Work is a Felony
NASW-NYC Connections
"After that [Feb 1, 2012], if a nonprofit hasn't applied for a waiver, or if its request for a waiver is denied, hiring a licensed social worker to provide services for the poor could lead to criminal charges…"
When Therapist Disclosure Can Help
From Where I Stand (Andrea B. Goldberg, LCSW)
"In my experience, I have found that sharing briefly about overcoming my own trauma history is sometimes the only thing that gives a client hope that they can heal. I have used this kind of self-disclosure to resolve therapeutic impasses…"
Psychology:
A ten day guide to de-stressing your life
Mindfulness: Finding Peace in a Frantic World (Professor Mark Williams & Dr Danny Penman)
"If you follow this ten step guide to 'de-stressing' your life, then the next few weeks just might become the most serene and fulfilling ones of the year… based on mindfulness meditation developed by us at Oxford University…"
Bandaid Your Emotional Injury
A Friend to Yourself (Michael Cornwall, Ph.D)
"If you wish to change your emotion, you will have to change your thinking… Wounds inflicted by thought require as much attention… for treatment as an injury to skin or bone… I don't have to view the situation as threatening.  I can view it as unfortunate…"
February is Eating Disorder Awareness Month
Dr. Deb (Dr. Deborah Serani)
"What causes eating disorders is not entirely clear, though a combination of psychological, genetic, social and family factors are thought to contribute to the disorder…Eating disorders can affect functioning in every system of the body…"
How 'Conscious Acceptance' Empowers Your Beliefs, Choices and Actions, 2 of 2
Neuroscience and Relationships (Dr. Athena Staik)
"As a springboard, acceptance optimizes your ego-strength to give you the resiliency and adaptability you need to make optimal and informed choices, especially in moments when challenging situations or events may threaten to throw… off balance…"
Life Before and After the Diagnosis of Mental Illness
HealthyPlace (Natalie Jeanne Champagne)
"Life after the diagnosis can be as positive as you make it… The person you were before, the person you are working to become, is still the same person, but accepting that it takes work to become well… allows you to both merge your past and present…"
More on Hope and Bad Therapy Experiences: Shedding the Shame
Dr. Greg Hinkle
"With guilt, then, we are motivated to make things right; with shame, we feel helpless and simply want to hide… therapy that ends badly can still have good effects… it's almost never a complete failure. If you're the client, you've learned things about yourself…"
Quotes on Grief to Comfort and Inspire
The Mindful Self-Express (Melanie Greenberg, Ph.D)
"The death or loss of a loved one, especially a beloved parent, spouse, or child, is one of the most profound losses humans can experience… While some people never get over a loss, others do not mourn at all…"
Rewiring Your Brain for Healthy Empathy: Acquiring a Voltmeter
Rewire Your Brain for Love (Marsha Lucas, Ph.D)
"I eventually figured out that being empathic isn't about being an all-absorbing antenna, a doormat, a mind reader, and/or an emotional rescuer…one of the benefits of mindfulness practice… empathy that allows you the ability to accurately read…"
Nonprofit:
12 ways to use Pinterest for your nonprofit
Social Tools for Social Change
"Pinterest is basically an online scrapbook that you put together while surfing the Internet… Pinterest can generate a lot of traffic to your website because pins link back to their original source… Like the other social media networks, Pinterest is not a place to blatantly promote your organization…"
Private Practice:
20+ Associations For Mental Health Professionals
Private Practice from the Inside Out (Tamara Suttle, M.Ed., LPC)
"Listed below are links to more than twenty professional associations in mental health.  If you are not already a member, pick one and join it. These organizations are the most likely ways that national laws get changed to support the work you do…"
The Biggest Difference Between Success and Failure In Small Business
Dr. Susan Giurleo
"To succeed in business, you need to know what you want, who you help and how you will help them. You need to develop a strategy to meet your goals. This is long term thinking and planning. When you are planning your goals and strategy… "
Staying motivated: why do you do what you do?
Teenage Whisperer (Sam Ross, BSc, MSc, Cert EP (YJ))
"Your answer is your mission statement, the reason why you get out of bed in the morning, the reason why you hit the street running rather than languishing under your duvet… And so irrespective of how torrid my… day, week… has been I carry on"
Please share any thoughts or comments you have below. Also, feel free to mention any great posts that I may have missed.