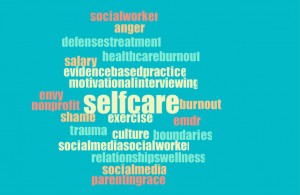 I'm watching twitter, google+ and the web so you don't have to…
This post is part of a weekly series, Best in Mental Health, featuring the best posts of the week, in social work, psychology, evidence-based practice/healthcare, non-profit and private practice concerns on Social Work Career Development.
To get a quick idea of the topics covered in this week's round-up, please see the above word cloud 🙂
Evidence Based Practice/Healthcare:
Different types of psychotherapy for different types of depression: a summary of best current knowledge
The Mental Elf (Andre Tomlin)
"Cognitive behavior therapy, interpersonal psychotherapy, problem-solving therapy, non-directive supportive therapy and behavioral activation therapy are all effective treatments for adult depression. Differences between types of psychotherapy are small…"
Healthcare (re)design
Occupy Healthcare (Dr. Miller)
"Healthcare is currently built around the wrong things. We know that the system is not built for the patients, but rather the companies who often pay for healthcare services. We know that it is more profitable for providers and hospitals when people are sick versus when they are well…"
Social Work:
A Social Worker's Guide to Social Media
NASW-NYC (Shyvonne M. Noboa, MSW)
"Now that you are online and connected with others through social media, take the time to share the good work you are doing… If you are an expert social worker in a specific area of practice, you could & should use social media to share your knowledge…"
EMDR: An Evidence-Based Treatment for Trauma
From Where I Stand (Andrea B. Goldberg, LCSW)
"EMDR uses brief exposure to the traumatic event, combined with bilateral stimulation (eye movements, tones, vibrations or tapping) and sensory, cognitive, affective and somatic components, to facilitate adaptive information processing (AIP) and reconsolidation of the traumatic experience…"
I Come To Praise First-Person Shooters, Not To Bury Them
Gamer Therapist (Mike Langlois, LICSW)
"I find that where gamer solidarity is starting to fall apart is around the more specific attacks… around FPS and violent games… I want to ask a different…question: What's wrong with being aggressive?…"
Mission-driven, Committed to Clients…and we VOTE
Classroom to Capitol (Melinda K Lewis)
"For many nonprofit employees, our jobs are callings. We live our missions every day at work, and we bring them home with us… we can take them into the voting booth… we should… Because when we do, we will be a force with which to be reckoned…"
Overworked? Join the self-preservation society
Teenage Whisperer (Sam Ross, BSc, MSc, Cert EP (YJ))
"if you are to preserve yourself and refuel, body and mind, consider what you like to do with your spare time. What do you just love doing for its own sake, that is raw ultra-nourishing soul food for you?…"
Providing Therapy Across Different Cultures (podcast)
npr (Stacey Lambert and Karen Hanscom)
"When they [immigrants] do seek counseling, they often encounter a cross-cultural struggle to understand and be understood by American practitioners."
Setting Boundaries with your children
Cathy Hanville, LCSW
"When your children are under 18, you cannot be both a friend and a parent… Children need boundaries. I have often had children tell me in different ways how they really want their parents to set and enforce rules. Yes, even teenagers…"
So what is burnout and what can I do to avoid it?
The Zen Social Worker (MSW Student, Tim)
"Burnout manifests itself in a variety of ways including physical, mental and emotional exhaustion, mistrust and anger can also be product of burnout… The prescription for avoiding burnout and overcoming it [is] self care…"
Social work doctorates: let's share the knowledge
Martin Webber's Blog (@mgoat73)
"One way we can help to improve the dissemination of social work doctoral research… is to make it available to practitioners… Therefore, if you are a social worker…are interested in sharing…, please email… If you are interested in reading my PhD thesis…"
The racialized classroom
JaeRan Kim
"it doesn't matter how much a group is politically and intellectually like-minded, race and culture are always present in the conversation… how are social workers of color supposed to see themselves reflected in the profession… if all our textbooks… operate from a traditional "diversity" model…"
Women's Pay More Equal to Men in Social Work | Social Workers Speak
Adventures of a (not so) Cheap Social Worker
"Unfortunately, this NASW study shows that the median salary of female social workers is $11,000 lower than male social workers ($53,000 and $64,000, respectively). This difference is significantly higher than 2%…"
Why Social Care needs Social Media …
Connecting Social Care and Social Media (Ermintrude2)
"There is… a much freer flow of information between university academics and researchers and front line practitioners which has allowed me access… about the most current research which has significantly fed into my practice… understanding…"
Psychology:
12 Tips to Enjoy Exercise – And Make It Part of Your Lifestyle!
Neuroscience and Relationships (Dr. Athena Staik)
"In order to make lasting change, your brain must record positive associations between exercise and how you feel experientially (feelings and physical sensations)… start off easy and light.. keep it fun… Identify possible obstacles… find ways to…"
Anger After Trauma: Relationships as Collateral Damage
Heal My PTSD (Suzanne B. Phillips and Dianne Kane)
"After trauma, anger can be tripped by many sources and can reflect different reactions including hyperarousal, disguised grief or masked depression. Often it is driven by the feeling that someone has to be blamed…"
Are you psychologically equipped for working in aid and development?
whydev.org (Alessandra Pigni)
"Over the last months I have been collecting stories, reflections and suggestions from humanitarian professionals on the importance of staff-care, pre-deployment psychological preparation, burnout prevention training, field support… and post-deployment care…"
Identify Problematic Relationship Patterns & Break the Cycle
Laura Schenck, M.A.
"Take the time to clearly define what the problem actually is before you get carried away with trying to "fix" it. If you are able to work through this process collaboratively with your partner, try to clearly define the problem from each of your perspectives…"
Just Breathe (breathing audio included)
Dr. Ann Becker Schutte
Breathing properly is one of the the small gifts that we can give ourselves at any time, and no matter how busy we are… my challenge to you this week is to try to remind yourself at least once a day to "just breathe."
Recognition of Irritation and Anxiety
HealthyPlace (Natasha Tracy)
"Irritation, and I mean severe, rip-your-head-off irritation, is one of the least recognized symptoms of bipolar disorder… irritation and anxiety are serious symptoms and can do serious damage to yourself and your relationships with others (and say, your job)…
Recognizing "Change Talk" in Your Clients
ACA (Barbara Jordan)
"The goal of MI [Motivational Interviewing] is to express unconditional positive regard and empathy so that we can understand why clients want to address their problem(s). It involves capitalizing on and strengthening their motivation for change…"
Shame and How It Produces Envy
After Psychotherapy (Joseph Burgo, PhD)
"Envy is a normal human emotion… it also has its value, teaching us what we want to have or to be, and thereby motivating us. When coupled with basic shame, however, it becomes toxic… Learning to accept one's damage and limitations helps… "
Treatment Philosophy
sgbrownlow.com (Steven G. Brownlow, PhD)
"Most counselors and psychotherapists treat defenses… In my opinion, this approach is needlessly slow and inefficient… Rather than fighting through defenses to get at the core, I would much rather skip past them and change the person from the inside…"
Igniting Optimum Health in All Areas of Your Life (telesummit)
HeartMath
"A Free Telesummit with World-Class Pioneers Joan Borysenko, Bernie Siegel, Dan Millman, Mingtong Gu Harville Hendrix, John Gray, Janet Attwood and more… Through March, you will have free access to four Winter of Wellness sessions each week…"
Work can be fun!
A Friend to Yourself (DeeAnna Merz Nagel)
"I am an introvert by nature… Sometimes the challenge is not to indulge my quiet side too much. So instead of stacking my client appointments to one day a week, I found it works better for me to see clients a few days a week…."
New Age:
How to Communicate with Your Spirit Guides (podcast)
Insights at the Edge (Marie Manuchehri)
"In this episode, Marie directly answers Tami's personal skepticism about the reality of spirit guides. She also offers a unique perspective on the concept of free will, and shares a guided exercise for opening a channel of communication to your own spirit guides…"
Nonprofit:
10 National Nonprofit Conferences Worth Attending in 2012 (Under $500)
Rosetta Thurman
"Here are 10 … conferences that are happening in 2012 with great speakers, sessions and organizations involved… Remember to look out for scholarships, early bird discounts or opportunities to sign up as a volunteer so you can get in for cheap or even free!"
Moving Your Nonprofit Financials to the Cloud: The Do's and the Don'ts
The NonProfit Times
As a nonprofit organization, your accounting needs are more challenging than a for-profit corporation's financials… See the above link for the recording of the free webinar hosted by The NonProfitTimes and Intacct.
Private Practice:
The 9 Steps to Adding Multiple Income Streams to Your Practice
Dr. Susan Giurleo
"The fastest way to a stable income is through individual client sessions. These pay at the highest hourly rate and it can be relatively straightforward to attract 10-20 people to work with you…Have a niche and be known for something…"
20 Reasons for Writing a Blog to Connect with Counselling Clients and Increase your Online Visibility
Australia Counselling
"…the idea is to connect with your therapy practice clients on a real and personal level… A blog can be in the form of a journal, or be directly targeted for building your business… Here then… are 20 reasons why writing a blog consistently helps…"
What Your Best Friend Won't Tell You (Because I Didn't)
Private Practice from the Inside Out (Tamara Suttle, M.Ed., LPC)
"Its photos – professional photos! Or at least that's what they are supposed to be. Take a look at random websites, online directories, and Meetup groups for psychotherapists. What do you notice? …"
Please share any thoughts or comments you have below. Also, feel free to mention any great posts that I may have missed.
You May Also Enjoy:
Best in Mental Health (wk of 2/6/2012)
Best in Mental Health (wk of 1/30/2012)
Best in Mental Health (wk of 1/23/2012)
18 of My Favorite Reader Comments from 2011
Parallel Processes, Boundaries & Authenticity
Social Work in Substance Abuse