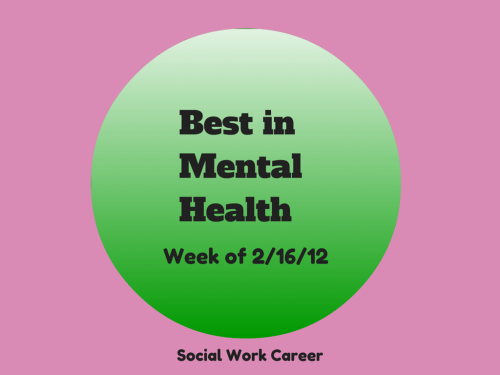 I'm watching twitter, google+ and the web so you don't have to…
This post is part of a weekly series, Best in Mental Health, featuring the best posts of the week, in social work, psychology, evidence-based practice/healthcare, non-profit and private practice concerns on Social Work Career Development.
Aside from @SWSCMedia's regularly scheduled weekly twitter chats at 3PM EST on Tuesdays (and other chats listed on Mental Health Twitter Chats), two new chats are starting up: a mental health chat #MHchat by @MHchat on Wednesdays at 3PM EST and a social work for social media chat #SW4SM as of February 28th as described below.
Evidence Based Practice/Healthcare:
New evidence suggests that antidepressants do not influence suicidal thinking in young people
The Mental Elf (Andre Tomlin)
"The authors set out to determine the short-term safety of antidepressants by standard assessments of suicidal thoughts and behavior in children, adults, and geriatric populations and the mediating effect of changes in depressive symptoms…"
The Role of Income in Healthcare Coverage
Occupy Healthcare
"having coverage can make a difference in not only health outcomes, but also proper utilization. As the Commonwealth Fund report highlights, those improperly utilizing emergency department services (very expensive services) often cited non-emergency reasons for their visit…"
Social Work:
A bad experience with supervision
The Zen Social Worker (MSW Student, Tim)
"I had the unfortunate experience of being bullied by a supervisor… I had tried to deal with it on my own but the power dynamic was too delicate… The worst part about this… I was asked to leave without the ability to terminate appropriately with my patients… "
Does your name say anything about who you are?
This Is Me (spldbch)
"To give a child a name is to endow him with a unique identity in the eyes of other people.  This occurs long before the child develops any sense of personal identity.  A person's name, then, begins to first impact his identity in the way others respond to it…"
Duty to Warn, Duty to Protect
The New Social Worker (Steven Granich, LCSW, MPA, DSW)
"Duty to protect can involve warning the potential victim, notifying the police, starting a commitment hearing, informing mental health evaluators of the threat, and utilizing professional supervision… "
Happy Birthday Charles
The Not So Big Society (Ermintrude2)
"Dickens dredges up through his fictional works, a world that is uncomfortable and unjust. It challenges us with the imagery of poverty… The perceptions of 'deserving' and 'undeserving' poor are turned on their heads. We see into workhouses and slums…"
The Impact of the Internet on the Brain: What Do We Really Know?
Virtual Connections (Nancy J. Smyth)
"Here's wonderfully refreshing video that reviews what the research-to-date actually tells us about the impact of the Internet on the brain. Dr. Paul Howard Jones goes through popular fears about technology and discusses what the research tells us…"
Mock Interview Panel by @Profsocialwork with @Mamiddau & @Obi1
Social Work/Social Care & Media (@Profsocialwork with @Mamiddau & @Obi1)
"@Obi1 is apply for the position of Children's #SocialWorker within a local authority/statutory setting… We have asked ten questions between us to ensure inclusion of law, policy, social work process and knowledge as well as person specific criteria…"
The People Who Inspire Series: Tonjie Reese
N.A.H. (Relando Thompkins, MSW)
"Tonjie Reese, Community Educator for Turning Point, a domestic violence and sexual assault agency for survivors… The key to prevention is education and being an active bystander. At some point all of us have been bystanders, but how many people…"
Psychosomatic problems in abused children
Child Protection Lessons (Peter Choate)
"In a Swedish study on the connection between somatic issues with children, there was a clear link between these and children who were physically abused. It was more evident when they also witnessed inter personal violence (IPV) on top of the physical abuse…"
Recharging Your Batteries (Are You an Introvert or an Extrovert?)
Practice Wisdom (Natalie L. Hill, LICSW)
"energy flows from us to our clients… we have to find ways to recharge our own batteries… introverts, like all people, also need social support, and so we need to spend at least some of our free time nurturing real-life relationships…"
School Engagement Among Sexual Minority Students: Allies, Alliances, and Academic Outcomes
Living Proof Podcast (UB School of Social Work)
"In this [89th] podcast, Dr. Eugene Walls discusses his research on school engagement among sexual minority students…  aimed at understanding the contributing roles of school climate, adult allies, and gay-straight alliances in predicting academic outcomes."
@SM4SW #SM4SW New Twitter discussion
jimmysw
"The first twitter chat using #SM4SW will be February 28th at 1pm E.T. The topic is social media and social work practice or education… interested in… insight on the subject as well as a healthy debate on whether social work should be.. invested in social media…"
Social Work Self-Care: Healthy Eating, Exercise Tracking on Lose It app
Social Work Tech Blog (Ignacio)
"Sometimes…we may overeat, overindulge, and not exercise enough… Lose It makes it easy to track calorie intake and exercise to help one facilitate healthy weight loss behaviors…"
Sometimes there isn't much to say
SocialJerk
"I recently came in to work, confronted with the worst message I've ever gotten. One of my little boys, a twelve year old, was shot while playing basketball… This child did everything right… He was a child, playing with his friends… "
A Few Tips for Responding to a Pregnancy Loss
Dr. Ann Becker Schutte
"the heart of caring response to pregnancy loss, or any loss, boils down to: listen more than you talk (People who have had a loss often feel overwhelmed by the barrage of advice and feedback that they get from others); offer the support they need…"
Can a Client Impersonate You on Facebook? It Happened To Me…
American Counseling Association
"In the spring of 2011, a friend emailed me and asked if I was aware there were two Facebook profiles with my name… Being that it was still in the early portion of 2011, the Facebook's current Family Safety Center did not exist…"
Cultivating Positive Discipline for Children (Webinar)
Institute of HeartMath
"Saturday, Feb 18, 2012: 2:00PM – 3:00PM EST: Parents, educators and mental health specialists among others who care for children will take away valuable tools, ideas and strategies from this hour long webinar…"
Deliver Us: thoughts on evil and psychotherapy
What a Shrink Thinks (Martha Crawford, LCSW)
"We must recognize the amoral archetype when it emerges – believe in its existence so that we can distinguish it from illness, accident, error, or a gesture borne of temporary collapse, lashing out in panic or in pain…"
Understanding the Additional Baggage When Transforming PTSD and Grief
Heal My PTSD (Tabitha Jayne)
"As we go deeper into transforming our experiences of PTSD and grief we have an opportunity not to just let go of the pain surrounding the event that triggered it… an opportunity to let go of hidden pain that is unconsciously present within our psyche… "
Love's End: Attachment and the Dissolution of the Romantic Relationship
The Trauma & Attachment Report (Amanda Sharples)
"While this holiday [Valentine's day] can be an opportunity for those in love to express their appreciation for one another, it can also be a trying time for those who have yet to find love, or for those who have recently ended a relationship…"
Release Me from My Internal Prison
Teenage Whisperer (Sam Ross, BSc, MSc, Cert EP (YJ))
"Get me involved in activities where I have a chance to help others. Something as simple as being allowed to help my teacher get books out the cupboard to something bigger like getting involved in a community project… And you will see my self-esteem rise…"
Out-Thinking Pain: How the Mind can Control Pain (Webinar)
Canadian Institute for the Relief of Pain and Disability (CIRPD)
"Tuesday, Feb 21, 2012: 2:00PM – 3:00PM EST: Dr. Catherine Bushnell, Harold Griffith Professor of Anesthesia and… at McGill University will provide an overview of the important influence that psychological factors have on pain perception…"
The Surprising Secret to Success—Be Kind to Yourself
The Mindful Self-Express (Melanie Greenberg, Ph.D)
"While high self-esteem is generally based on evidence of superior achievement, self-compassion is a more constant personal quality, in which we value ourselves and treat ourselves kindly just because we are human…"
Understand and Prevent Teen Dating Violence
HealthyPlace (Kellie Holly)
"Most teens do not have the luxury to avoid contact with their abuser because they attend school with them and must see him/her every day… There are creative ways to avoid contact with a teen abuser, but most of the best solutions include…"
Who was talking about Avatar Therapy a decade ago?
Online Therapy Institute (Kate Anthony and DeeAnna Nagel)
"…we turned up hard copies of two articles Kate wrote…Virtual Counsellors: Whatever Next? and The Use of Innovative Avatar and Virtual Environment Technology for Counselling and Psychotherapy…"
Why do you put up with that?
Dr. Greg Hinkle
"The best therapy combines care and empathy; losing either element causes problems…when a person is stuck in a self-defeating behavior, the most effective intervention often starts with empathic connection…"
Nonprofit:
My favorite nonprofit career clarity activity
Allison Jones
"we often struggle with a. figuring out what we love (passion) and b. gaining the skills necessary to be excellent in what we love (practice)… I often recommend the Career Tracks Activity (PDF)… you gather at least 50 job opportunities that appeal to you…"
Private Practice:
Health Care Providers: Who Is Your Real Client?
Dr. Susan Giurleo
"Whether you accept insurance or not , the way to grow your practice and support people as a true client is to focus on serving their needs in a big way. Make client/customer service a priority… Make the experience of your practice an exceptional one…"
Protect Your Online Privacy: Start Blogging!
Gamer Therapist (Mike Langlois, LICSW)
"Globalization and technology have removed many of the barriers to, and some would say protections from, knowing each other… So what can you do?  Well, my advice is to start blogging… Buddhism tells us to move into the places that scare you…"
Please share any thoughts or comments you have below. Also, feel free to mention any great posts that I may have missed.