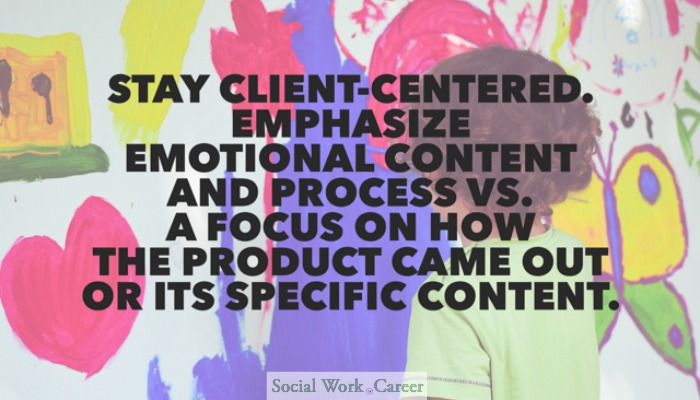 Would you like to employ some art therapy** techniques with some of your clients?
This third post of the art therapy series will be providing you with 11 key learnings on engaging clients with art therapy. These posts are based upon the 14 week graduate class I took in art therapy.

11 Tips About Conducting Art Therapy** with Clients:
* After giving a client an art task, let the client work. Do not interrupt or ask questions. Observe the client in the process of making the art task. If client says that he/she cannot do X, encourage client to give it a try for at least another five minutes.
* Once time for project is up, start with something like: Is there anything that you'd like to share about your picture? about the process of making it, what he/she likes or dislikes or would change, etc.
* Stay client-centered; in other words, focus on the client's associations and projections.
* Be careful with therapist associations; avoid them unless they will add value to or feed the life of the material.
* Make neutral observations about the picture as opposed to praise or criticism (for example, about the shape, size, use of space, focal point, what is in the edge, what colors are used).
* Emphasize emotional content and process vs. a focus on how the product came out or its specific content.
* Use third person language as in "what is that person/animal/character doing?" vs. "what are you doing?"
* Identify metaphors and use them, play with them, to go deeper.
* Ask questions about the picture to help the client tell a story about it such as: "If you were to step into this picture, where would you go? …what would you do?" (Avoid the question "why they did X in the picture?" – clients will tend to have a hard time being able to answer. It is better to ask whether X has any meaning.)
* Discover the surprises in the image by asking the client to really look at what he/she created. Is it what he/she expected? If not, how is it different from what he/she intended to make? The meaning of these surprises may be messages from the unconscious.
* Respect your client's artwork and involve client in all decisions about what to do with his/her art. This means that if you your client wants you to save it, keep it safe and only display it with his/her permission.
To share a personal illustration of an unexpected surprise, we were given an inkblot exercise for the experiential portion of class. This entailed our being told to pick a sheet of paper in a color that speaks to us and then we were asked to pour a bit of ink out on this paper and smear it.
After we had our "inkblot," we were instructed to look at our respective inkblots and see what we see (without putting too much thought into it) and then to use any of the materials that were laid out (colored pencils, oil pastels or colored chalk) and help whatever we saw in the inkblot become further defined.
I chose a green sheet of paper and thought that I saw the face of a teddy bear through my smeared dots of ink. I then proceeded to take a brown crayon and bring out the teddy bear's features.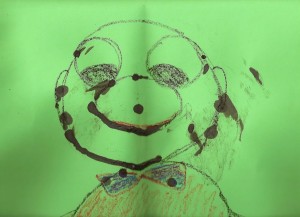 However, as I continued, for some reason, I was compelled to give the teddy bear "unteddy bear-like" ears and eyes. Suddenly my teddy bear had evolved into a smiling figure looking down at me… At first, I didn't recognize or realize who this person was because I didn't have a chance to finish the picture.
All I knew during class was that the teddy bear was no longer a teddy bear but someone who was smiling at me and making me feel very happy inside. It was only later that I realized that I had drawn my late beloved grandmother.
As this example demonstrates, the inkblot projective exercise can be very powerful. A person brings to the exercise the current thoughts/emotions and/or unconscious needs he or she has.
It so happened that I was about to embark on a difficult journey to someone dear to me who is battling cancer and my late grandmother's supportive "visit" from my unconscious was a most timely gift. 
What are your thoughts about art therapy? Does this field look appealing? 
To the art therapists, what questions would come to your mind had I drawn my grandmother in a session with you (to help me further tease out any important messages)?
**Caveats:
1) I am a social worker and not an art therapist. The above information is only meant to be seen as a taste of what is involved in art therapy.
2) Please do not substitute material on this site for consultation with an art therapist or mental health professional. It is not intended to serve as mental health advice, let alone assessment, diagnosis, or treatment.
3) Before practicing art therapy, one must obtain sufficient training, supervision and licensing.  So You Want to be an Art Therapist, Part Two: Art Therapy Education describes some of the different paths available to those interested in art therapy as a profession or as an additional technique for those who have a master's degree in licensed mental health professions like counseling and social work.
References:
D. Fagen, LCSW, LCAT, ATR-BC, Creative arts therapy in clinical social work lecture, February 27, 2012.
Rubin, J. (Ed.) (2001).  Approaches to art therapy: Theory and technique. New York: Brunner-Routledge.
SaveSave