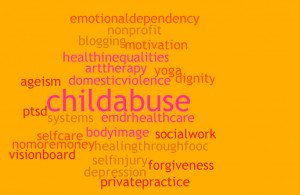 I'm watching twitter, google+ and the web so you don't have to…
This post is part of a weekly series, Best in Mental Health, featuring the best posts of the week, in social work, psychology, evidence-based practice/healthcare, non-profit and private practice concerns on Social Work Career Development.
To get a quick idea of the topics covered in this week's round-up, please see the above word cloud 🙂
Evidence Based Practice/Healthcare:
Functional analysis may be a promising alternative treatment for challenging behaviour in dementia
The Mental Elf (Andre Tomlin)
"Functional analysis is a behavioral intervention that involves a therapist considering why a person with dementia is behaving in a particular way. The purpose and meaning of individual behavior is investigated and family and carers are given strategies to help them reduce the distress, agitation or aggression…"
Sometimes the connection really matters
Occupy Healthcare (Dr. Miller)
"My point here is that as we become more sophisticated in our mobile applications, electronic medical records and eventually healthcare robots, we not lose sight of why we are wanting to be better connected: we want a relationship…"
Social Work:
Answers to Questions about EMDR
From Where I Stand (Andrea B. Goldberg, LCSW)
"EMDR reprocessing involves brief retrieval of a traumatic memory with delineation of all of its component parts (sensory, cognitive, affective and somatic aspects). Bilateral stimulation is added to facilitate reprocessing that updates the memory…"

Can Yoga Heal?
The Zen Social Worker (MSW Student, Tim)
"For years I've attended regular yoga classes, developed my own practice at home… and becoming a yoga teacher/enrolling in yoga teacher training really immersed me in yoga and deepened my knowledge of it… It's a feeling of… inner contentment…"
Dear colleagues: there is no more money! Time to redesign dementia services
@SWSCMedia (Dr. Karim Saad)
"How to improve a service for a disorder we'll be seeing more of, with less funding?… By intervening earlier and smarter we may delay the onset of dementia, empower our service users and improve crisis management…"
Inner Door
Hope Forward (Melissa Groman, LCSW)
"Inside the inner door is the place within us where we find serenity in knowing that we have made, can and do make mistakes, but we are not awful because of them, but human… Inside the door, it's okay to be okay. It's okay to have value…"
Motivation and Emotion
This Is Me (spldbch)
"This happens a lot: a person starts to feel a little better and decides he doesn't need treatment anymore. Granted, feeling better can be an indication that a patient's issues are resolved and that treatment can be terminated…"
Religious Child Maltreatment: Interview with Janet Heimlich
The Social Work Podcast (Jonathan Singer, Ph.D., LCSW)
"[In episode 71,] Janet defines religious child maltreatment, we talk about religious authoritarian cultures; discuss examples of religiously motivated physical, emotional and sexual abuse, and medical neglect…"
Social work and health inequalities
Martin Webber's Blog (@mgoat73)
"Social workers typically work with the poorest in society and therefore have an important role in tackling health inequalities… Firstly, there is lots of evidence that children in care have poorer educational and health outcomes than other children…"
Some thoughts on forgiveness
Cathy Hanville, LCSW
"You can't experience the feelings associated with the event until you have acknowledged the harm you have experienced. Often it is the desire to avoid experiencing those feelings that causes people to deny the harm that has been caused them…"
Systems at Work
Practice Wisdom (Natalie L. Hill, LICSW)
"with individual work, we intervene with one person, as both an individual system, and part of larger systems (family, group, organization, community). It behooves us to remember that systems strive to maintain equilibrium, and therapy often functions to destabilize the system's balance…"
Teaching and Learning Dignity
The Not So Big Society (Ermintrude2)
"I think the needs of older adults should be reflected far more in social work training and not marginalized… One thing I am very sensitive to is dismissive language… To some, an affectionate and endearing 'old dear' might be a term of respect but to some…"
The Evidence on E.M.D.R.
New York Times (Dr. Francine Shapiro)
"The effectiveness of E.M.D.R. therapy has been well established as the result of about 20 randomized controlled studies. Only one of the randomized trials was conducted by me; it was published in The Journal of Traumatic Stress in 1989…"
The monster at the end of this blog
SocialJerk
"Parents who hit their kids are most often people who were raised with physical discipline, and are using it excessively themselves, or are parents who have snapped. The two aren't mutually exclusive… I'm not defending murder, child abuse…"
Psychology:
10 Ways to Improve Body Image
Laura Schenck, M.A.
"Rather than view parts of your body that you dislike with disdain or rejection, try mindfully directing love and gratitude toward them instead. Take a moment to thank your legs, stomach, or arms for all of the hard work they do to move you through the world…"
Are Drug Treatments for Depression Causing More Harm than Good?'
The Trauma and Attachment Report (Crystal Slanzi)
"Anti-depressants, are commonly prescribed by family doctors, practitioners with limited training in psychiatry. Medications are often provided as a singular, long-term treatment for depression, with little or no attention paid to… the patient's unique background…"
Art Therapy: There's an App for That
The Healing Arts (Cathy Malchiodi, PhD, LPCC, LPAT)
"While there is little research on the effectiveness of touch technology and art making apps with client populations, without a doubt Gen Z is expecting it as part of art therapy and as a 21st century language for self-expression… There is even an app for art therapy—well, sort of, depending on how you define art therapy…"
Emotional Dependency in Psychotherapy
After Psychotherapy (Joseph Burgo, PhD)
"… for psychotherapy to be effective, a degree of emotional dependency is inevitable… resistance to dependency is often one of the first issues that comes up in therapy: despite the… pain they may be feeling… many clients don't want to become dependent…"

Finding Healing Through Food
Heal My PTSD (Katie Brind'Amour)
"When coupled with exercise, counseling, medication, or alternative therapies, eating to beat PTSD symptoms can be an empowering way to regularly give your brain the best chance at healing itself – and in doing so, the best chance at healing you…"
Is The Field Of Psychotherapy In Crisis?
American Counseling Association (Natosha Monroe)
"…the majority of everyone in my cohort—and those above and below us—chose to become, guess what? "Solution-focused counselors."… Dr. Yalom's book…is to be seen as a gift to us too, showing us the gift of the therapeutic process as well…
March 1st is International Self Injury Awareness Day
Dr. Deb (Dr. Deborah Serani)
"Self-injury has a paradoxical effect in that the pain self-inflicted actually sets off an endorphin rush, relieving the self-harmer from deep distress. It's important to note that self-injury does not involve a conscious intent to commit suicide…"
Proof of Change in Abuser's Behavior
HealthyPlace (Kellie Holly)
"If your abuser truly seeks change, then they will pursue it whether you are physically with them or not… Your best move during your abuser's process of change is to leave the home and witness the process from a point of safety…"
Putting Up With Things, Part II: Values and Trade-offs
Dr. Greg Hinkle
"the client is most likely putting up with this (whatever "this" is) because putting up with available alternates seems far worse… approach the client with genuine curiosity: "What makes this seem like the best choice?" That question helps the client feel respected…"
Science vs. Myth: Research on Internet Gambling (Webinar)
National Center for Responsible Gambling (Dr Sarah Nelson)
Mar 6, 2012; 2-3PM: Dr Sarah Nelson's latest findings reflect actual gambling behavior patterns, and the webinar will give participants a deeper look at the characteristics of people who have gambled online.
What I Like About Me: A Self-Care Exercise
Dr. Ann Becker Schutte (and Elena)
"It is not easy to think about the aspects of yourself that you truly like. Things that don't have a "but" attached to them… There is no right or wrong way to put this together. The only important thing is that you BELIEVE in yourself enough to compile the list…"
Nonprofit:
16 Ways Blogging Can Enhance Your Nonprofit Career
Rosetta Thurman
"Blogging can help you "get seen" in the nonprofit field, even if you have an entry-level job… Blogging is a great way to reflect on your day to day activities in the pursuit of social change… [you can] develop a professional identity outside of your nonprofit job…"
Private Practice:
Do You Have a Uniqueness Hang-up?
Marketing a Private Practice (Juliet Austin)
"… differentiating yourself from others does not necessarily mean that you're "better" than other therapists (although you may be)… Regardless of how similar you think you are from others in your field, there will always be ways that you are DIFFERENT… "
Health Care Blogging: Your Voice
Dr. Susan Giurleo
"When writing a blog, you need to consider your voice carefully, as it will reflect a great deal on how people perceive you and your services… A blog directed at the general public will often do well with what I call a "smart-casual" tone…"
How To Create A Vision Board To Build Your Private Practice
Private Practice from the Inside Out (Carolyn Tucker, LAPC and Donna Terrazas, L.Ac.)
"To create a vision board to support your ability to cultivate the practice of your dreams, begin by choosing words, phrases, and pictures to represent the practice you desire. Be specific about the kind of clients you want, how you want to grow your practice…"
Please share any thoughts or comments you have below. Also, feel free to mention any great posts that I may have missed.
You May Also Enjoy:
Best in Mental Health (wk of 2/20/2012)
Best in Mental Health (wk of 2/13/2012)
Best in Mental Health (wk of 2/6/2012)
Art Therapy and Social Work
Feeling Too Much Empathy
How To Start Up a Private Practice