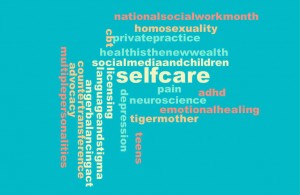 I'm watching twitter, google+ and the web so you don't have to…
This post is part of a weekly series, Best in Mental Health, featuring the best posts of the week, in social work, psychology, evidence-based practice/healthcare and private practice concerns on Social Work Career Development.
To get a quick idea of the topics covered in this week's round-up, please see the above word cloud 🙂
Evidence Based Practice/Healthcare:
"Feel Rich – Health is the new wealth": Moving beyond raising awareness to creating culture change
Occupy Healthcare (Vinu Ilakkuvan)
"As opposed to your typical public health campaign centered on facts, stats, and do's and don'ts, Feel Rich is attempting to first foster a desire for health (in other words, crafting an attitude and creating a culture that sees health as critical and desirable as wealth), engaging urban youth in a meaningful way that speaks to their interests…"
Web-based CBT is equal to face-to-face CBT at reducing anxiety in adolescents
The Mental Elf (Andre Tomlin)
"This approach [online delivery of CBT] offers a credible alternative to clinic-based therapy, with benefits of reduced therapist time and greater accessibility for families who have difficulty accessing clinic-based CBT…"
Social Work:
But Not Your Thoughts: Social Media & Children
Gamer Therapist (Mike Langlois, LICSW)
"In a video blog, Mike addresses parents' concerns about monitoring their children's use of social media… and suggests that we consider the potential future effect of OUR comments/pictures about our children in facebook without their consent…"

CMI Men's Retreat 2011
N.A.H. (Relando Thompkins, MSW)
"During the retreat, I co-facilitated a workshop called "The Tipping Point" in which I was able to engage young men of color about those "crossroads" we might encounter in life in which we are forced to make tough choices…"
Debate on: The Global Agenda for Social Work and Social Development – and World Social Work Day 20-March-2012
@SWSCMedia (Claudia)
"Next week…number of events… to celebrate Social Work Week beginning with World Social Work Day (Tuesday, 20 March) to United Nations' Social Work Day (Monday, 26 March). Therefore, our topic for next week's debate (20-Mar) at 4:00 PM EST is the "Global Agenda for Social Work and Social Development"…"
In search of adaptive capacity
Classroom to Capitol (Melinda K Lewis)
"The challenge… for nonprofits engaging in advocacy… is to figure out what adaptive capacity looks like, for them, and how to build it… It means understanding how to really diagnose the political context… and how to leverage your assets…"
Mandatory Reporting Laws
Child Protection Lessons (Peter Choate)
"There is often debate about whether mandatory reporting laws should exist. Should mental health, medical, education and other professionals be required to report cases where they suspect that child abuse is occurring?…"
More Than the Pain, More than the Problem
Hope Forward (Melissa Groman, LCSW)
"moving forward sometimes requires looking backward. That there is relief and progress not just from the talking and listening, but from a good discussion of what is, what was and what could be because we are more than the problem, more than the pain…"
National Social Work Month (Infographic by the USC School of Social Work)
Jae Ran Kim
"March is National Social Work Month, sponsored by the National Association of Social Workers (NASW), and this year's theme, "Social Work Matters" is meant to showcase the impact of more than 642,000 professional social workers in America…"
Nuances in Countertransference
Practice Wisdom (Natalie L. Hill, LICSW)
"Subjective countertransference comes out of our own issues and histories, rather than the client's… Objective countertransference is elicited by the client, out of their own issues and histories. It gives us information about their emotional state, unconscious material, and/or how they may be experienced by others…"
Should social work be more social? a simple answer yes! #12thMW
Connecting Social Care and Social Media (Shirley Ayres)
"The use of social technology and social networking enables people to collaborate, build relationships and share information and resources… Social media is a new way to applying the communication skills which are an essential skill for all social workers…"
Stumbling Upon Multiple Personalities in One Body
From Where I Stand (Andrea B. Goldberg, LCSW)
"Almost 20 years ago I worked with my first client with dissociative identity disorder (DID), what was then called multiple personality disorder (MPD). I stumbled upon the realization that she was DID six months after I started working with her…"
How can I change the world? Or Thoughts from #TedxObserver
The Not So Big Society (Ermintrude2)
"So what did I learn from TEDx ? – that we can all be more and do more to effect positive change in the world that we share. We don't need to start companies or charities with heaps of money behind us, it can be the small actions that start the change…"
Update on Licensing: Reports from State Agencies Show Significant Challenges as Exemptions from Licensing Law End in 2013
NASW-NYC (Robert Schachter, DSW, LMSW)
"In recent months, several State agencies produced reports on their respective workforces, often reflecting the number of staff who are doing psychotherapy, diagnosis, treatment based service plans, and assessments. These reports include…"
Walking in Circles
What a Shrink Thinks (Martha Crawford, LCSW)
"In therapy, we are always talking in circles – repeating the same core narrative over and over again, trekking along looping and overlapping trails… Sometimes, the encircled thoughts are erecting an essential defense…"
What Homosexuality Is Not!
A Social Worker's View (Sharon Wangene)
"many of us have chosen to hate and discriminate with no backing. Here I am, helping you to educate yourself and hopefully it will lead to acceptance… I found this video on what homosexuality is not as I was reading on a documentary by Ryan James Yezak…"
Psychology:
Ten Ways Your Local Grocery Store Hijacks Your Brain
The Mindful Self-Express (Melanie Greenberg, Ph.D)
"10 examples of how consumers get baffled by branding into parting with their hard-earned cash… Having to walk down the aisles to get to your basics makes it more likely you'll pick up some delectable, yet expensive impulse buy, placed precisely at eye level, along the way…"
An Introduction to Self-Care | Journal of Participatory Medicine
A Friend to Yourself (Sana Johnson-Quijada, MD)
"For my patients, I explain that self-care is living consistently with the belief that they are a friend to "Me," or in other words, to themselves… Self-care also entails the practical: review of sleep patterns, prescriptions of medicine, and monitoring of diet and exercise…"
The Anger Balancing Act: sanctions vs relationship?
Teenage Whisperer (Sam Ross, BSc, MSc, Cert EP (YJ))
"The challenge when dealing with the fallout of an anger outburst is that we need to teach angry teens that destructive anger outbursts are unacceptable, while at the same time preserving a good working relationship… a scale of sanctions… a sense of responsibility, of self-control and choice…"
Creating Space
Dr. Ann Becker Schutte
"…your challenge for this week is to look for a space that you can reclaim for one of your needs. Maybe you'll go to bed ten minutes early to get some extra sleep… You don't have to spend more than five to ten minutes doing this… Don't let your fear of not doing "enough" prevent you from doing something…"
Emotional Healing – Why Tune Into Your 'Inner-World' More & 'Outer-World' Less, 1 of 2
Neuroscience and Relationships (Dr. Athena Staik)
"you have all the equipment you need inside to self-direct healing of anxiety or depression, and similar emotional disturbances. Emotional healing involves accessing your body's intelligence in a conscious way to let go of limiting fears and promote emotional attunement…"
Join the Revolution
NIMI (National Institute of Mental Health) (Thomas Insel)
"Neuroscience is changing the way we think about ourselves, overthrowing many of the facts we have all been taught about the brain and the mind… Neuroscience is not only changing the way we think, it is changing the way we think about thinking…"
Language, Stigma and Political Correctness: How We Talk about Mental illness
NAMI (Bob Carolla)
"NAMI recently engaged in a dialogue with National Public Radio (NPR) over language, stigma and mental illness. It in turn led to discussion of what is meant by "political correctness." … One of the best strategies in fighting stigma is to turn protest into dialogue…"
The need to find time to consult with other professionals
ACA (Doc Warren)
"Mostly consultations are just routine: fellow clinicians checking up on a client that they both treat (with proper releases as needed), sometimes it is to pick the brain of a colleague about a case they are working on or one of many equally benign reasons…"
Overcoming Depression Interview at HealthyPlace.com
Dr. Deb (Dr. Deborah Serani)
"HealthyPlace.com is the largest consumer mental health site, providing comprehensive, trusted information on psychological disorders and psychiatric medications from both a consumer and expert point of view…"
Re-thinking the Tiger Mother: Protecting Our Kids from Failure
The Trauma and Attachment Report (Chloe Li)
"It is clear that Chua wants her children to be successful, that she believes everything she does is for their benefit. However, it is precisely this wish, taken to its absurd conclusion -protect your children from failing at all costs- that gets Chua into trouble…"
Use Mindfulness to Manage ADHD
Laura Schenck, M.A.
"You have more power than you may realize; genes alone do not determine one's destiny… the hallmark traits of ADHD are (1) inattentiveness, (2) hyperactivity, and (3) impulsivity… mindfulness is abundantly rich with… tools to address each of these…"
Vacation Breaks in Psychotherapy and Defenses Against Need
After Psychotherapy (Joseph Burgo, PhD)
"Clients often begin to express doubts about the value of therapy just before a therapist's vacation, or they come back for their first session afterward doubtful that they want to continue. "I'm not sure what I'm getting out of it," she might say…"
Private Practice:
Four Ways to Combat Therapy Marketing Fear
Therapy Marketing, SEO, Tech and Fun! (Elizabeth Doherty Thomas)
"The field of mental health, in my view, still has TONS OF GAPS… With a good marketing plan, it's easier to fill a gap than to be the 1,293 person in your 15 mile radius who "works with couples."… Find a buddy; This could be an ally to the group you serve, or it could be another therapist…"
My Practice is Growing But I am Stuck
Dr. Susan Giurleo
"If you are a student, pay attention to what specialties are successful and get your training there… This issue is much bigger than me and my practice… We need to remember, we train to do a job, not create a hobby doing only the things we "like to do."…"
Please share any thoughts or comments you have below. Also, feel free to mention any great posts that I may have missed.
You May Also Enjoy:
Best in Mental Health (wk of 3/5/2012)
Best in Mental Health (wk of 2/27/2012)
Best in Mental Health (wk of 2/20/2012)
18 of My Favorite Reader Comments from 2011
20 Inspirational Quotes for Social Workers
Social Media and Social Work Education: Like Oil & Water?