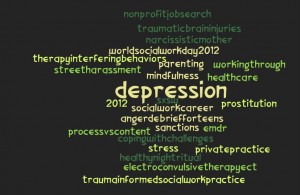 I'm watching twitter, google+ and the web so you don't have to…
This post is part of a weekly series, Best in Mental Health, featuring the best posts of the week, in social work, psychology, evidence-based practice/healthcare, non-profit and private practice concerns on Social Work Career Development.
To get a quick idea of the topics covered in this week's round-up, please see the above word cloud 🙂
Evidence Based Practice/Healthcare:
Humanizing healthcare
Occupy Healthcare (Joel High)
"Processes and practices have been put in place at all levels of the system that make it difficult for patients to access information, to be involved in their own treatment decisions and, perhaps most importantly, develop meaningful relationships with their care providers…"
Pharmacists can significantly improve patient adherence to antidepressants, according to new systematic review
The Mental Elf (Andre Tomlin)
"Observational studies (Vergouwen et al) have reported alarmingly high discontinuation rates for patients taking antidepressant medication (28% at 1 month and 44-52% at 3 months)… pharmacists managed to achieve a 15-27% improvement in patient adherence to antidepressants…"
Social Work:
Blow The Whistle on Street Harassment!
Infusing Passion & Creativity… Women & Girls of Color (Nicole Clark)
"Every woman… has experienced street harassment. You may not know it by name, but you know… the signs (men stopping what they're doing to stare as you walk past,… reaching out to touch you, or …saying sexually suggestive things…) as well as the… feelings of uneasiness, anger, annoyance, and fear for your safety…"
How Black Beauty inspired my social work career
SocialCare Network (Ermintrude)
"Passing through different owners…, Beauty grows wise to the world but does not lose sight of the potential for goodness in man, even amid ill-treatment. As a professional it is important that I… provide hope that there will be recoveries, there are better days even through some of the darkest nights…"

Keeping stress at bay
@SWSCMedia (Dr. Neil Thompson)
"What I regularly encounter… are employees who are suffering considerably because of the work pressures they face… Many people see burnout as a form of stress, whereas in reality it is an attempted solution, a response to stress…" Join #SWSCMedia on April 3, 2012 for a twitter chat with Dr. Neil Thompson on "Workplace Stress and Building Resilience."
Process Versus Content
Everyone Needs Therapy (therapydoc)
"A patient ended up clarifying it for me… Her [Joy's] boyfriend would shut down when she asked him things, asked for any kind of explanation for his behavior… She said: (a) It troubles me that he won't answer the question. (That would be process.) and (b) I really want the answer to the question. (That would be content.)…"
On Social Work in Society: For me, it all comes back to Ubuntu
N.A.H. (Relando Thompkins, MSW)
"when I think of Social Work… it all comes back to Ubuntu: an African philosophy which highlights the interconnectedness of our destinies and our real interdependence on one another to succeed… I… believe that we all have a role to play working toward establishing a more equitable and just society for all people…"
Social Worker Sanctions
Child Protection Lessons (Peter Choate)
"… two social workers have been sanctioned as a result of their work in a case known as Child F… The social worker clearly required direction and support which managers failed to make available. It is also noteworthy that the social worker felt "too junior" to challenge the direction offered by managers…"
Thanks, I just needed to vent
This Is Me (spldbch)
"the research on venting is pretty clear. Venting negative emotions leads to an increase in their intensity. This is especially true when dealing with anger… To be truly therapeutic, venting must be used as a catalyst for identifying patterns and gaining insight…"
Therapy-Interfering Behaviors?
Practice Wisdom (Natalie L. Hill, LICSW)
"… both client and therapist can engage in these kinds of behaviors… Linehan identifies three categories of "therapy-interfering" client behaviors…Behaviors that interfere with the client receiving therapy… Behaviors that burn out therapists…"
Trauma-Informed Social Work Practice: What Is It and Why Should We Care? (post) and podcast
@SWSCMedia (Dr. Nancy Smyth)
"… trauma-informed practice is policy and practice based on what we know from research about the prevalence of trauma and about how affects people… Trauma-informed organizations ensure that every staff member, from the receptionist to the executive director, understands trauma and trauma reactions…"
Traumatic Brain Injury
Trauma & Attachment Therapy (Robin Shapiro, LICSW)
"Traumatic brain injuries are head injuries that can occur from a direct blow to the head, in an accident, sports, or assault (how most civilians get them), or from the shock waves of an explosion (how many military people get them)…

"
We have to start by claiming our failures
Classroom to Capitol (Melinda K Lewis)
"To fully transform our nonprofit social service organizations into effective advocacy forces… we have to admit the truth: Our services, our programs, our intense direct services, are failing… measured against the scope and scale of the problems we face… "
What is yoga?
The Zen Social Worker (MSW Student, Tim)
"When you do yoga poses, you are making the ultimate expression of yourself. Sometimes in yoga our bodies appear contorted, they depict duality. This duality is a great metaphor for understanding what yoga is…"
Women's Experiences in Street-Level Prostitution: Implications for Court-Based and Social Service Programs (part 1 of 2)
Living Proof Podcast (UB School of Social Work, Dr. Shelly Wiechelt and Dr. Corey Shdaimah)
"In Episode 92, Drs. Wiechelt and Shdaimah explain the importance of debunking popular myths related to this population, and emphasize why trauma-informed services rather than punitive and shaming responses are warranted…"
World Social Work Day 2012
A Social Worker's View (Sharon Wangene)
"Every third Tuesday of March… celebrate World Social Work Day (WSWD)… This year, the theme is Social Work: Building Relationships, Strengthening Communities and Partnering for Change. Gary Bailey, President of International Federation of Social Workers shares his message in this video…"
You. Social Justice. Thailand Summer 2012
The Nudge Patrol (Laura, MSW student)
"JustIFi recently announced dates for summer trips abroad to Thailand. The trips are designed to provide participants with opportunities to study the human trafficking trade, work directly with local non-profits, and to engage with Thai children who have been directly afflicted…"
Psychology:
10 Phrases That Every Child Needs to Hear From the Adults in Their Lives
Creativity Queen (Dr. Laura Dessauer)
"No matter what, you are lovable. You do not have to do anything or be anything more than what you are to be loved and to be lovable… At moments life is painful… It just feels bad and I am here to be with you…"
The Anger Debrief for Teens
Teenage Whisperer (Sam Ross, BSc, MSc, Cert EP (YJ))
"Particularly with the more emotionally volatile ones [teens], simply asking them about their triggers will probably not get you to the absolute root of their anger. Yet by letting them voice their surface grievances uninterrupted… the real underlying cause…"
Creating a Healthy Night Ritual (audio)
Sounds True (Dr. Rubin Naiman)
"As… Randy Roark says, "Dr. Naiman integrates what he's learned from modern scientific studies and ancient spiritual perspectives…" … how to create a "sacred nighttime ritual" that can transform our experience of sleep and dreaming."
Dr. Joseph Burgo: After Psychotherapy – Now What?
Best People We Know (Audio Interview by Deb Scott)
"Dr Burgo shares some thoughts about: what it's like to work with yourself on a day to day basis after you're done with psychoanalysis, how you're never really done working on yourself, his notion of shame, why he started his blog…"
Electroconvulsive Therapy For Depression – How It Works
A Friend to Yourself (Sana Johnson-Quijada, MD) – link to MNT article
"Electroconvulsive therapy (ECT) works by altering how different parts of the brain involved in depression communicate with each other…When a patient has depression, parts of the brain that control mood… have an overactive connection – ETC "turns down" that connection…"
Emotional Healing – Why an Awareness of 'How' You Deal With Stress is Essential, 2 of 2
Neuroscience and Relationships (Dr. Athena Staik)
"Your subconscious mind manages your stress by tuning in to your most deeply held perceptions, core beliefs. Your responses are always shaped by what you believe, your perceptions or interpretations, or how you explain your problems to yourself…"'
The Hunger Games, Dissociative Identity Disorder, and PTSD
HealthyPlace (Holly Gray)
"…there's something special about The Hunger Games that impresses me: its remarkably deft portrayal of the immediate and long-term effects of trauma… Collins also touches on complex issues like identifying with the aggressor and survivor's guilt…"
It Will Be Okay
Dr. Ann Becker Schutte
"Life throws us challenges and we're measured by how we respond to them… I may hurt right now, but there is a path through the pain. I just have to keep moving (or, sometimes, stop moving) and let the healing take place… I am recognizing that this will pass…"
The Narcissistic Mother
After Psychotherapy (Joseph Burgo, PhD)
"When parents have poor boundaries… or struggle with separation issues, they may… regard their children as an extension of themselves, not truly separate… One type of narcissistic mother uses her children as a narcissistic feed; another type abandons them in her solipsistic pursuit of admiration, attention from men, etc…"
Parents in Prison: What's to Become of the Children?
ACA (Nancy White)
"One in every 28 children has an incarcerated parent (3.6%)… we can…. become more knowledgeable about the criminal justice system. Learn about what the parent is living through, what the child sees when they go to visit, and what programs, if any, may be available to the children… to help them cope…"
Psychologically Equipped? – White Paper Series #3
Mindfulness for NGOs (Alessandra Pigni)
"In chapter 3 of the White Paper Series on the psychological preparation of humanitarian professionals and volunteers, I… look at of the main approaches that I use in my work when training and supporting frontline staff: Mindfulness-based Interventions…"
Self Harm: Know the Signs, Help a Friend
The Trauma and Attachment Report (Jeanine Tang)
"An individual might self-harm because they feel unbearable tension, depression, loneliness, or rage… often a way of regulating emotions that the person can no longer deal with internally… unexplained burns or clusters of scars or cuts…"
Why Dieters Struggle: A Cognitive Behavioral Viewpoint
Beck Institute Blog
"In this video clip from her "Beck Diet Solution" workshop, Dr. Judith Beck explains that it isn't the fault of dieters that they fail; rather, no one ever taught them the cognitive (thinking) and behavioral skills they need to make permanent changes in their eating…"
Working Through
sgbrownlow.com (Steven Brownlow, PhD)
"Venting (catharsis) alone does not work… A common strategy is attempting to avoid the painful emotion… The process of working through begins when avoidance ends. The counselor assumes the role of caregiver and helps the client explore, express, and regulate the intense emotion…"
Nonprofit:
Diana's Big Move: The job search begins
Idealist Blog (Diana Hsu)
"I love Idealist and I've loved working with people like you, but life is taking me away from New York and I'm officially looking for a new gig… If you're lucky to be in a workplace like mine, you might want to disclose your decision to move on relatively early in your process…"
2012 SXSW Interactive Roundup
NTEN (Amy Sample Ward)
"Last week, I was down in Austin, TX, for the 2012 South by Southwest Interactive Festival… the nonprofit technology contingency… had a strong showing with many social good focused sessions on the agenda… I posted notes from sessions…"
Private Practice:
Got Links? Who's Linking To Your Website?
Private Practice Toolbox (Julie Hanks, LCSW)
"Check Alexa.com and see how many sites are linking… One of the simplest ways to increase links is to incorporate a blog on your website and write weekly…"
Stand Out: Do Radical Ethical Awesomeness
Dr. Susan Giurleo
"Be radically ethical. Insist on wholly permission-based marketing… Radical Ethical Awesomeness builds thriving businesses. Because when you treat people well and not like a number in your marketing funnel, people REALLY trust you…"
Thinking, and Just Thinking
Gamer Therapist (Mike Langlois, LICSW)
"Creating and growing your business involves taking risks, trial and error, and most importantly sustained effort that is not entirely cerebral… you won't think your way into a successful practice, but you may succeed in thinking yourself into a bankrupt one…"
Please share any thoughts or comments you have below. Also, feel free to mention any great posts that I may have missed.
You May Also Enjoy:
Best in Mental Health (wk of 3/12/2012)
Best in Mental Health (wk of 3/5/2012)
Best in Mental Health (wk of 2/27/2012)
Art Therapy and Social Work
Exploring Career Paths in Social Work
Family/Couples Therapy – Improving Relationships