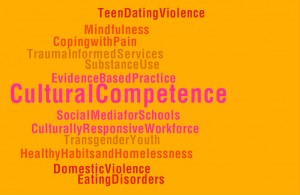 Do you want to keep up-to-date with the latest developments in the mental health arena?
Attending one of these free webinars is an easy way of doing just that 🙂
This post is part of the monthly series, Mental Health Webinars for You, featuring the registration information for free webcasts for this month in the field of social work and mental health.
For a quick overview of the topics covered in this month's selection, please see the above word cloud.
Free Webinars for May 2013:
Working with the AANHPI Communities: Cultural Competence in Practice
CLAS
May 1 at 4PM EST: "the range of issues related to working with Asian American, Native Hawaiian and Pacific Islander (AANHPI) communities: demographic characteristics, health and human service issues…"
May 1 at 5PM EST: "an overview of the key elements of the ACDVTI Self Reflection Tool and offer guidance on preparing for and engaging in a reflective agency self-assessment process."

May 1 at 3PM EST: "what science tells us about effective implementation of evidence-based programs and practices and how this can impact desired outcomes… lessons learned from… Pennsylvania Commission on Crime and Delinquency…"
May 1 at 3PM EST: "Define affirming mental health care for transgender youth… Identify three psychosocial challenges faced by transgender youth and three issues they experience in relation to disclosure… "
May 1 at 7PM EST: "the many facets of eating disorders and their potential relationship to Judaism and the Jewish culture… practical techniques… seeking to understand and minimize any potential cultural barriers that one may encounter…"
May 2 at 5PM EST: "steps that lawyers and advocates can take to help survivors when they become triggered during legal proceedings. We will also discuss how to help survivors anticipate the challenges that the court process poses"
May 2 at 1PM EST: "unique clinical and cultural issues men and women of wealth, power and status bring into their addiction treatment… therapist's conscious and unconscious reactions towards people of wealth… client's view of the therapist as a servant or employee…"
May 7 at 2PM EST: "an overview of general trends in psychology online as well as practical applications for how mental health professionals can effectively use new media, including blogs, social networks and YouTube…"
May 7 at 3PM EST: "an overview of caseworker data trends, CFSR caseworker visit findings and implications, and select State strategies for making improvements in caseworker visits…"
May 7 at 7PM EST: "chat on parenting ADHD kids… with lots of insights on how to manage the many foibles and follies while still enjoying the fun of an active ADHD family…"
NCWWI
May 8 at 3PM EST: "a collection of strategies for building a culturally responsive workforce… encompasses (1) data-driven strategies…(4) community engagement… (7) a systems-wide understanding of the history of institutional racism and its impact…"
Screening IN not OUT of Our Programs: Accommodating Survivors Affected by Substance Use
National Center on Domestic Violence, Trauma & Mental Health
May 8 at 5PM EST: 8 Part Series: "how to screen IN rather than OUT and explores how this can reduce program service barriers, end isolation, enhance safety, and ultimately make advocacy easier."
Thurs, May 9 at 1PM EST: "Experiential therapy provides adjunct tools to the 12-Step program approach used by many health care professionals to address the physical, emotional, mental and spiritual aspects of addiction…"
May 9 at 3PM EST: "gain a better understanding of workplace challenges and workable solutions. You will hear from three employers who have developed and implemented mentally healthy, innovative, cost-effective programs…"
May 9 at 4:30PM EST: no description provided at time of posting
May 12 at 2PM EST: "the importance of brain development, in the service of self regulation, and the impact of the lack of emotional attachment on the developing brain."
May 13 at 2:30PM EST: "discussion with Professor Kohlrieser will focus on his experience with applying mindfulness methods to promote calmness and compassion during negotiations and difficult conversations…"
May 15 at 4:30PM EST: "what engagement techniques can teachers and school administrators use work in our dialed-in, revved up, digital world?… an overview of how you can use Facebook and Twitter… to connect with parents…"
NASW (member free access only)
May 16 at 1PM EST: "implications and opportunities for social work practice, advocacy, and research in domestic violence through new policies in The Affordable Care Act (ACA)…"
Mental Health and the National Guard/Reserves
Defense Center of Excellence (DCoE)
May 16 at 1PM EST: no description provided at time of posting
Coping with Persistent Pain: Current State of Science
Canadian Institute for the Relief of Pain and Disability
May 16 at 2PM EST: "Become familiar with ways of assessing pain coping in persons having persistent pain. Recognize the strengths and limitations of current psychosocial treatment protocols for pain…"
Promoting Healthy Habits: Innovative Nutrition Education & Physical Activity Programs for Homeless Children and Families
National HealthCare Council for the Homeless
May 16 at 1PM EST: "discover ways to address obesity prevention, promote healthy habits, and overcome challenges inherent in working in homeless shelter settings… teaching homeless mothers to shop on a budget…"
The Inside Story of Being a HeartMath Trainer
HeartMath
May 18 at 2PM EST: "Goals and benefits of HeartMath training programs…What population groups are HeartMath programs for and what programs are offered… Core content of the training programs… Stories from current trainers… "
Anger, Rage & Relationship
Sue Parker Hall [online events.co.uk]
May 20 at 3PM EST: "some of her own theoretical approaches to working with anger and hopes that this will invite dialogue to help deepen our own understanding of anger and support our work with clients…"
Binge Eating Disorder
Timberline Knolls Residential Treatment Center
May 22 at 2PM EST: "how to identify signs and symptoms, and how to diagnose BED… practical treatment interventions such as reading assignments, handouts, and worksheets…"
Law and Policy Issues in Reducing Firearm Violence
CSN
May 22 at 2PM EST: "a look at laws and policies that are known to reduce levels of firearm-related injuries, whether those injuries were intentional or not… best practices… public health law related to firearms and what they mean for practitioners…"
Ticket to Work for People Who Have a Mental Illness: Support on Your Journey to Employment
WISE
May 22 at 3PM EST: no additional information provided
Expanding Stakeholder Involvement: Promoting Inclusive System Planning
NCJA
May 22 at 3PM EST: "explore how different levels of government have looked to improve their justice systems by engaging with non-traditional system partners… the benefits that can come with inclusive system planning… the challenges…"
Who's Leading the Leading Health Indicators? – Mental Health
HHS
May 23 at 12PM EST: "an overview of the Mental Health Leading Health Indicator (LHI)… also highlight one program's success around suicide prevention in a Tribal community…"
Military Cultural Competence
NASW (member free access only)
May 23 at 1PM EST: "military is a sub-culture in its own right and receive an introduction to the military branches, rank structure, values, recent large-scale conflicts, deployments, reintegration, and more…"
Service Implications of the DSM-5 for People with Autism
ASAN
"May 28 at 2PM EST: "various revisions to the autism diagnostic criteria in the DSM-5, along with the service provision implications… breaking down silos between those diagnosed with Asperger's disorder and… other autism spectrum disorder… "
So You Have Your Credit Report, Now What?
ACF
May 29 at 2PM EST: "IV-E agencies to provide one free copy of any consumer report annually to each child in foster care age 16 and up… begin the dialogue about credit worthiness…"
Using Youth Courts as a School Discipline Practice
OJJDP
May 29 at 3PM EST: no description provided
Culture and Inclusion Within the Context of Trauma-Informed Domestic Violence Services and Organizations
National Center on Domestic Violence, Trauma & Mental Health
May 29 at 5PM EST: "strategies to create welcoming and inclusive environments and relationships with a focus on cultural attunement as a core component of trauma-informed domestic violence advocacy."
Wellness Recovery Action Plan
Dr. Mary Ellen Copeland
May 30 at 2PM EST: "WRAP has become the cornerstone of mental health, addictions and whole health programs in all kinds of facilities including state wide mental health agencies, the Veterans Administration, hospitals, schools… prisons…"
Did you enjoy this post? If yes, may I ask you to please "like" and/or "share" it with others? Thanks!
Do you have additional free online-accessible mental health educational events that you would like to share with us?
To suggest content, please provide a brief description of your upcoming webcast and/or your RSS feeder information below in the comments section and Social Work Career Development will help you spread the word 🙂