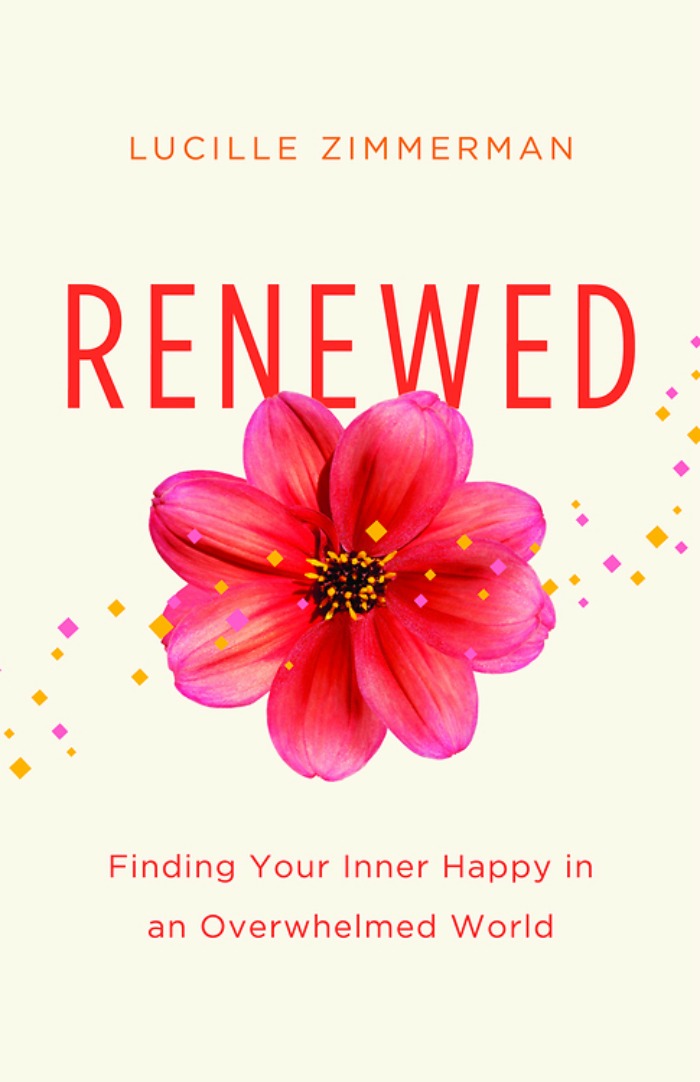 Self-Care – You know that it is good for you but how do you get there, if you have no time,  energy or idea of where to begin?
Some of you may be familiar with my post on self-care for social workers and other mental health professionals but today's post is for everyone, regardless of what profession you are in.
When you do not engage in self-care on a regular basis, everything about it could feel like work!
It may feel easier to postpone taking care of yourself to the weekend, or to your vacation-time.
The problem with this approach is that you may end up feeling sick, rundown and exhausted by the time the weekend or your vacation finally rolls around…
This is because our bodies are telling us that we must take the time to provide ourselves with self-care every day… to feel healthier, happier and more energized throughout the week.
The question is how do you engage in self-care? And are there simple ways of doing so on a daily basis?
Lucille Zimmerman, MA, LPC, the author of Renewed: Finding Your Inner Happy in an Overwhelmed World has written an inspiring book on this specific subject.
Healthy boundaries
Spiritual self-care
Solitude
Beauty
Play
Exercise
Connection
Generosity and gratitude
Healthy Boundaries
How does setting boundaries help you with respect to self-care?
It enables you to establish close relationships and stand up for yourself i.e., taking responsibility for how you think or feel and behave. You are the gatekeeper in charge of your life and space. This means saying no when you want or need to say no…
Cultivating self-compassion and embracing imperfection are also important to achieving more tranquility.
Spiritual Self-Care
Lucille recommends that you consider spiritual self-care; that is, a search for meaning in life through something more powerful and bigger than ourselves.
Spirituality can come in many forms. For some, it can be a way of connecting with god. For others, it can be a way of connecting with others and/or themselves.
Some examples of spiritual self-care include:
Meditating which contributes to brain (and overall) health
Praying for someone
Lighting a candle
Keeping a journal
Spending time in nature
Solitude
You enable your body to recharge by providing it with solitude, the ability to be truly alone with your thoughts.
How can you experience more solitude in your life?
When at home, check twitter/email etc. for only 5 minutes every hour
Find times to turn off your cell phone
Go to a park/beach etc and read
Have a slow/meaningful conversation with someone
Exercise outdoors vs indoors in a gym
Turn off the radio/TV/phone/computer
Would you like to hear from Lucille Zimmerman directly? Below is a 6 minute video clip on self-care with Lucille. 
Beauty
What does beauty have to do with self-care? 
It helps take the monotony out of our routine and helps us take pleasure in goodness.
One of the key components for happiness is the ability to savor beautiful and positive moments/experiences. Beauty also relaxes the soul.
How can you experience more beauty in your life?
Appreciate the ordinary such as eating a meal, walking outside or taking a scented bath
Close your eyes and transport yourself to a pleasant memory
Keep a journal
Surround yourself with objects that give you pleasure (soft linens, pretty picture etc.)
Lie on a blanket outside and stare at the sky
Spend time in nature
Play
Play is not just for kids! According to Lucille, it is not only critical for your self-care but also for your survival. Aside from it being terrific in stimulating creativity, it is helpful in building up resiliency and intimacy, preventing aggression, relieving boredom and tension, and is an effective therapeutic modality.
Ways to add more play to your day:
Spend time doing things you enjoy (things that make you lose track of time)
Make a bucket list of things you want to do before you die and start working on doing one of those things
Specifically plan fun into your schedule (if you won't plan it, it won't happen)
Spend time with others who are likely to want to do something fun
Exercise
Why exercise?
It is a wonderful stress-reliever because it reduces the level of stress hormones in your body.
If you are anxious, depressed or stressed, you are even more likely to benefit from it 🙂
This is because exercise also releases good-feeling endorphins… and as you know, it also improves your overall health and provides a huge variety of other health benefits.
How to incorporate exercise in your life:
Work out first thing in morning
Combine it with a fun activity such as meeting friends, listening to music etc.
Jump over any negative thoughts with: I'm going to feel amazing in 20 or 30 minutes.
Pick a type of exercise that you enjoy to increase the chances that you will stick with it.
Start – make the time!
Connection:
Connection with others is an important component. In fact, the happiest people are those who learn how to reveal themselves and establish close connections with others.
You can also see how Brene Brown stresses the importance of connection in Shame Resiliency 101 a la Brené Brown.
Tips for connecting:
Be a good listener
Ask for help before you are in a crisis
Don't wait for someone to reach out to you; pick up the phone or email a friend and ask to get together
Generosity and Gratitude
Why be generous and express gratitude?
It is not only a nice thing to do but you will feel good and happier as a result of doing so!
We have a universal desire to reduce the suffering of others and improve the lives of others.
Some examples of acts of kindness:
Look for ways to give away 5 or 20 dollars
Pay the toll for the driver behind you
Secretly buy the pizza for the people sitting at a table next to you
Leave change in the soda machine
Take a meal to a family in need
Offer one of your sick days to someone who doesn't have any left
Gratitude > happiness; happiness > makes good things happen (income, work outcomes, friends, engery, health, longer life)
With gratitude, you are acknowledging the good in life.
How to express more gratitude:
Write a thank you note to someone (how much he or she influenced your life)
Start a gratitude journal
Make a mental list of 3 to 5 things for which you are grateful
Make a habit of telling your friends/family/co-workers what you appreciate about them
Overall, I found Lucille's book to be a very helpful guide on the topic of self-care. The only reservation I have about the book is with regards to its Christian undertone. I would have preferred it to have been without mention of a specific religion so as to feel more inclusive of people from all religions/backgrounds.
If, after reading this post and/or other posts/books on self-care, you continue to find yourself having a difficult time incorporating a bit of self-care into your life, you may want to consider therapy so as to explore the reasons for the difficulty and help you feel worthy of this care.
Personal Story
Recently, I have slipped in my own self-care habits. It is something that I am aware of but am not yet able to combat.
That said, perhaps one possible solution could be to employ the connection idea Lucille recommended together with self-care. In other words, ask a loved one or close friend to provide a little self-care to me while I am unable to do so.
It is not what I would normally do but I could see how this could help… it could be a strong positive force encouraging me in the right direction. What do you think? Would you like to give this a try as well?
Please do try to do at least one of these self-care activities for yourself. You deserve some tender loving care!

What did you think about these ideas? Which self-care ideas are you going to try to incorporate into your life?
Disclosure of Material Connection: I received one copy of the book mentioned above for free in the hope that I would mention it on my blog. In addition, the link to this book is an "affiliate link." Regardless, I only recommend products or services I use personally and believe will be good for my readers. I am disclosing this in accordance with the Federal Trade Commission's 16 CFR, Part 255: "Guides Concerning the Use of Endorsements and Testimonials in Advertising."
SaveSave