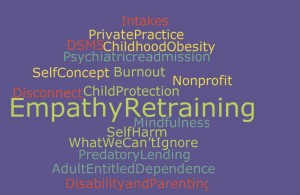 I'm watching twitter, google+ and the web so you don't have to…
This post is part of a weekly series, Best in Mental Health, featuring the best posts of the week, in social work, psychology, evidence-based practice/healthcare, non-profit and private practice concerns on Social Work Career Development.
To get a quick idea of the topics covered in this week's round-up, please see the above word cloud 🙂
Evidence Based Practice/Healthcare:
The Mental Elf (Andre Tomlin)
"transitional care interventions with pre-discharge [psycho education, medication education], post-discharge [psycho education, telephone and home visits, transition manager, structured needs assessment] /or bridging components may reduce…"
KevinMD
"the nuances of learning a new EHR and CPOE (computerized physician order entry) system is not fun… I do not have technology phobia. Actually I embrace it… would like to see is more user friendly software…"
Social Work:
Beyond Diagnosis: The Dynamics of Disability and Disruptions in Parenting
InSocialWork Podcast (UBSSW, Dr. Christina Sogar)
"there are between 4.1 and 9 million parents who have a disability… how characteristics of disability (e.g., onset and symptom variability) impact and shape the parenting process and can increase the likelihood of child welfare involvement…"
Do interventions reduce recidivism in child protection?
Child Protection Lessons (Peter Choate)
"isolation is a risk factor in child protection cases… the creation of social support networks can help to reduce recidivism. Giving parents therapy to help them address such things as mental health, emotional issues, trauma and substance abuse also helps…"
Empathy (Re)Training
Gamer Therapist (Mike Langlois, LICSW)
"One of the required exercises… is for the students to get a trial account of World of Warcraft… Things became easier… after I set up times to meet them in the game world, and help them learn and play… I started playing EVE again… to have a little refresher course in empathy…"
Geek Therapy? How Geek Culture is saving the world – Geek Therapy Podcast
Mobile Social Work
"Geek Therapy is a podcast and curation site on "How Geek Culture is saving the world"… youtube version of his podcast talking to Mike Langlois… gamer-affirming therapist… about gaming culture…"
How Predatory Lenders Prey on The Poor
Center for Financial Social Work (Byron Smith)
"These loan companies target all populations, but the poor and those with financial problems are the most vulnerable… For a $1500 loan, the loan fee would be $500… annual percentage rate of 234.25%…"
Intake my breath away
SocialJerk
"Engaging clients is a never ending process that begins the moment they first hear your voice and ends…never… we are fortunate enough to have an intake worker… We don't always have the best info, and sometimes it makes us look like idiots…"
Where Is Your Line (Tilly)
"Undeniably, India has a problem with rape… country has "deep rooted" gender issues, lying within "the status of women [and] … the male mindset."… discourse completely ignores the greatest threat facing American woman… Someone is raped or sexually assaulted every 2 minutes in the US…"
Self Concept: Self-Image, Ideal Self, and Self-Esteem
Practice Wisdom (Natalie L. Hill, LICSW)
"Self-concept includes two different experiences of the self: The view you have of yourself (Self-image)… How much value you place on yourself (Self-esteem or self-worth)… What you wish you were really like (Ideal self)…"
Socialworkerhelper (Dr. Allen Frances)
"In the past, social workers and other mental health professionals have relied on APA and the DSM for guidance in the diagnosis process… Millions of normal people will be mislabeled as mentally ill… all codes used for reimbursement are ICD-9-CM codes…"
Classroom to Capitol (Melinda K Lewis)
"There are social problems–crippling, devastating, completely unjust social problems–that we don't really even see… global poverty is such a literally foreign concept to my students… we are affected, in ways immediately visible and distantly imagined, by these problems we studiously ignore…"
Psychology
:
"Moving through… midlife transition, our awareness of who we are changes, as does our awareness of those with whom we are in intimate relationship… our relationships face the challenge to… grow with our changed understanding…"
"Burnout gets lots of press, but too often it's seen as a 'stress issue'… The Davos Open Forum dedicated time to discuss the devastating effects of burnout on employees, and offering ideas for personal and organisational solutions… mindfulness…"
"The current study, based in the Netherlands, sought to assess the effects of a family-based multidisciplinary CBT, aimed at reducing Body Mass Index (BMI) and improving quality of life in obese children in comparison to standard care…"
Dr. Ann Becker Schutte
"our technology eats into our time to be in relationships… Give yourself a half an hour where you can't see your phone, check your email, or update a status. Instead, use that time to deliberately reconnect in a relationship–with yourself or someone else…"
Learning to Trust Yourself: Mindfulness & Vulnerability
Mindfulness Muse (Laura Schenck, M.A.)
"One possible result of feeling bombarded with messages about how you should be or how you should live is gradual disconnection from your authentic self… a powerful step toward building self-efficacy… self-esteem… Mindfulness meditation…"
A National Dialogue
NIMH (Thomas Insel)
"the President launched the National Dialogue on Mental Health, bringing together 200 mental health experts… the Affordable Care Act will expand mental health care to 60 million more Americans… we must intervene earlier, as we do today for cancer and heart disease…"
The Stigma of Self-Harm: How Can it Disappear?
HealthyPlace (Jennifer Aline Graham)
"It is so hard to try to make the stigma of self-harm disappear – or any stigma for that matter… Find speakers who can come to health classes and talk about self-harm… Spread the awareness beyond just your group of friends and your family…"
Summer Self-Improvement: 25 Inspirational Ideas
Dr. Christina Hibbert
"Read. As much as you can. Read for pleasure, yes, but also, read to learn. Read many different varieties of books–self-help, history, culture, whatever you like… Laugh. If you don't laugh enough, look for ways to get laughing!…"
Understanding Society (Daniel Little)
"government surveillance of citizens' communications… how comprehensive this data is about each of us — who we call, who those people call, when, where… Among the political rights that we hold most basic are the rights of political expression and association…"
When Enough is Enough: Adult Entitled Dependence
The Trauma and Attachment Report
"Adult Entitled Dependence (AED)… adults who remain in their parents' house and don't work or study toward something that can lead to their independence in the future…"
Nonprofit:
How Millennials are Changing Social Causes – Webinar
FrogLoop
Thursday, June 13 at 2PM EST: How Millennials connect with causes – using social media and different peer methods to engage… participate in various service programming from micro-volunteering to leadership programming…"
Idealist 101: Learn the secrets of our site
Idealist (April Greene)
"first installment focuses on making your organization's page the best it can be. Whether you're currently hiring staff… or want to connect with the best people and orgs, your organization's page is how you represent yourself…"
Private Practice:
Therapists Spill: Delivering Difficult Feedback to Clients
PsychCentral (Margarita Tartakovsky, M.S.)
"candor helps clients become more self-aware and encourages growth. Plus, it fosters the relationship between client and therapist… initial discomfort of the tough feedback will pass, the client will see that you are invested in them…"
Virtual Assistants Can Save Your Sanity And Make You Money, Too
Private Practice from the Inside Out (Tamara Suttle, M.Ed., LPC)
"a VA is someone who can support your business by doing time-consuming or laborious tasks that you don't want to and/or have time to do… amount you would pay a VA is much less than what it would cost you to do the same tasks…"
Did you enjoy this post? If yes, would you please "like" and/or share it with others? Thanks!
Also, please feel free to share any comments or noteworthy posts I missed below.
You May Also Enjoy: