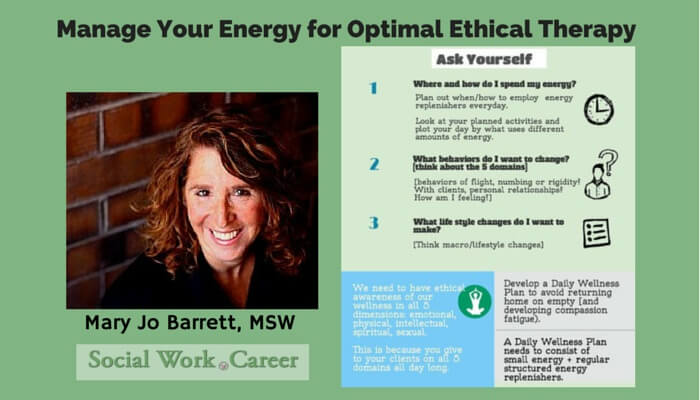 Manage Your Energy for Optimal Ethical Therapy
Is there a connection between ethics, performance and self-care? Absolutely! According to Mary Jo Barrett, MSW, there is not only a link between these elements but she argues that it is not ethical for a social worker (or other mental health provider) to not be emotionally or physically fit.
In a nutshell, this is because the more exhausted a therapist you are, the more likely you are to incur some sort of boundary violation and/or not be fully attuned to your client.
Taking breaks and pacing your life are key.
As an example, the importance of taking regular bathroom breaks throughout the day was stressed. This is a biological need that you may frequently forget to give yourself. You may think this has no impact on your work, but it does.
You will inevitably be spending part of a session thinking about needing to go to the bathroom and this takes away from your presence and concentration on your client and his/her needs.
To achieve optimal performance, health and happiness, you need to skillfully manage your energy.
Below is an infographic detailing key lessons from Mary Jo's talk "Shhh! The Ethical Dilemmas No One Talks About" at the 2013 Psychotherapy Networker Symposium.

Lastly, one additional component that Mary Jo shared in her talk was an exercise that combined components of meditation with guided imagery and a writing exercise.
For this practice alone, you may wish to consider purchasing access to her talk [you can jump ahead to almost the very last 20 minutes of the audio] or keep your eyes open for when she will be coming out for her book which will be including a download of her exercise. It's that good!
What are your thoughts/comments? Which energy replenishers on the infographic would you consider incorporating into your daily routine? Are there others that you would recommend adding to the list?
Image: Mary Jo Barrett, MSW