Do you feel at times a bit stressed or overwhelmed? Would you like to learn a strategy to undress your stress?
This week, I had the pleasure of interviewing Marianna Paulson, a stress transformation coach and educator, who will be demonstrating for us an invaluable breathing technique to aid in stress management.
One thing that stands out about Marianna is that she truly "walks the talk." She doesn't just provide you with guidance on how to manage your stress. She lives and breathes it herself. In particular, her ability to successfully manage her career despite her chronic rheumatoid arthritis, is a powerful illustration of the anti-stress or "auntistress" lessons she teaches her clients.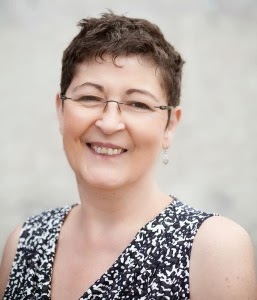 Marianna Paulson, B.Ed; B.P.E-O.R.
So without further ado, Marianna, Could you share with us a bit of your background? What led you to move from teaching to specializing in stress management? 
Prior to my move to British Columbia, I had the pleasure of teaching at the elementary level in two other Canadian provinces, mainly French as a Second Language (FSL).

In British Columbia (B.C.), I was a substitute teacher at both the elementary and secondary levels. I then moved on to teach English as a Second Language (ESL) to adults. This part-time position suited my medical condition. 

Then the government eliminated the school's contract, so I was out of work. Since I was in considerable pain and I was on the waiting list for several surgeries, I decided not to pursue other work. Rather, it seems to have pursued me.

Teaching is very hard work; even more so if you live with a chronic, debilitating disease such as rheumatoid arthritis. I wanted to do work that made use of my teaching background, while allowing me the flexibility of scheduling my time to suit the vagaries of this disease.

Once I experienced the benefits of my own stress transformation, I decided to move from teaching ESL to teaching people how to undress their stress.
How does your teaching experience influence your current anti-stress work?
Here are a few take-aways from my classroom days, which I use in my work as Auntie Stress:
• Use a variety of strategies to make the lesson stick,
• Some days flow better than others – tomorrow will be better,
• Be prepared for varying rates of progress,
• Compassion and humor are indispensable,
• Allow for lots of practice time,
• Be fully present with the student,
• Patience benefits both the learner and the teacher.
@AuntieStress is a great Twitter handle; how did you come up with it?
Initially, my business was called Change of Heart Stress Solutions. However, when I wrote articles I would sign my name as "Auntie Stress." Soon, people began to call me "Auntie" or "Auntie Stress." 

I realized that the name fit on so many levels. It was not such a mouthful to say; the tone is right, plus, when I introduce myself, people start to laugh, once they've caught on to the pun. Right off the bat, they are undressing their stress, since humor is a powerful "auntie-dote" to stress.
A few months ago, you had taught me a wonderful breathing technique. Could you walk us through that powerful breathing exercise technique?
In the video clip below, Marianna takes us through a breathing exercise…
One of the side-effects of chronic stress is that it changes the way you breathe. Instead of using the diaphragm to breathe, the muscles of the chest, neck, shoulders and back are recruited. 
This leads to a restriction in the connective and muscular tissue in the chest wall, which makes it more difficult to breathe properly. 
Without awareness of the way you are breathing, you "practice" this – it becomes the normal way you breathe. Normal, however, is not natural. Natural is the way you were meant to breathe, by using your diaphragm.

Thank you for this helpful demonstration. What suggestions do you have to help someone incorporate this breathing technique into his/her life? At the beginning, it is probably likely to feel a bit hard…
Breathing this way may feel a bit strange to you. In fact, you may feel like you can't breathe, and get a little panicky, as a friend of mine did, when she first tried it. As I tell my clients, you often feel comfortable in your uncomfortableness, which in this case, is chest breathing. So, until you re-educate your system, be patient with yourself.

To help retrain yourself, I'd recommend attaching this to something you already do. For example, each time you look at the clock, spend a minute breathing properly, using your diaphragm.

Remember, you didn't always chest breathe. So, you know how to do it properly, because you once did. Like that proverbial riding a bicycle, you may be wobbly (and feel breathless), at first. The more often you practice, the quicker you'll get back to the natural way of breathing, where you won't have to consciously think about engaging your diaphragm.
What do you love about your work in the stress management arena?
I love giving people the keys to drive their own "car". In other words, once a person is equipped with stress tools and techniques they become empowered – they are able to recognize when their system is out of synch and bring it back into balance. 

Also, the more balanced they are, the quicker the rebound from the upsets of life. Performance and intuition also improves. I feel that by helping people to undress their stress, it serves a larger purpose – when people feel better, they do better, and that's good for all of us!
What aspects do you find most challenging?
One of the most challenging and rewarding aspects of what I do is getting people to understand that they do not have to be a passive bystander in their own health and well- being. 

In other words, people usually have the ability to experience some improvements in their lives [regardless of whatever ailments and injuries they may have] by working on some things that are under their control and that may be improved upon, like their experiences of the stressful experiences in their life.

For example, I have lived with rheumatoid arthritis for thirty-five years. Despite the degeneration in my joints from pre-Auntie Stress times, I feel that I am in a good place of health.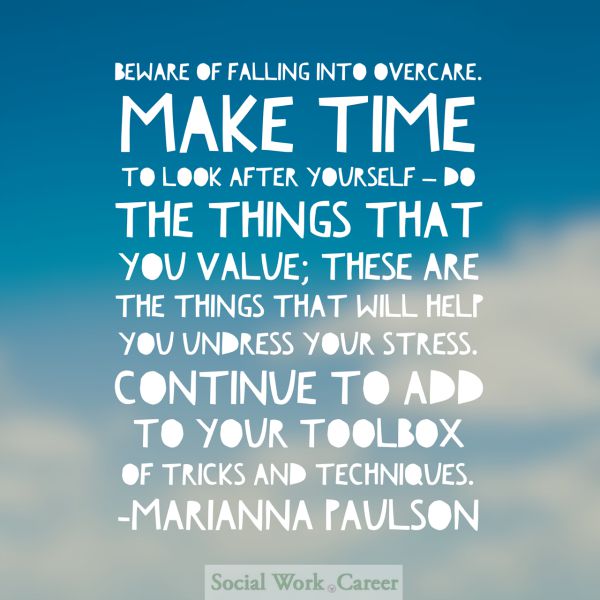 Finally, as you know, social workers and other human service professionals are in extremely high stress positions. What are the 3 most important stress management techniques that you would recommend they employ?
Beware of falling into overcare. This is a common occurrence in people who are in the "Helping Professions." In other words, you care too much. This comes at a great cost – often resulting in burn-out. 
Make time to look after yourself – do the things that you value; these are the things that will help you undress your stress. Ironically they're often the things you stop doing when you are under stress.
Continue to add to your toolbox of tricks and techniques – All your life experiences, whether they be personal or work-related, serve to fill your toolbox with techniques, strategies and tricks that can be transferable to your current situation. Plus, a variety of tools and techniques help to keep you and your clients stimulated and interested.
Develop flexibility – It's as important physically, as it is emotionally and mentally. Apply it to all aspects of your life. 
Flexibility also helps to keep you young at heart!
Thanks so much, Marianna, for taking the time to talk and share with us your invaluable breathing technique! 
What are the methods that you/your clients use to help manage stress?
Like this post? Please share it!