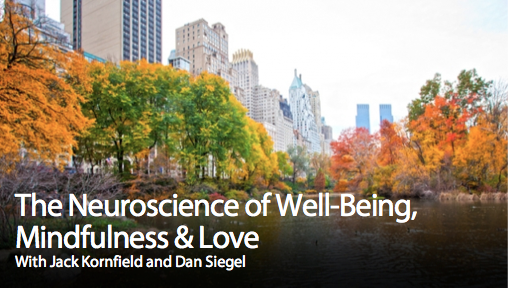 Would you like to find out how you may experience more well-being in your life?
According to both Jack Kornfield and Dan Siegel [experts from both eastern and western psychologies], the secret to greater mental health and well-being lies in engaging in mindful meditation, or loving-awareness practice.
This is the first out of two posts that will provide you some of the key take-aways shared by Jack Kornfield and Dan Siegel during their inspiring two-day conference about the "Neuroscience of Well-Being, Mindfulness and Love."
What Is Love? 
The conference began with an exchange between Jack and Dan on what they felt was love, but no specific definition was provided.
Jack described love as mysterious and an invisible force that connects us. He then proceeded to give the example of dark chocolate ice cream to illustrate the very subjective experience of love.
Dan suggested looking at love not just as an emotion/feeling that we have for others, but what we feel for the planet, our home.
You didn't end up leaving the conference with any definition, per se, of what love is but you learned about the importance of loving [mindful] awareness, and the basic need we all have for love and interconnection from when we were born.
Furthermore, you end up feeling from both Jack and Dan how love and interconnectedness is not only related to your well-being but also to that of the wider circle of all human beings and the safety of our planet.
In other words, every act of kindness you do on behalf of others [in thought or action] or every thoughtful act on behalf of our planet is an act of love, interconnectedness that supports your/our well-being.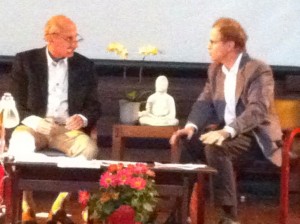 The remainder of this post will focus on the wisdom or practices that Jack shared.
Key Buddhist Principles of Psychology:
We all begin with inner goodness [innocence].
We can go through all kinds of difficult experiences but no one can put your spirit in a prison.
The acceptance of our imperfections by another person, a therapist etc can be transforming for an individual. It can enable the person who has been "seen" to flower.
—> We can provide this type of transformative acceptance/seeing of ourselves through meditation practice.
We all have the capacity for attunement/resonance, loving awareness i.e., the ability to be attuned to the circumstance or to another person [a sense of connection without judgment].
When this takes place, you begin to recognize that identity is fluid and you begin to shift identity.  We often believe that our histories define us but neuroscience and contemplative practice prove that we can change who we are.
We have a culture based upon on an independence myth but we are all interconnected. We couldn't develop/grow/exist without the help/support of our caregivers/neighborhood etc.
To the extent that we become rigid and lose interconnectivity, this is a cause of suffering.
Mindfulness needs to be wedded with compassion [so that you do not judge yourself for not meditating properly, for the thoughts/feelings that arise etc.]
Compassion is innate and it arises from our interconnection.
Jack shared a study in which it was demonstrated that even rats will demonstrate compassion towards other rats… when they are taught how to allow another rat freedom, they will provide another rat its freedom when they see it suffering. Similarly, when they are taught that they will be provided 5 chocolate chips and how they may share them, they will decide to share 2 of their 5 chocolate chips for other rats.
There is a difference between pain and suffering.
Suffering has causes and it can be released through contemplative practices.
Pain stems from the body; it comes and goes. Suffering grows out of our original reaction to the pain. On top of the human body, we have fear, worry, stress, insecurity, greed and loss becomes layered with suffering.
A 3 min clip about this conference held at another location.

Additional Learnings:
Forgiveness is both necessary and possible. It is never too late to find forgiveness and start again. Whenever we forgive, we free ourselves from the past.
Mindfulness > capacity to pay attention > for presence > for attunement 
Whatever your circumstance, it is never too late to change/improve your mental health.
From mindfulness training, you can go from unhealthy mental states to joy & shared joy, well-being, emotional regulation, equanimity, balance, mindfulness and resiliency.
M-fit – a Mindfulness-based Mind Fitness Training course being used in the military for predeployment for the marines.
It is benefiting soldiers to have better emotional regulation not only in the field when they are faced with ambiguous situations but also at home with their families and neighbors.  
Two Paired Meditation Practices:
One meditation practice that we engaged in was a "paired breathing exercise" with a seated neighbor. One of us was supposed to close her eyes and breathe. The second person was supposed to watch the closed-eye neighbor breathe and match her/his breath and then start making the sound "Ah"  every time the closed-eye neighbor breathed out for X minutes [and then the roles were reversed].
When I was the closed-eye breather and my neighbor was matching my breath and saying the "Ah," at every exhale, it felt very soothing – almost like a "holding/safe" type of experience. It also brought back for me some longing memories of my late mom who recently passed away.
The second meditative practice with a partner was a "paired gazing exercise" in which we were to look into our neighbor's eyes [different day/neighbor] and Jack proceeded to walk us through various scenarios/feelings as we were doing this. These included sensing their sorrows/difficulties, their childhood joys and their secret delights/dreams/aspirations, looking at them observing you and so on.
We did this for several minutes. It was quite intense to do this, to be gazing this deeply and intently at someone you did not know and feeling their/your emotions. Despite our not knowing each other beforehand, we were able to look at each other for 99% of the time [however, I did find myself needing to look away for a second 2 or 3 times towards the end].
We felt very close and connected as a result of this experience and during the joyful thoughts/moments, we had several smiles/bursts of joy coming out of our faces that felt so incredibly wonderful – we could see each other's sparks and were encouraging and supportive of those candles/fires burning and that was so lovely.
The other particularly strong moments were when we were asked to look at ourselves as if from the other person's eyes and I had the sensation of looking at myself from outside of myself, almost as if moving in and out of my body.
This, in turn, gave me the experience/feeling that my identity was not permanent and that a shift in my identity was possible [that I need no longer be limited/held back by personal history]. This meditative practice was quite powerful and we felt quite close to one another afterwards.
Be sure to check out Part 2  in this series to learn about Dan Siegel's key learnings about mindsight and attachment theory.
What are your thoughts about meditation, well-being and/or our interconnectedness? What kind of experiences have you had at meditation conferences/retreats? 

Image: Omega NYC

Reference: Kornfield, J. & Siegel, D. (2013, November). The Neuroscience of well-being, mindfulness and love. Omega Institute, New York, NY.
SaveSave
SaveSave