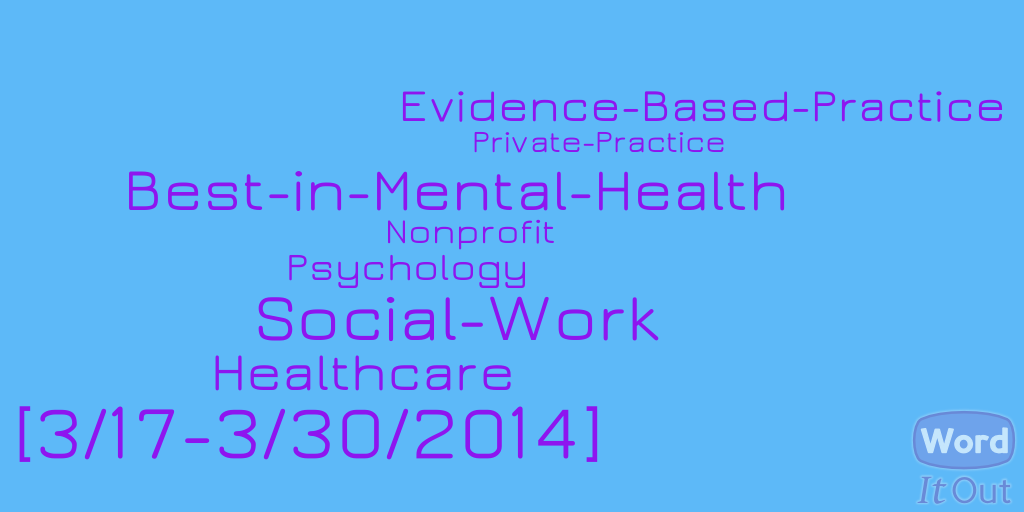 I'm watching twitter, google+ and the web so you don't have to…
This post is part of a weekly series, Best in Mental Health, featuring some of the best posts of the week, in social work, psychology, evidence-based practice/healthcare, non-profit and private practice concerns on Social Work Career Development.
The two themes that were prominent among this week's round-up were career and technology. Enjoy!
Evidence Based Practice/Healthcare:
Is there 'parity of esteem' in shared decision making between physical and mental health?
The Mental Elf (Sarah Carr)

"study suggests that people who use community mental health services may be less likely to be involved in making shared decisions about treatment and support than people using primary care services for physical conditions… "
What You Want From A Flipped Clinic
Flip the Clinic (Rachel Swaby)

"Better communication between their care providers, Better access to resources… Flip the order… getting tests done before a patient sees a provider… Patient education tools should be delivered before the visit… More technology…"
Social Work:
3 Examples of Everyday Cissexism
Everyday Feminism

"the existence of people who identify as transgender essentially challenges the idea that gender = genitals…"Is it a boy or a girl?"… Sexual Education… Schools… perfect place to teach children and adolescents about transgender issues…"
The budget is us
Classroom to Capitol (Melinda K Lewis)

"Budgets tell the story of who we are and, in this way… federal budget does parallel your household budget… federal budget may be crafted and approved in Washington, DC, but it is not an autonomous force…"

The Fifth Edition of the Diagnostic and Statistical Manual of Mental Disorders (DSM-5): A Conversation
InSocialWork Podcast (UBSSW, Dr. Robert Keefe and Dr. Barbara Rittner)

"many of the important changes to the manual. They also discuss several of the challenges and concerns identified with this edition…"
Forensic Social Work and Its Importance in the 21st Century
Socialworkerhelper (Jack Monell)

"Forensic social work is the application of social work to questions and issues relating to law and legal systems… Child custody issues, involving separation, divorce, neglect, termination of parental rights…"
Perfectionism: stalker, hunter, destroyer
Behind the Human Curtain (Lesa Fichte, LMSW)

"Perfectionism… is not always just a client issue. As therapists, supervisors and other human service professionals, we need to be self-aware… Jeffrey Young… identifies schemas or "lifetraps" we carry in the core of our being…"
Redefining the Federal Roles in Social Welfare
American Academy of Social Work and Social Welfare

"the grasp on a middle class life has become increasingly threatened by feared loss of job, or unemployment, or transfer to lower paying work… blue collar, white collar, and executive level
Safeguarding Disabled Children
Social World Podcast (David Niven)

"The Development Manager for Disabled Children's Services at the Ann Craft Trust (ACT) Sarah Goff… higher vulnerability of disabled children to abuse and the preventative measures which can be taken…"
Similarities and Differences between Social Work in the United States and the United Kingdom
The Social Work Podcast (Jonathan Singer, Ph.D., LCSW)

"David Niven… former National Chair of the British Association of Social Workers…in the UK child and family social workers serve as child protection workers… in the USA child protection and social work are separate professions…"
Social Workers as a Bridge
The New Social Worker (Laura Saltzman)

"a bridge of hope, understanding, guidance, and inspiration… journey both social workers and clients have to take… tolls represent the beginning challenges… the bridge is not magical… obstacles or setbacks…"
Social work, robots and a technological future
podsocs (Patricia Fronek)

"Antonio López Peláez… Robots and technological advancements will be very important to social work in the next two decades…"
Spanking Fosters More Aggression in Children Across First Decade of Life
CUSSW

"results highlight a bi-directional pattern between parent and child that starts early and amplifies across the first decade, suggesting that children would benefit if parents adopted more positive parenting behaviors…"
The Strengths Perspective: It's More than Some Catchy Tagline
Social Justice Solutions (Cayce Watson, LAPSW)

"Saleebey relates a strengths approach in social work practice to CPR… this concept translates to believing in someone until they can believe in themselves… Graybeal's ROPES (Resources Options Possibilities Exceptions Solutions)…"
A Unique Privilege: Social Work in a Cancer Institute – Part One
UBSSW (Pat Shelly)

"Roswell staff…very good about… TIC [trauma-informed-care]…"what has this person experienced?," as opposed to "what's wrong with this person?"… psychosocial assessments… identify trauma histories…"
Videos as Tools of Advocacy in Social Work Pedagogy – BPD 2014 Conference
Teaching Social Work (Laurel I Hitchcock)

"presenting with Dr. Andrew Battista… about a video assignment we developed for a social work policy course…a link to the Prezi…. results in improved understanding of and efficacy on the topic.."
Psychology:
6 Questions To Ask Before Changing Careers
Julie Hanks, LCSW (Rachel Eddins)

"There are multiple ways to make a change in your career path without making a complete career change… Are you bored with your current work tasks… How would you prefer your day to day environment to be…"
Ages and stages
Counseling Today (Laurie Meyers)

"between… 60 and 70… "new aged" — may be considering retirement, transitioning to part-time work, embarking on a new career… may also be the primary caregivers for a parent or spouse… loss… more common as people age…"
Autism Awareness: April 2014
NIMH (Thomas Insel)

"prevalence in boys was 1 in 42; in girls, 1 in 189… brain changes in autism are likely to have originated before birth, although the disorder is usually diagnosed behaviorally after age 4 years… need more science as well as more services…"
Ban School, Open Facebook
Cyberbullying Research Center

"to limit access to Facebook for the purposes of preventing cyberbullying is akin to restricting access to school with the goal of preventing face-to-face bullying… adults need to teach youth to use technology responsibly…"
I Feel Your Pain: The Neuroscience of Empathy
The Trauma and Mental Health Report (tmastor)

"Empathy is understanding… emotions from the perspective of another… Pain empathy takes the concept of empathy to the next level, describing physical sensations occurring to others… Mirror neurons…"
PTSD Recovery: How To Begin Developing A Sense of Safety
HealthyPlace (Michele Rosenthal)

"Two pillars supporting all PTSD recovery are finding ways to reclaim a sense of safety and control… Safety comes from things you can depend on… Start being aware of positive, supportive, protective things…"
"The Pyramid of Self-Worth": Step 3–Practice Self-Love (& video)
Dr. Christina Hibbert

"Self-love is… Self-Care (taking care of yourself)… Self-Compassion (developing loving thoughts and feelings about yourself)… Self-Kindness (doing nice things for yourself)… Let down your walls and let the love in…"
Stealing and Lying are big 'red button' pressers!!
Jane Evans Trauma Parenting

"When I work with parents… who are raising traumatised children, I spend time looking… at what might 'press their buttons… traumatised children have to find out… this is what has ensured their survival until now…"
Stop and Frisk Through a Sociological Lens
Everyday Sociology (Karen Sternheimer)

"One proactive alternative to measures like "stop and frisk" is a prevention-centered method called problem-oriented policing… Police department… create multifaceted solutions through continued dialog with community members…"
The tilt intervention for working with involuntary clients
The Progress-Focused Approach (Coert Visser)

"When clients at first start to explain why they would rather not talk to you… it generally helps…listen to this and to explore the reasons they present. Then… ask …"What made you decide to come here after all?"…"
Therapy: Why Haven't Outcomes Improved in 40 Years?
Australia Counselling (Clinton Power)

"Scott D. Miller, Ph.D… client dropout from therapy continues at around 47%… there is little difference in outcomes whether therapy is practiced by experienced professionals, students or early career professionals…"
Unregulated underground adoption networks: "re-homing"
Center for Advanced Studies in Child Welfare

"process of re-homing a child [can appear to be] much like that of selling a used product on Craigslist. [Some] individuals who no longer want [to parent] their children sign up for online forums… post advertisements for them…"
Nonprofit Career:
Three Strategies for Women Who Want Raises
NPQ

"When women act in ways that aren't considered sufficiently feminine, and when women advocate for themselves… some people find it unseemly… women need to take a more calibrated approach…"
Better Negotiating Skills for You and Your Clients – Webinar
Center for Financial Social Work

"April 8 at 2PM EST: negotiation expert and Close the Gap App author, Lisa Gates… improve your negotiating skills by capturing your strengths and accomplishments in ways that frame your unique value…"
How to get a job in social care: top tips from our experts
Guardian Careers

"Get as much experience working with people as you can… start to identify opportunities that will give you the kind of experience that would be helpful… Voluntary work can be a great way to taste test different roles…"
Private Practice:
How Skype Became Software Non-Grata, and Other Tech Will, Too
Person-Centered Tech (Roy Huggins, MS NCC)

"Vsee occupies the same niche as Skype… essentially free… supplies the basic needs of video and sound… difference is that VSee… meets… (NIST) standards for security…"
Informed Consent For Distance Counseling
Private Practice from the Inside Out (Tamara Suttle, M.Ed., LPC)

"When your practice includes distance counseling… special considerations that must be addressed in your informed consent form…"
Now You Know My Secret. How and Why I Offer Online Programs!
Counselor Entrepreneur (Camille McDaniel LPC, NCC, CPCS)

"I see individuals for counseling in my private practice… but I also have a passion for… supporting and educating counselors…"
Should You Claim Your Yelp Page?
Get Down to Business Consulting (Cathy Hanville)

"The answer in regards to SEO is a resounding Yes… Claiming the page yourself allows you some power in regards to what content is seen…"
Thanks for reading and taking the time to comment, subscribe, share, like and tweet this post

Book Review: The Social Work Interview
Suicide Prevention: Take Five – You're Worth It!