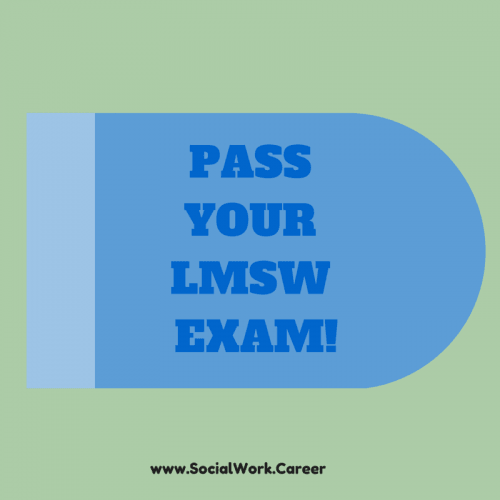 Are you feeling a bit anxious about your upcoming LMSW exam? You are not alone…
Many of us feel this way whether we end up taking the licensure test right after we graduate or do so years later.
What can you do to feel less anxious about the test?
Prepare for the exam:
As Alexander Graham Bell stated, "preparation is the key to success."
Here are the Ten Tips I Used for Passing the LMSW Exam. If you follow these, you too will pass your licensure test.
Preparation is a good antidote to stress/anxiety because when you feel well-prepared, you are more likely to feel confident about passing the exam.
To assist, you may also wish to participate in an LMSW online study group or use one of these tools.
In addition, getting used to the LMSW exam format by looking over LMSW practice questions may be useful. Below are 10 practice questions, as well as here and here.

Still feeling nervous? 

Consider These 4 Stress-Busters:
Employing a simple breathing technique
Try to do this at least once a day [if not 2 or 3x] on a regular basis for at least a week prior to the exam so that you may use this right before the exam, as well as during [when needed].
Exercising
Try to engage in any type of exercise  for a few weeks prior to the exam to reap the full tension release benefits. According to the AADA, it is best to aim for 30 minutes, 3 to 5 times per week.
This is something that you can try out in the midst of your study periods [to help solidify what you've learned], as well as the morning before your exam. The link provides you with an assortment of free meditations.
Watching four informative videos on the topic:


Some Advice from Dawn Hall Apgar 
[NASW Exam Preparation Teacher]
[1 of 4]
There are three more videos below from individuals who are test preparers. The social workers in all four videos address both anxiety and actual studying techniques at a NASW event that took place in New York in 2012..
And now the additional practice exam questions you've asked for….
10 LMSW Exam Practice Questions
1. According to Beck, a depressed person does not see the positive aspects of his/her situation because of:
a. Precipitating factors
b. Lack of support
c. A dysfunctional schema
d. Lack of adaptive coping strategies
2. It is necessary to obtain informed consent prior to giving out data about a patient. Which of the following statements is MOST correct regarding this issue?
a. You must obtain informed consent from your patient in most situations, but not in all situations.
b. If a significant other requests information about your patient, you may release it without informed consent.
c. If you are going to consult with a colleague, you must have informed consent from your patient.
d. You must always have informed consent from your patient.
3. A soldier with combat-related Posttraumatic Stress Disorder desires to return to combat. What is the first thing you should do?
a. Allow the soldier full self-determination, returning when he deems appropriate.
b. Inform the client that return will likely cause an increase in symptoms and is not advised.
c. Contact the commanding officer to determine if this is an option for the soldier.
d. Assess progress in treatment and current level of functioning.
4. A man is referred by his primary care provider and presents with a diagnosis of Hypochondriasis. What is the FIRST crucial step in treatment?
a. History taking
b. Establishment of trust and appreciation for the patient's problems
c. Education about the link between stress, emotions and lifestyle and physical health
d. Treatment planning
5. Client: "I'm depressed. I've lost my hair at a much quicker rate than I thought possible. I'm terribly embarrassed to go out in public. I'm feeling extremely anxious and uneasy about my baldness." Social Worker: "You're anxious and uneasy about the transformations that are a natural process of aging." The social worker's response is:
a. Encouragement
b. Summarization
c. Paraphrase
d. Reflection of feeling
6. How do you find the median of a set with an even number of items?
a. The larger of the two middle numbers is the median.
b. The two middle numbers are both medians.
c. Find the average of the two middle numbers.
d. A set with an even number of items does not have a median.
7. A young, beginning social worker has some intrapersonal and interpersonal struggles with women in authority positions that stem from her poor relationship with her mother. The social worker's client is a female 50-ish successful CEO of an Internet start-up. The social worker is likely to struggle in therapy due to:
a. Counter-resistance
b. Counter-transference
c. Transference
d. Resistance
8. When treating elder adults with depression, the BEST approach to treatment is:
a. Cognitive behavioral therapy coupled with family interventions.
b. Significant reliance on psychiatry because medication management is most important.
c. Treatment of elder adults is similar to other adults, so no significant alterations are needed.
d. Coordination between medical and mental health due to the influence of medical conditions on psychiatric symptomatology.
9. Professional ethics and professional values differ in which of the following:
a. Values are a subset of ethics.
b. Values deal with what is right or wrong in practice, and ethics deals with the principles of 
practice.
c. Values and ethics are basically the same and are evaluated based on the specific situation.
d. When a social worker makes a judgment that is ethical, you can assume it is a judgment 
that also upholds professional values.
10. What is the first thing to assess in on-site basic crisis intervention, such as in the aftermath of a natural disaster?
a. Immediate needs for physical safety, food and clothing
b. Trauma response
c. Future mental health risk
d. Needs for various concrete services (e.g., transportation, alternate housing)
Correct responses:
1c 2a 3d 4b 5d 6c 7b 8d 9b 10a
Here are the four videos that you may find helpful, particularly if you've had the experience of failing the exam your first time around.
Guidance from 3 Test Prep Specialists
[2 of 4]
[3 of 4]
I hope you find these practice questions and suggestions helpful in addressing some of your concerns around the LMSW exam.Wishing you the best of luck!
Have you recently taken the exam? What lessons learned and/or tips do you have to share?
SaveSave