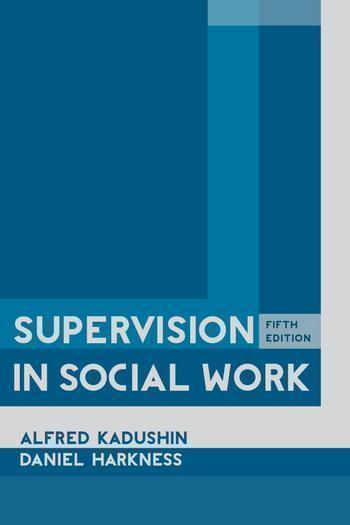 Are you looking for a good resource to prepare you to take on the role of social work supervisor? Or perhaps you are an educator looking for an excellent book about supervision to use in your advanced practice class?
If yes, Supervision in Social Work, Fifth Edition, by Alfred Kadushin and Daniel Harkness may be the perfect book to fulfill your needs!
Kadushin and Harkness (2014) provide you with a thorough review of supervision, starting with how it originated, the different types, to recent innovations in the field (such as live supervision). Furthermore, you are alerted about the typical challenges and issues that arise when you become a supervisor and are guided in the art of social work supervision.
As you can see in the below chart, social work supervision has 3 roles: administrative, educational and supportive.
The 3 Supervision Functions
While each function has its own primary goal and short range objective, a supervisor's long term goal (encompassing all three roles) is to provide her/his agency's clients with the service her/his agency is mandated to provide in an efficient and effective manner.
Educational supervision has to do with how supervisors teach their subordinates to prepare them to know what they need to know in order for them to do their jobs. The chart below summarizes the 6 conditions under which people learn best.

Individuals Learn Best Under the Following Conditions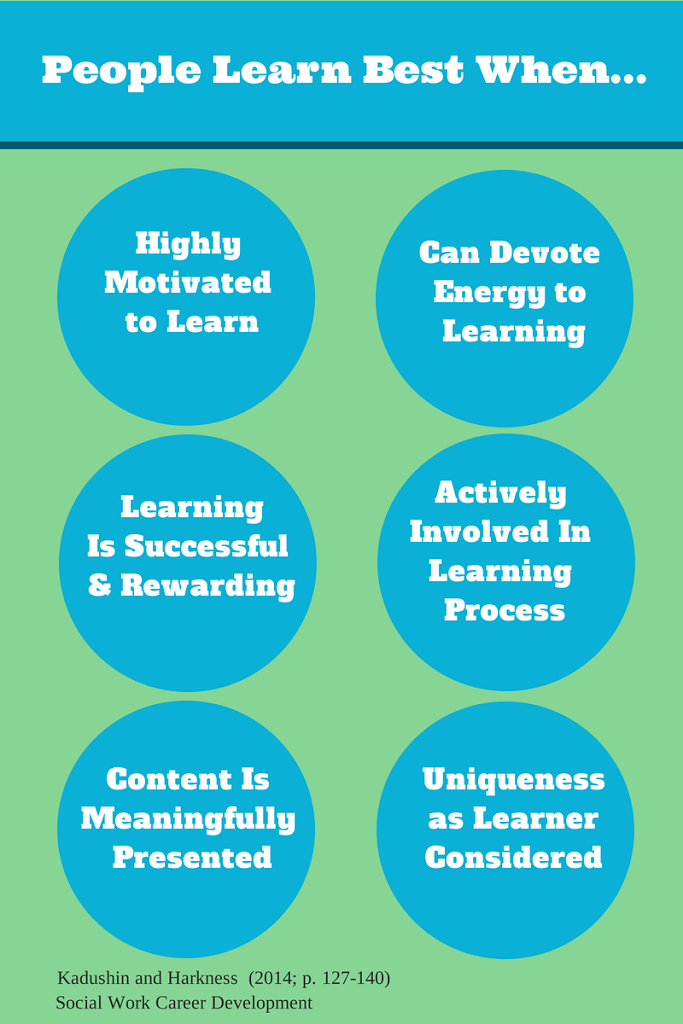 How May Supervisors Optimize These 6 Conditions?
To Increase Motivation to Learn:
Explain usefulness of content
Make content meaningful in terms of worker's specific needs and motives (What's in it for worker?)
Stimulate interest
To Maximize Energy to Learning:
Provide structure (in terms of time, place, obligations, expectations etc)
Establish safe & secure atmosphere
Acknowledge and use what worker knows and can do
Move from known to unknown
Respect worker's rights (within limits) to determine own solutions
To Make Learning Successful & Rewarding:
Provide learning in digestible dosages
Give positive feedback
Present content from simple/obvious to complex/obscure
Evaluate progress over time
To Facilitate Active Involvement in Learning:
Encourage worker's participation in setting agenda
Encourage discussion
Provide opportunities to use knowledge
To Present Content Meaningfully:
Select content that interests the worker
Present content within a theoretical framework (to help her/him understand why people do what they do in the way they do it)
Plan your teaching
Teach selectively (have priorities)
To Ensure Consideration of Learner's Uniqueness:
Use educational diagnosis (what knowledge and skills this worker needs)
Apply educational diagnosis
Engage worker in assessment
Consider worker's pace
There are many additional valuable nuggets to gleam from this book!
In sum, I found the Supervision in Social Work book to be an excellent reference on supervision, whether you are an experienced or newbie clinician. For example, the chapter that has been referenced above pertaining to how you may improve your educational supervisory skills, is one section that is likely to be of great value to even the most seasoned practitioner.
One item that was not included in the book but could have provided some additional texture was a video/dvd component. I would have loved to have had the opportunity to listen to or watch the group supervision illustration Kadushin and Harkness described, albeit eloquently.
What are your thoughts about the supervision process? Please write your comments below.
Did you find this post helpful? If yes, could you please "share" it with others? Thanks.
Disclosure of Material Connection: I received one copy of the book mentioned above for free in the hope that I would mention it on my blog. In addition, the link to this book is an "affiliate link." Regardless, I only recommend products or services I use personally and believe will be good for my readers. I am disclosing this in accordance with the Federal Trade Commission's 16 CFR, Part 255: "Guides Concerning the Use of Endorsements and Testimonials in Advertising."