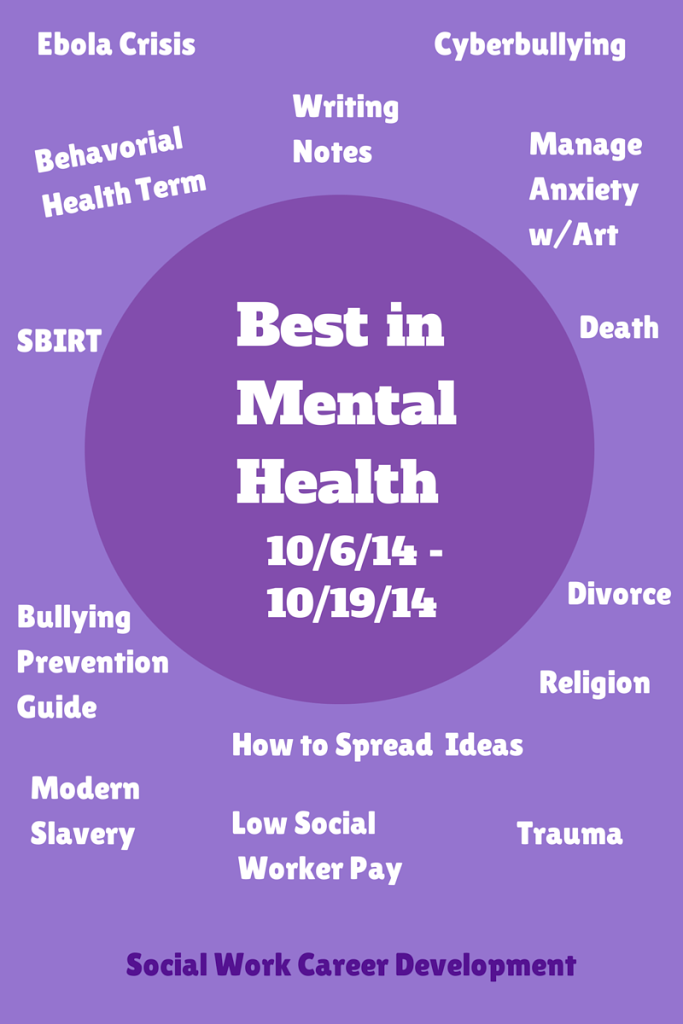 I'm watching twitter, google+ and the web so you don't have to…
This post is part of a weekly series, Best in Mental Health, featuring some of the best posts of the week, in social work, psychology, evidence-based practice/healthcare, non-profit and private practice concerns on Social Work Career Development.
To get a quick idea of the topics covered in this week's round-up, please see the above word cloud 🙂
Evidence Based Practice/Healthcare:
Benzodiazepines linked to dementia risk: cause for concern or lacking causality?
The Mental Elf (Laurence Palfreyman)
"possible direct association, even if… use might also be an early indicator of a condition associated with an increased risk of dementia… another reason to avoid… other than very short term relief of insomnia or anxiety…"
Cyberbullying and mental health in young people
The Mental Elf (Elly O'Brien)
"Cyberbullying uniquely relates to internalizing, externalizing, and substance use problems in adolescents… Family dinners… likely part of a wider set… environment… positive effect on young people's overall mental health…"
A New Training in Adolescent Substance Use Prevention & Intervention
IRETA
"teens still use substances at unsafe levels… the earlier they start, the more likely it is that they'll develop substance use disorders as they mature…  Introduction to SBIRT for Adolescents… self-paced, online training is free…"
We are at the beginning of a revolution…
Susannah Fox
"parallels between the current state of health data tracking and the trajectory of adoption we saw in the early days of internet… 40%…with 1 condition are trackers… 62%… with 2+ conditions…significant impact on health… "
Social Work
:
Bullying Prevention Resource Guide
[email protected]
(Gabriela Acosta)
"Bullying prevention is a community responsibility. To combat it requires proper intervention and a collective effort… The best way to address bullying is to stop it before it starts… some great resources…"
"in order to support the bereaved, we must, on some level enter into an internal relationship to the deceased ourselves, to understand who they were… tie up the loose ends left behind with the living…"

"Ebola… "serious public health threat."… "Huge stigma and fear … easily blows out of control with these viruses."… We should be paying greater attention… where there has been widespread transmission…"
""Oct. 30 at 2PM EST Webinar: "Economic Abuse" is… used by abusers to limit and control a partner or spouse's access to financial resources… partner/spouse financially dependent and unable to leave…"
"Biden jokes…"But my daughter's a social worker… people make jokes about social workers being poorly compensated… I became a social worker to help the poor… not to become part of them…"
"Three more… interviews… Juliet Koprowska… use of self, revealed through examination of real social work encounters… Sam Baeza… what social workers experience when assessing families where sexual abuse… primary factor…"
"between 600,000 and 800,000 people are trafficked across international borders each year. There may be as many as 27 million slaves in the world today… social work's role in addressing…"
"it can be easy for people who are white to dismiss what happens on a daily basis to people of color as isolated events… white privilege… question your everyday interactions with the world…"
"Social workers work every day with people who are living with schizophrenia… in a medical setting, school, homeless or domestic violence shelter, prison, nursing home, or any other setting… some resources…"
"social workers took to Twitter to discuss… professions response to the events in Ferguson… special #MacroSW chat on 10/28…Young and Hitchcock… assignment… involves… watching… Inequality for All…"
"Approximately 1.5% of the world's population live with speech and language disabilities… non-English speaking and native tongue users can make use of this application…"
"Only 19% report that the person in charge of Mental Health at their site was a clinical social worker… need for a system of integrated electronic medical records… need for one's own office… to ensure privacy…"
 Technology… does not immediately spring to most people's minds… But high quality social care… with improved technology at its heart should be what people expect… much stands in the way of… adoption…"
"Often behavioral health is used as a catch-all term for substance use and mental health-related issues… ambiguity aside, my bigger concern is that I think the term can be both misleading and stigmatizing…"
Psychology
:
3 Tips For Practicing Mindfulness While Eating
HealthyPlace (Patricia Lemoine)
"a particularly useful trick… is to appreciate the food while you consume. Focusing on the meal itself helps you trigger feelings of nourishment and joy, which counterbalance the sometimes harmful feelings…."
"first step toward improving or enhancing… marriage is to understand what happens when relationships fail… four horsemen clip-clop into the heart of a marriage… criticism, contempt, defensiveness, stonewalling…"
"religion is often far more a matter of identity than it is a matter of beliefs and practices… inextricable from all the other factors that make up a person's self-understanding, like culture… sexual orientation…"
"a nine-page summary… to equip educators and parents to spot cyberbullying, respond to it appropriately and meaningfully, and to prevent its future occurrence among the children and teenagers they care for… "
Rise Magazine
"Stories By and For Parents Affected by the Child Welfare System Healing Together… therapist gets to know the parent and the baby, helps them connect through play… range of activities designed to promote healing…"
Helping Kids Manage Anxiety with Art
Imperfect Families (Amy Johnson Maricle)
"Get out a sheet of paper… In the middle, write: "I feel anxious/angry/sad because"… Ask your child to paint over… circle… Explore… what he thinks might help… positive word or phrase. Write it in the middle…"
Insight into how 'The Asperkid's Launch Pad' changed one mother's life
JFK Blog
"whilst reading… I realized that I have been feeding my son's demon… Not in the things I say but in the fact that I do so much for him, hover over him, jump in and help when he struggles… job is to empower my son…"
Strengthening your prefrontal cortex
The Progress-Focused Approach (Coert Visser)
"strong developed PFC… capable of controlling themselves… delay gratification… no matter how old you are, you can train your PFC… prepare better for conversations… easier to remain focused on your goals…"
Trauma-Informed Care for Mental Health Professionals
Athealth (Carole Warshaw, MD, NCDVTMH)
"DV [domestic violence]… pervasive to be a major… concern… trauma theory shifted…"What's wrong with you?" to, "What happened to you?"… What are the strengths and sources of support you draw on?… handful of evidence-based trauma treatment models… survivors of DV…"
Unravel the Trauma: Understand Addiction
Heal My PTSD (Judy Crane)
"Trauma is visceral, sensory and cellular… impacts the very core of who we are, what we believe about the world and our place in it… OCD… anxiety and depression can all be a result of a trauma history… never explored…"
Women, Orgasm, & Sexuality
Psychology Tomorrow (Sarah Barmak)
"For decades… primary model of normal sexual behavior patterns… linear — beginning with desire… culminating in climax. Experts… circular, less goal-oriented models that better reflect the female experience…"
Nonprofit:
Four Ways to Spread Ideas
SSIR (Nicole L. Dubbs & Kerry Anne McGeary)
"Where you intervene in a system is important… Ideas that provide clear social incentives and compelling benefits… Agreement… on an outcome, not an approach… co-create ideas and spread solutions…"
8 Reasons Why Bad Trainings Happen to Good Nonprofits
Beth's Blog
"TMI: Don't overload participants with too much information… Your content needs to resonate with your audience's needs… Don't just talk at them, interact!… Death by PowerPoint…"
Tips for Writing Notes Part 1
 and 
Part 2
Private Practice Kickstart (Dr. Maelisa Hall)
"look… someone else reading them five years from today… free of judgment… to add more in-depth analysis… consider writing separate process notes… Could another therapist… know my actions were appropriate?…"
Like this content? "Like" this post and/or sign up for more posts like these from Social Work Career Development !
Which one, if any, of the above posts was your favorite for this week? Also, if you think a #mustread post was excluded, please feel free to share it below in the comments section 🙂