Have you been looking for a way to boost your mental strength, or increase your ability to cope with life's inevitable stresses and challenges?
If yes, you will want to take Amy Morin's new online course: Mental Strength: Mastering the 3 Core Factors. This course is based upon Amy's well-known post and subsequent book 13 Things Mentally Strong People Don't Do [affiliate link].
This post will provide you with a review of the mental strength course, as well as some learnings for those of you looking to increase your resilience and boost your optimal performance.
As per Amy Morin, LCSW, a licensed social worker and psychotherapist, we may inadvertently create negative self-fulfilling prophecies by the way we think, feel and behave. This is because the way we think influences our thoughts, which in turn impacts our emotions and ultimately our behaviors, or actions, the underlying premise of cognitive behavioral therapy (CBT). However, by changing the way we think, we're able to set up a more favorable sequence of events. Please see the graphic below for an example.
To backtrack for a moment, Amy developed her expertise in mental strength as a result of having to face and triumph over a number of terrible personal losses. She had lost both her mother and her 26-year old husband in a three-year time frame, both suddenly and unexpectedly. As if this wasn't difficult or painful enough, she had to cope with anticipatory grief as her father-in-law was diagnosed with terminal cancer a few years later.
The lessons Amy learned from what life threw at her was that in order to survive and thrive, having good habits wasn't enough; you had to get rid of bad habits as well. Hence, the list, book and ultimately this course to optimize your mental strength were born.

The online Mental Strength  course is powerful. It contains the following units:
The Mental Strength Advantage
How Your Way of Thinking Can Hold You Back
Train Your Brain to Think Differently
How Your Behavior Can Hold You Back
How to Behave Productively Despite Your Circumstances
How Your Emotions Can Hold You Back
How to Control Your Emotions so Your Emotions Don't Control You
How to Keep Building Mental Strength
As Amy wisely notes, we all go through difficult times and obstacles.  However, building mental strength will fortify you so that you will be able to handle whatever gets thrown your way.
What Is Mental Strength?
Mental Strength = Regulation of Your Thoughts, Emotions & Behaviors
Mental Strength is NOT the same as mental health; you may increase your mental strength irrespective of your state of mental health.
Mental Strength Tips
To Regulate Your Thoughts

Recognize and replace untrue (irrational) thoughts

What is the evidence that this is true?
What is the evidence that this is NOT true?
What is another way of looking at this?
If this was true, how bad would it be?

To Regulate Your Emotions

Control your emotions so that they don't control you

Name emotions
Balance with logic
Face fears (gradually)
Engage in mood-boosting activities

To Regulate Your Behaviors

Behave productively regardless of circumstances

Conduct experiments
Monitor habits
Maintain positive habits
Discontinue unhelpful habits
Why Boost Your Mental Strength? It Will:
Improve your resilience
Increase your happiness
Increase effectiveness and efficiency of your brain > Improved judgment and insight (because you'll be making rational and emotionally balanced decisions)
Increase your ability to step outside your comfort zone, and problem-solve.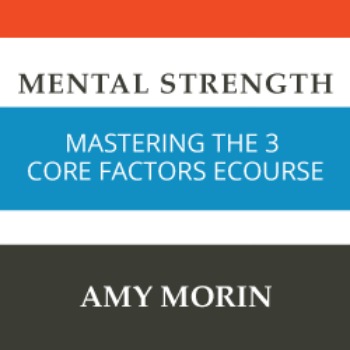 I highly recommend Amy's Mental Strength course. It not only provides you with the knowledge, skills and exercises to regulate your thoughts, emotions and behaviors, but it also provides you with engaging illustrations/games of the various concepts. If adhered to, I believe it will indeed help you perform your best at work, or at home (and you'll feel happier as well!).
Furthermore, it provides you with assessments of where you're at prior to learning the skills in the course (in terms of managing your thoughts, feelings and behaviors) vs. the end of the course, as well as three subsequent times after you've completed the course. You may also repeat the course as often as you like. The ability to measure your progress plus repeat the course are a particularly valuable benefit because the truth is that we are all works in progress, and we are likely to benefit from improving ourselves in a number of different areas (and may need to go through the course a few times to get there)!
Lastly, I believe that this course may be particularly helpful to social workers and other helping professionals. This is not only because we need to be emotionally optimized in order to be fully present to help our clients, but the tools and examples presented may serve as useful illustrations or exercises for us to employ in our work with clients.
Like this Post? Please share it! 
Disclosure of Material Connection: I was given free access to the course mentioned above in the hope that I would mention it on my blog. In addition, the link to this course is an "affiliate link." Regardless, I only recommend products or services I use personally and believe will be good for my readers. I am disclosing this in accordance with the Federal Trade Commission's 16 CFR, Part 255: "Guides Concerning the Use of Endorsements and Testimonials in Advertising."
SaveSave
SaveSave
SaveSave
SaveSave
SaveSave