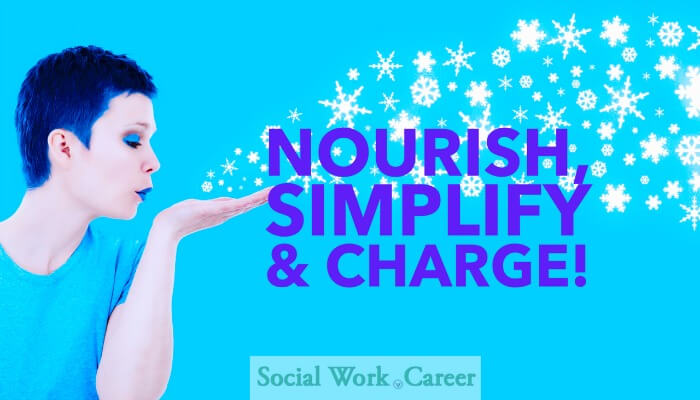 Self-Care for the Soul: Nourish, Simplify and Charge!
Happy New Year! What are some of your personal or professional goals for this coming new year?
One idea that you may find helpful in achieving your plans is to select three words that capture the essence of those objectives. It was Chris Brogan who started this idea several years ago.
The advantage of selecting three words is that it enables you to have something concrete to visualize and carry with you throughout the year to help inspire and motivate you to achieve your goal(s) throughout the year.
For example, last year, my three words were  Clear, Reach & Embrace! and the year before, Daring, Connection and Self-Care.
This Year, My Three Words Are: Nourish, Simplify and Charge!
Nourish – You may also benefit from upping the ante in terms of nourishment…
Could you be eating a bit healthier than what you are currently? How well are you taking care of you and your body? When we give ourselves low quality nutrients, we are running on low poor quality fuel and harming our future health/longevity.
Are you getting enough sleep/rest? The vast majority of us are not… Most of us should be getting about 7 hours of sleep/night. However, many of us are engaged with one electronic screen or another… Not sleeping enough is harming us in the present, and could even raise our risk of obtaining Alzheimer's down the road.

A few tips to help you get more sleep:

Decide (and stick) to a better sleep schedule
Avoid electronic screens for an hour before going to sleep
If using a computer at night, employ free software like f.lux that makes the color of your computer's display darken at night and be less stimulating.
Create a relaxing bedtime ritual such as taking a bath/shower and reading or meditating before going to sleep.

Are you playing enough/at all? As per Dr. Stuart Brown in Brene Brown's "The Gift of Imperfection," (affiliate link) the opposite of play is not work but depression!

Sufficient play is critical for our wellbeing, creativity and our success. Look to engage in play that incorporates the following 7 properties:

Without purpose
Not required
Delights
Flow
Free to be me
Spontaneous
Could keep on doing it (so much fun)

For me, art/art journaling/journaling is one fun activity that I enjoy 🙂
Are you spending enough time with others? Some of us are not. As social workers and mental health professionals, we make sure to be there for our clients and our family but are we making it a priority to spend time with a friend who is there for us?
What thoughts come to your mind as you think about nourishment? For me, all of these ideas were a natural extension of the concepts of self-care and embrace that I had started working on two years ago.
Simplify – This is another area that you (and your clients) may identify with.
Do you have too much stuff? Could your office/home benefit from some decluttering? When we keep only those items that spark our joy, we are not only more able to get more done but we have an office/home that brings us much greater peace and happiness.
Could one (or more) of your work/home routines be reorganized so as to take up less time? Or might you benefit from taking periodic short breaks to improve your focus/productivity?

Sometimes by combining two or three tasks normally done separately, you may be able to become more efficient and save yourself some valuable time (allowing yourself more time for the above mentioned play! ).
To maximize focus/productivity and feel less stress, scientists recommend we work for 90 minutes and then take a break of 10 minutes; advocates of the pomodoro technique work in shorter bursts and take more frequent breaks. (For the pomodoro technique, you set a timer for 25 minutes, and when it goes off, take a short break for 5 minutes. After you've done four Pomodoro sessions, you take a longer break of 30 minutes.)

Do you sometimes feel stressed or overwhelmed?

Meditation is one of the best ways you can manage stress. It clears your mind and helps you restore your equilibrium. I've been meditating at least once a day for 10 to 20 minutes for a few years and it's been a wonderful gift. I'd like to increase that to 30 minutes per day!
Also, note that the above mentioned ideas of playing, eating well and getting sufficient rest all enable you to cope with stress better.
Some additional methods of self-care that you may employ.
Charge – I chose charge to be a stronger, more action-oriented word than merely venture or accomplish because I'd like to CHARGE with regards to a particular professional goal this year.
You may wish to CHARGE AHEAD with nourishing or simplifying your life. Alternatively, there may be another goal that is high up on your list for this year.
To succeed in charging ahead (or in making headway with improvements in any area), make your objective(s) SMART, that is:

Specific – What exactly will you do?
Measurable – How will you know that you've met your goal?
Achievable – What (reasonable) steps are you going to take to reach your goal?
Relevant – What about your goal makes it important to you?
Time-bound – When do you want to complete your goal?
Below is a graphic representing Nourish, Simplify and Charge.

How about you? What are your three words for 2016? Or would you rather choose one word?
Like this post? Please share it!