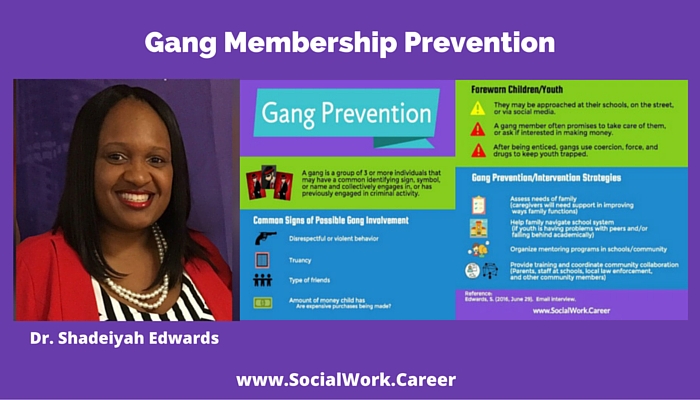 Gang Membership Prevention
Have you wondered what factors draw youth to gangs, or what steps you may take to help prevent gang membership?
Today, we have the good fortune of having Dr. Shadeiyah Edwards, a psychologist who specializes in working with individuals associated with gangs, share some of her expertise with us.
Some of you may know Dr. Edwards from Instagram (this is where I met her), or from her site www.drsedwards.com. She has been working in the mental health field for over ten years. In addition to working as a psychologist, she teaches as an adjunct professor at Pacific Oaks College and provides specific trainings on the topic of gang membership prevention.
Thanks to Dr. Edwards, we will learn about:
Risk factors for gang membership
Connection of gangs to human trafficking
What to forewarn kids/watch re social media
Some gang prevention strategies and more!
And now without further ado, Shadeiyah, could you give us a bit of your background? 
I attended California State University, Long Beach where I majored in Criminal Justice. I had always dreamed of going to law school after graduation, but went to study in the Masters of Public Administration program. After a year in the program, I decided it was not for me. Becoming a mom changed my focus because I learned patience, understanding, selflessness, and what it was like to care for another human being. I then went to collect my M.A. in Applied Forensic Psychology and Doctor of Psychology in Clinical Forensic Psychology from The Chicago School of Professional Psychology.  
My academic journey, work experience and growing up in Los Angeles, California, also shaped, and molded me to work with this population. My family is from the inner city, so I was exposed to gangs early in life. My research has been dedicated to young men and women who have lost their lives to gang violence and those that lost their lives to the criminal justice system.
How would you define a street gang?
There are many definitions out there, but in my research, I reference the Office of Juvenile Justice and Delinquency Prevention (OJJDP).
A gang is a group of three or more individuals that may have a common identifying sign, symbol, or name and collectively engages in or has previously engaged in criminal activity.
Gangs have been known to commit violent crimes, including homicide, drug and human trafficking, destruction of property, and the driving out of local businesses.
At what age does typical gang involvement begin and what are some of the main risk factors that increase the likelihood of youth joining gangs?
It has been reported in several different studies that gang involvement can begin as young as 11 years old. The path to serious violent delinquency is said to be through gang membership and in order to target the gang involvement, it needs to be through prevention and intervention efforts. The more risk factors that youth experience, the more likely they are to join a gang.
Risk factors generally fall into four areas: individual, family, community, and school. Service providers need to take into account all four areas in order to appropriately assess and understand why youth are at risk for joining a gang.
Individual risk factors include such behaviors as delinquency, aggression, violent behavior, mental disorders, childhood trauma, and substance use.
Family risk factors include traumatic childhood, lack of family involvement, lack of parental supervision, poor adult attachments, parent lack of education and displaying attitudes that tolerate violence.
Community risk factors are the most researched of all the risk factors. Areas with high drug trafficking will usually have increased gang involvement. Communities that lack resources and opportunities contribute to rise in gang membership.
Academic achievement is said to be a predicator of gang membership such as: learning disabilities, lack of interest and commitment, and lack of parental involvement in the educational process.
[To learn more, watch National Gang Center's video on Why Youth Join Gangs]
What are some of the motivations for youth in joining a gang? Are there some protective factors associated with belonging to a gang?
Protective factors that have been recognized as reasons for youth getting involved with gangs include: Parental involvement and monitoring, family support, coping skills (interpersonal skills), positive social connections, peer support, academic achievement, and reducing delinquency, alcohol, and drug use.
What signs may signal possible gang activity involvement to parents and/or mental health professionals?
Pay close attention to the child's behavior such as being disrespectful or violent.
Be aware of the friends they hang around and truancy problems.
Also, pay attention to the amount of money the child has, or whether child is making expensive purchases.
What's the connection between street gangs and human trafficking?
It is estimated that 4.5 million victims are sexually exploited around the world. Globally, sex trafficking profits are roughly 99 billion a year.
California (Los Angeles, San Diego, and San Francisco) are big in domestic and international human trafficking, due to the large population, large economy, and large amount of ports.
Human trafficking presents low-risk and high-profit for gangs. Social media provides one of the biggest platforms for recruiting. Social media and other networks, provide traffickers the capability to connect with their potential victims.
Caregivers need to be mindful of the amount of unsupervised time they are giving their children. Limit the use of the below mentioned sites as much as possible.
Texting apps: Kik Messenger, ooVoo and WhatsApp
Micro-blogging apps and sites: Instagram, Tumblr, Twitter and Vine
Live-streaming video apps: YouNow: Broadcast, Chat, and Watch Live Video
Self-destructing/Secret apps: Burn Note, Snapchat, Whisper and Yik Yak
Chatting, meeting, dating apps and sites: MeetMe, Omegle, Skout and Tinder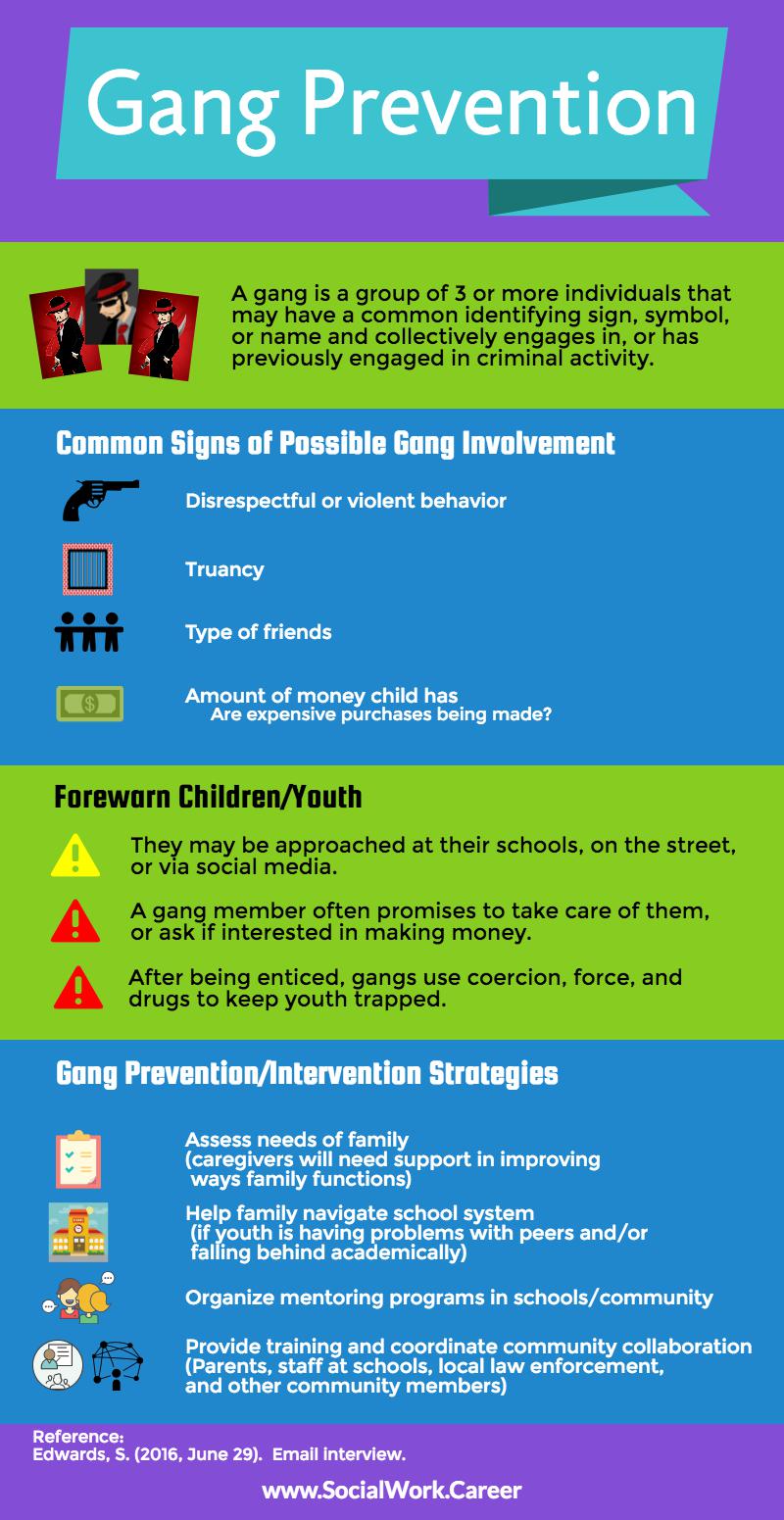 Aside from limiting or monitoring kids' time on social media, to help keep our kids safe, what are the typical approaches and/or language that gangs use to entice individuals to join them via social media that we could forewarn our children about?
Often times these young girls are lured at their schools, on the street, and contact through social media. The appearance of the gang member can be flattering to the young girls. They will promise to take care of them or ask if they would like to make a lot of money. Once they have drawn them in, gangs use coercion, force, and drugs.
Some of the commonly used sex trafficking terms and slang phrases:
Bottom or "Bottom Bitch": A female appointed by the trafficker/pimp to supervise the others and report rule violations. Operating as his "right hand," the Bottom may help instruct victims, collect money, book hotel rooms, post ads, or inflict punishments on other girls.
Branding: A tattoo or carving on a victim that indicates ownership by a trafficker/pimp/gang.
Coercion: Threats or perceived threats of serious harm to or physical constraints against any person; a scheme intended to cause a person to believe that failure to perform will result in serious harm to or physical restraint against any person.
Force (Federal TVPA Definition): Physical restraint or causing serious harm. Examples of force include kidnapping, battering, kicking, pushing, denial of food or water, denial of medical care, forced use of drugs or denial of drugs once a victim is addicted, forced to lie to friends and family about their whereabouts, being held in locked rooms or bound.
Daddy: The term a pimp will often require his victim to call him.
Date: The exchange when prostitution takes place, or the activity of prostitution. A victim is said to be "with a date" or "dating."
Facilitators: It is important to realize that human trafficking operations often intersect or exist alongside legitimate businesses. As a result, certain industries may help to enable, support, or facilitate human trafficking. This "support structure" may include a wide range of individuals, organizations, businesses and corporations, and Internet sites and practices.
Common facilitators on which traffickers frequently rely include: hotels/motels, landlords, labor brokers, taxi and other driving services, airlines, bus and rail companies, advertisers, banks and other financial service companies, and inmate pen-pal services. 
Gorilla (or Guerilla) Pimp: A pimp who controls his victims almost entirely through physical violence and force.
"John" (a/k/a Buyer or "Trick"): An individual who pays for or trades something of value for sexual acts.
Seasoning: A combination of psychological manipulation, intimidation, gang rape, sodomy, beatings, deprivation of food or sleep, isolation from friends or family and other sources of support, and threatening or holding hostage of a victim's children. Seasoning is designed to break down a victim's resistance and ensure compliance.
The Game/The Life: The subculture of prostitution, complete with rules, a hierarchy of authority, and language.
Referring to the act of pimping as 'the game' gives the illusion that it can be a fun and easy way to make money, when the reality is much harsher. Women and girls will say they've been "in the life" after they've been involved in prostitution for a period of time.
Track (a/k/a Stroll or Blade): An area of town known for prostitution activity.
Gangs are able to offer many benefits (such as food, shelter, structure, protection, sense of belonging and identity, self-esteem and respect, pathways to achievement, and a rite of passage to adulthood) that are unmet for youth in their homes, schools or neighborhoods. What some potential solutions/strategies to make gang participation less attractive?
Through parent coaching, I have focused on prevention efforts. Raising awareness about gangs and human trafficking has been at the forefront of my work with families.
My goal is to restore the family unit and coach them holistically. I work with single parent families, two parent families, separated or divorced families that need help with co-parenting. One of the solutions is strengthening the family unit and changing the home environment.
In addition, there are a variety of schools and community based prevention programs. Prevention workers focus on awareness and prevention, while intervention workers aid successful escape.
What are your top tips for social workers and mental health professionals who want to be of help to children who are a target for gang membership?
To reduce the risk and improve protective factors of youth joining gangs, it is important for social workers and mental health professionals to work closely with the schools, family, and the community in which they live.
Assess the needs of the family. Once the needs have been determined, try to meet the family where they are. The caregivers need support in improving the ways in which the family functions.
Assist the family with navigating through school system if child is having problems with peers or falling behind in school.
Engage the school psychologist, teachers, and other staff to let them know someone is advocating for the family.
Be active and make connections in the community, in order to assist family with accessing programs.
Families can be difficult to engage, so it is important that mental health professionals work closely with the schools to identify children that are at-risk of gang membership, exposed to violence, or victims of violence.
In short, it is important to first, understand the problem the youth is facing within the community, school, and home. Second, identify the youth risk and protective factors. Third, learn and understand prevention and intervention strategies.
To prevent youth from joining gangs, it is important that prevention programs be available in the schools/community. Having mentoring programs is another great prevention strategy, in which the outcome could be very positive.
Offering staff training and training within the community is another great strategy. The involvement of the family, schools, local law enforcement, and the community is a great way to collaborate and provided extensive support to the youth.
The area of gang intervention and prevention programs is steadily growing, but there is a lack of research in the mental health field. The majority of the programs assisting this demographic occur in community mental health agencies or within social services. It is important that those in the mental health field also be trained on dealing with gang-involved individuals.
Those working with high risk-youth may find it difficult to connect with a person whose experience can be different from any experience they have encountered. Empathy is considered key to the therapeutic relationship structure. 
A person's empathy level can be measured by the person's appropriate affective responses when stepping into another's view of the world. Change can take place once understanding is established.
I have developed a training on gang experience to increase levels of empathy in mental health providers, as well as specialized information to address the mental health aspects of gang involvement, how to intervene and prevent at-risk youth from joining gangs. 
Thanks so much for this introduction to gang membership and prevention, Shadeiyah!
Below is a helpful Preventing Gang Membership resource by the CDC and NIJ: