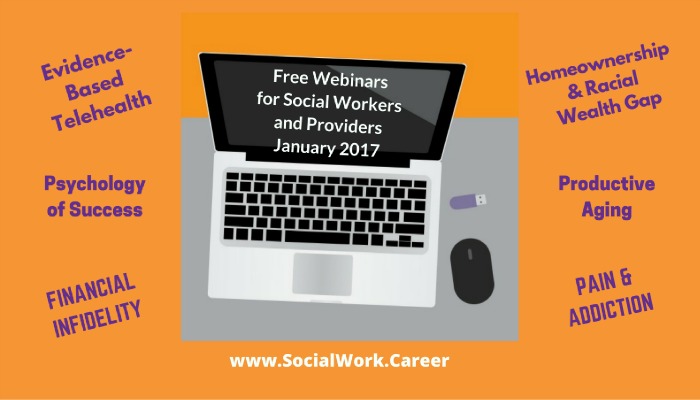 Do you want to keep up-to-date with the latest developments in the mental health arena?
Attending one of these free webinars is an easy way of doing just that !
This post is part of the monthly series, Free Mental Health Webinars for Social Workers and Providers, featuring all the free webcasts that Social Work Career could find for you this month in the field of social work and mental health. Last, but not least, wishing you all a Happy and Healthy New Year!
Please note:
This list is updated throughout the month!
Most but not all provide CEs. A few providers may require a nominal fee.
To register, click on desired green webinar title link; this will take you to the registration area.
To ask Qs or confirm CE details, please contact the sponsoring organization of the webinar that is of interest to you.
To have your free mental health webinar considered for inclusion, please provide details below.
Free Mental Health Webinars, January 2017
7 Ways to Be More Productive — and Crush It At Work
ADDitude
Jan 5 at 1PM EST: "research-based tips… Set priorities and be sure you attack them… Recognize when you are strong and when you are weak, and plan your work accordingly… Whether to ask for—and how to ask for— workplace accommodations…"
Updates from the Training Institute on Strangulation Prevention
Training Institute on Strangulation Prevention
Jan 9 at 1-3PM EST: "Findings from our survivor focus group… Best practices for identifying, documenting, investigating, and prosecuting strangulation cases… Emerging issues… new and existing legislation…"
Bipolar Disorder
BBRF
Jan 10 at 2PM EST: "Dr. Henn applies imaging, animal studies, and genetics to understanding the bases of depression and schizophrenia. His group is attempting to use animals modeling depression to identify the genes altered by aversive experience, which may contribute to depression…"
Know When to Hold Em': Medical Inquiries and the ADA
JAN
Jan 10 at 2PM EST: "When employees request accommodation, how do employers decide when to ask for medical information, and what information is needed to process a request?…"
Pain and Addiction: Challenges and Controversies
CIRPD
Jan 10 at 2PM EST: "the interactions of pain, suffering and addiction as they interface in your patients with suggestions for intervention and treatment…"
Value-based Payments 101
National Council
Jan 10 at 3:30PM EST: "broad overview of VBP models, common technical assistance needs and available resources to help behavioral health organizations successfully make this transition…"
Happy Brain Science: Nixing Negativity, Calming Conflict, and Subduing Stress at Work
HRDQ-U
Jan 11 at 2-3:30PM EST: "Reframe stress so it's less harmful, and cope effectively with hard times… Reboot your workflow for increased focus and progress… Revitalize relationships to result in more happiness for you and colleagues…"
Psychology of Success: Why Are Some People More Likely to Succeed than Others?
AMA
Jan 11 at 12PM EST: "what psychological research has revealed about success…  4-component model for building success… how the model can be used to develop managerial competencies… application of the model for self-improvement… for work team improvement…"
Tax Time Updates
REI Network
Jan 11 at 3PM EST: "information on a new tax law that requires the IRS to hold refunds a few weeks for some early filers who claim the Earned Income Tax Credit and the Additional Child Tax Credit… tools to assist with educating tax filers…how to connect with your location free tax preparation coalition…"
7 Ways to Legally and Ethically Expand Your Services with Evidence-Based Telehealth
NAADAC
Jan 11 at 3-4:30PM EST: "three ethical principles of relevance to telehealth… two legal issues related telehealth… three issues to include in an informed consent process when practicing online…"
Inclusive Policy Resources for Transgender Populations
SAMHSA
Jan 12 at 1PM EST: "policies and procedures for transgender crisis stabilization within CSUs, least restrictive environments, and step-down units… within residential/in-patient facilities… for outpatient access… within employment…"
Traumatic Brain Injury and Substance Use: This is Your Injured Brain on Drugs and Alcohol
DCoE
Jan 12 at 1-2:30PM EST: "prevalence of patients with both substance use disorders and TBI… factors that impact diagnosis and recovery… roles of early detection, education and intervention…"
Financial Infidelity – Divorce-Proofing Your Marriage
Center for Financial Social Work
Jan 12 at 3PM EST: "What exactly is financial infidelity?… the red flags to watch for… What causes financial infidelity?… potential outcomes… How can it be prevented?…"
Personalized Intervention for Psychosocial Problems: Applications for Adolescents with Depression
mncamh
Jan 13 at 12PM EST: "developmental and neuroscience approaches to identify disruptions in stress/emotion regulatory processes that precede, accompany and are a consequence of depression and suicidal behavior and factors that modify these risk trajectories…"
Cultivating Empathy: The Best Antidote to Bullying
edWeb.net/Michele Borba, Ed.D.
Jan 16 at 5PM EST: "Bullying is learned and can be unlearned. What's more, cultivating empathy is the forgotten antidote to bullying… evidence that the best way to reduce bullying is not with a packaged program but with homegrown, data-driven efforts by a staff that applies only proven practices…"
The Person-centred Counselling and Psychotherapy Handbook
onlinevents.co.uk
Jan 17 at 3:30PM EST: "Origins, Developments, and Current Applications…"
The Three Dimensions of Emotional Intelligence: Finding the Balance of Power, Heart, and Mindfulness
onlinevents.co.uk
Jan 18 at 6AM EST: "How well we positively move in these three dimensions is how emotionally intelligent (and successful) we are…"
Applied Behavior Analysis (ABA): A Behavioral Approach to ADHD and Anxiety
Relias Learning
Jan 18 at 1PM EST: "first line of treatment recommended by the Center for Disease Control (CDC) is behavioral therapy… characteristics of ADHD and anxiety… findings from current research…"
Fetal Alcohol Spectrum Disorder (FASD) as a Mobilizer in Education Change
CHNET-Works!
Jan 18 at 1-2:30PM EST: "The Keewatin Patricia Experience… dynamic presentation about a successful process that led to creating classrooms for children and youth with FASD in rural Northern Ontario…"
Homeownership and the Racial Wealth Gap
Asset Funders Network
Jan 18 at 1PM EST: "Homeownership is one of the key strategies to reduce the racial wealth gap… policy and program solutions, setting up future minority homebuyers up for success…"
Language Access ~ Providing Accessible Services to Your Community
New Jersey Coalition to End Domestic Violence
Jan 18 at 1-2:15PM EST: "overview of the legal obligations under Title VI of the Civil Rights Act of 1964… how management should develop and create policies around language access inclusion…"
Linking Data Science and Behavioral Science to Build Better Poverty Policy
Institute for Research on Poverty
Jan 18 at 2PM EST: "how data science and behavioral science can be applied together to help build better poverty-related policies…"
Social Media and Privacy Issues for Multi-Disciplinary Team Members
National Criminal Justice Training Center
Jan 18 at 2-3:15PM EST: "understand the issues related to disclosures of online postings during criminal proceedings and how it relates to employment…"
Uniting to Protect Behavioral Health: Advocacy
National Council
Jan 18 at 3PM EST: "repeal and replacement of the Affordable Care Act, proposed reforms to Medicaid and details on government spending for behavioral health care programs…"
Historical Trauma: Engaging the African American Community
Alliance for Strong Families and Communities
Jan 18 at 3-4:30PM EST: "challenges to effectively engage the African American community… link between historical and/or intergenerational trauma… trauma informed promising practices… conscious and implicit bias…"
FASD: Screening, Assessment, and Diagnosis
AAP
Jan 18 at 4PM EST: "FASD (fetal alcohol spectrum disorders) and its component conditions and explain its relevance to pediatric practice… neurobehavioral and physical characteristics of FASDs…"
Chronic Illness: Empowering Families in the Journey Part 1
MFLN
Jan 19 at 11AM-12:30PM EST: no description provided
Environmental Trauma: Strengthening a Community through Action
mctac & ctac
Jan 19 at 12PM EST: "effects of environmental trauma… using the Flint, Michigan water crisis as an example… explore how participants may respond if it happens in their own communities…"
CIRPD
Jan 19 at 2PM EST: "how mindfulness can be used in the workplace to impact organizational outcomes…"
Strategies for Incorporating Universal Education about Healthy Relationships to Reduce Substance Use & IPV
ireta
Jan 19 at 3-4:30PM EST: "brief clinical interventions focused on providing universal education about healthy relationships, routine inquiry about violence exposure, and brief counseling may be promising strategies for increasing awareness about violence, reducing isolation survivors feel, and, in some populations, reducing violence victimization…"
Thinking About the Other: Conversations and Context
onlinevents.co.uk
Jan 22 at 2PM EST: "engage with some conversations on 'otherness' in the hope that person-centred explorations of diversity can be enriched by widening the context for our thinking…"
Situated Cognition and the Recognition of Learning
APA Division 15
Jan 24 at 2PM EST: "implications of contemporary "situative" theories of cognition for motivating, assessing, and recognizing learning. These theories assume that knowledge is strongly bound (i.e., "situated") in the social, material, and technological contexts where it is learned and used…"
Education, Expectation and Motivation: Vital Drivers For Change in Pediatric Chronic Pain
CIRPD
Jan 24 at 2PM EST: "current research into some of the current factors that are changing the way pediatric pain is treated and discussed…"
Nonconsensual Pornography: Circulating Sexual Violence Online
BWJP
Jan 24 at 3-4:30PM EST: "define nonconsensual pornography (often referred to as 'revenge porn'), how it impacts victims, what is being done to address it, and how it relates to rape culture…"
Military Health System Speaker Series
DCoE
Jan 25 at 10:10AM-3:40PM EST: "key elements of the VA patient centered medical home model—the Patient Aligned Care Team… how acupuncture and tai chi fit into team-based models… current policy, practice challenges and literature regarding best practice in the use of Service Animals…"
Beyond the Pill: Effective Strategies for Managing Chronic Pain and Reducing Opioid Usage
National Council
Jan 25 at 12PM EST: "practical, non-pharmacological strategies for treating chronic pain and the often co-occurring conditions of depression and addiction…"
Adolescent Substance Abuse Program at Boston Children's Hospital: Experiences in Preventing, Identifying and Treating Substance Use
ireta
Jan 25 at 1PM EST: "advances ASAP has made in implementation of SBIRT, their multidisciplinary care model, and research efforts to address the specific needs of medically vulnerable youth when caring for and creating policy around substance use in adolescents…"
A Prevention Approach to Sexual and Domestic Violence
PreventConnect and Prevention Institute
Jan 25 at 2-3:30PM EST: no description provided
Goal Setting, Work Incentives and Financial Independence
WISE
Jan 25 at 3-4:30PM EST: "basic financial knowledge such as budgeting and expense tracking… tax benefits that may apply to you… asset building and how it can help you…"
NAADAC Code of Ethics, Part 1
NAADAC
Jan 25 at 3-4:30PM EST: "what a Code of Ethics is and its purpose… 3 inherent values of ethical clinicians… 3 key points of … The Counseling Relationship… Confidentiality and Privileged Communication…"
Neurobehavioral Disorder associated with Prenatal Alcohol Exposure (ND-PAE)
AAP
Jan 25 at 4PM EST: "signs and symptoms that may indicate the presence of Neurobehavioral Disorder Associated with Prenatal Alcohol Exposure (ND-PAE)… diagnostic criteria for ND-PAE… management strategies…"
Chronic Illness: Empowering Families in the Journey Part 2
MFLN
Jan 26 at 11AM-12PM EST: no description provided
Could It Be Nonverbal Learning Disorder? An Overlooked LD in Kids with ADHD
ADDitude
Jan 26 at 1PM EST: "How to distinguish symptoms of NVLD from those of ADHD… Why clinicians often misdiagnose NVLD… How NVLD affects children in the classroom… help teachers modify instruction for students with NVLD…"
Initiating Collaborations and Building Community Partnerships
ICRC-S
Jan 26 at 2PM EST: "how to develop and sustain research collaborations for suicide prevention and describe purposes, principles, pitfalls and practices of these partnership systems…"
2017 State of Therapy Tech and HIPAA
Person-Centered Tech
Jan 26 at 2PM EST: "Getting your office paperless… how to manage email and texting with clients in a way that makes all of you happy… Expanding your practice through online therapy/telemental health… getting HIPAA compliant…"
Productive Aging and Work: A Framework for Developing Age-Friendly Workplaces
CIRPD
Jan 27 at 2PM EST: "concept of productive aging… evidence-based methods for facilitating an age-friendly workplace… strategies that encourage a culture of health that facilitates intergenerational collaboration and support…"
Developing Cultural Humility in Social Work Practice
NASW (members only)
Jan 31 at 1PM EST: "the central concepts of cultural humility, provide opportunities to examine one's own attitudes and practices in relation to diverse clients, and articulate opportunities for culturally humble practice across micro, mezzo, and macro practice settings…"
How to Ask for a Raise
Doors to Wellbeing
Jan 31 at 2PM EST: "differences among peer support specialist compensation… national and regional data to advocate for individual employment benefits…"
As mentioned above, please note:
This list is updated throughout the month!
Most but not all provide CEs. A few providers may require a nominal fee.
To register, click on desired green webinar title link; this will take you to the registration area.
To ask Qs or confirm CE details, please contact the sponsoring organization of the webinar that is of interest to you.
To have your free mental health webinar considered for inclusion, please provide details below.
Like this post? Please share it!