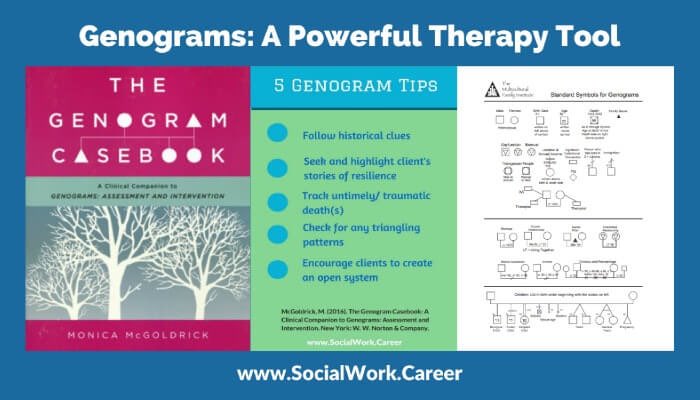 The Genogram Casebook: Book Review
Are you looking for a new way to engage your clients in therapy? Or are you looking for some additional methods to help your clients get unstuck, or better understand why they are in their current situations?
If yes, you are likely to find Monica McGoldrick's book "The Genogram Casebook: A Clinical Companion to Genograms: Assessment and Intervention," a most helpful tool!
As per McGoldrick, genograms are a powerful aid to get to know your clients and who matters in their lives. They enable you to see the big picture of the problems your clients face in both their current and historical contexts.
She provides many case examples and illustrations of how to construct a genogram, as well as how triangles, fusions, legacies of loss and trauma and resiliency play out through the generations of a family. In addition, the author gives helpful guidance on how to use genograms to establish a therapeutic alliance, assess where the client is and conduct meaningful interventions to take the client where the client would like to go.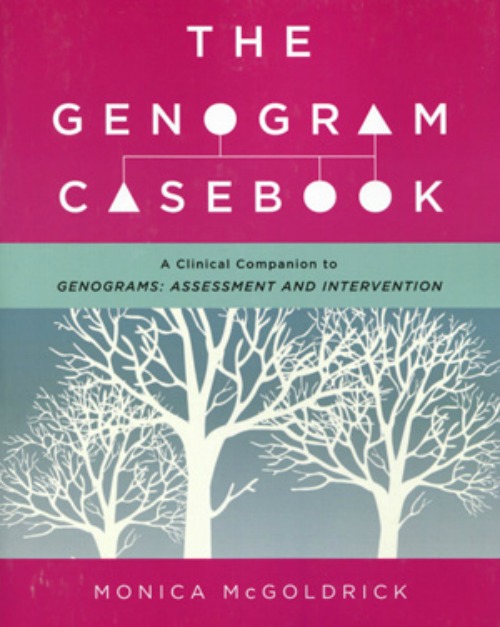 This book has the following chapters:
1. Using Genograms in Clinical Practice
2. Getting Started: Introducing Genograms with Clients
3. Assessment and Engagement in Therapy
4. Resistance to Genograms
5. Fusion and Cutoff
6. Triangles and Detriangling
7. Legacies of Loss: Helping Families Mourn Their Losses
8. Working with Couples, Marriage, Divorce, and Remarriage
9. Families with Children: How to Use Family Play Genograms
10. Using Genograms to Understand Adult Clients with Sibling Problems
11. The Therapist's Own Family
Wondering what types of questions you need to ask in order to create a genogram for your client? See my post on psychcentral!
Below is a brief video in which the author demonstrates how to put together a genogram.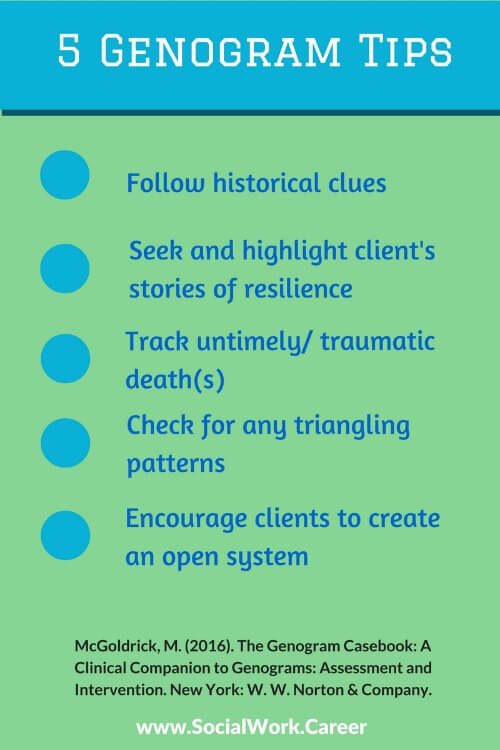 5 Key Tips for Working with Clients and Their Genograms
Follow historical clues; after seeing that something in client's background may be repeating itself in client's current life… McGoldrick suggests saying something like:"I am trying to see if I can understand anything from your overall background that might help to make sense of what you're struggling with now. Maybe let's go back to that issue. Tell me a bit more about what's happening and what sense you make of that." (McGoldrick, 2016; p.37)
Seek and highlight your clients' stories of resilience. (When clients are in distress, they rarely see their or their family's strengths!) Noting your clients' examples of how they have pulled through previous difficult times will help your clients nourish and build own resilience.
Track untimely/traumatic death(s) with your clients. These often underlie the development of symptoms such as depression, anxiety or inability to establish relationships.
Check for any triangling patterns in client's genogram. Triangles are common but dysfunctional patterns that develop when two people draw in a third person (or object/activity such as drinking, spending time on the internet etc.), organizing their relationship in relation to the third party. Triangulation usually occurs because there is some strain in the relationship between two people. To fully understand a triangle, explore the whole genogram to see the context in which that particular set of relationships evolved. Typically, triangles repeat themselves from one generation to the next. Detriangling requires paying attention to the various reactions others may have to get you/your clients back into old relationship patterns.
Encourage clients to create an open system in which they have the flexibility to change their personal relationships,  increase meaningful connections and change their responses as the system evolves. To help, McGoldrick recommends 4 rules for relationships :

Don't attack
Don't defend
Don't placate
Don't shut down
To illustrate the powerful effect of using a genogram as a therapeutic tool, the author shares an example of one of her students, Peter, whose mother was diagnosed with cancer when he was an infant and died after a long battle when he was 8 years old. As a result of his family never dealing openly with his mother's illness or death, he found himself struggling to work effectively with one family who were wrestling with a grandmother's recurring cancer, impending death and what impact that would have on the care of their grandson, for whom she had primary caretaking responsibility.
Peter brought his difficulties to the attention of the author, and she suggested that he try various interventions but he would repeatedly not employ them (unconsciously avoiding/forgetting her suggestions). After speaking further with Peter, and his personal history came to light, McGoldrick showed him how his unresolved issues parallel those of his client, and he was able to stop having those concerns from interfering with his work. Essentially, understanding his own family history empowered him to help his client family stop going in circles and face their issues. (It also helped him start healing some of his pain and build some closer family connections.)
I highly recommend McGoldrick's book "The Genogram Casebook: A Clinical Companion to Genograms: Assessment and Intervention," for all therapists who are looking to better understand their clients, as well as their own family history. By gaining deeper clarity on the role that you played within your family, you are less likely to impose any of your personal concerns on your relationship with your clients, or the therapy process.
To get started, you may find the below Multicultural Family Institute' s guide to the standard symbols helpful. Also, remember to check out my post on psychcentral! It contains a list of the key questions to cover with your clients !
Guide to the Standard Genogram Symbols
Like this post? Please share it!
Disclosure of Material Connection: I received one copy of the book mentioned above for free in the hope that I would mention it on my blog. In addition, the link to this book is an "affiliate link." Regardless, I only recommend products or services I use personally and believe will be good for my readers. I am disclosing this in accordance with the Federal Trade Commission's 16 CFR, Part 255: "Guides Concerning the Use of Endorsements and Testimonials in Advertising."