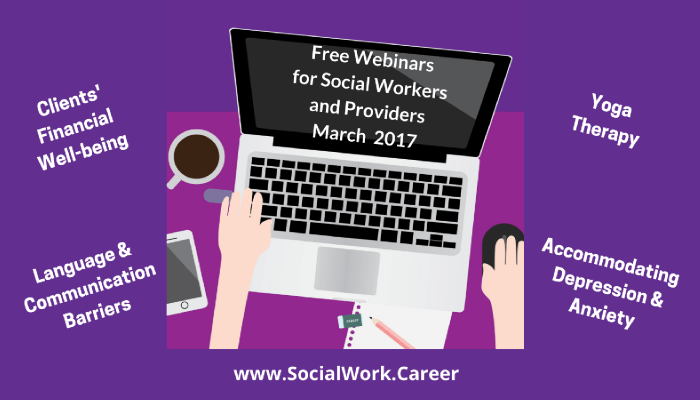 Do you want to keep up-to-date with the latest developments in the mental health arena?
Attending one of these free webinars is an easy way of doing just that !
This post is part of the monthly series, Free Mental Health Webinars for Social Workers and Providers, featuring all the free webcasts that Social Work Career could find for you this month in the field of social work and mental health.
Please note:
This list is updated throughout the month!
Most but not all provide CEs. A few providers may require a nominal fee.
To register, click on desired green webinar title link; this will take you to the registration area.
To ask Qs or confirm CE details, please contact the sponsoring organization of the webinar that is of interest to you.
To have your free mental health webinar considered for inclusion, please provide details below.
Free Mental Health Webinars, March 2017
Partnerships for Transformative Change in Challenging Political Contexts
American Evaluation Association
Mar 2 at 2PM EST: "Strategies for developing partnerships to leverage resources in international contexts… Applications of transformative mixed methods approaches to evaluation in politically challenging contexts…"
Doctor, I Have Insomnia. What Can I Do?
#UCLAMDChat
Mar 2 at 2:30PM EST: "insomnia… consequences of poor sleep and ways to help you achieve a healthy night's sleep…"
WINGS: An Evidence-based SBIRT Intervention for Addressing Partner Violence
ireta
Mar 2 at 3PM EST: "Among Young Women Who Use Drugs or Alcohol… may be delivered using a computerized self-paced tool or by a service provider…"
Sex Trafficking Victims: Unique Needs and Transitional Housing Program
Red Wind OVW Tribal Technical Assistance
Mar 2 at 3PM EST: "Trafficking has links to Domestic Violence, Sexual Assault, and homelessness… special needs around the protection, opportunities, and choices of survivors…"
Yoga Therapy for Trauma & Eating Disorders
Timberlineknolls
Mar 2 at 8PM EST: "how connecting to one's body can lower symptomatology in both traumatized and eating disordered clients… importance of the mind/body connection …"
Transactional Analysis Cumbrian Conference
onlinevents.co.uk
Mar 4 from 4:30AM to 11:30AM EST: "Where do YOU come from? And how can WE understand identity?…"
Empathy for Self and Others
onlinevents.co.uk
Mar 5 at 2PM EST:"Empathy – how it is defined, and how mindfulness and Focusing can enhance our empathetic skills for ourselves and our clients…"
Suddenly Single: Take Stock, Take Charge, Take Off
onlinevents.co.uk
Mar 6 at 2PM EST:"retreat… where people going through a divorce can come and explore their legal, financial, and co-parenting options, and become empowered…"
Changing the Habit: State and Community Approaches to Tobacco Control
National Council
Mar 7 at 2PM EST: "integration of tobacco dependence treatment in primary and behavioral health care and state efforts to address tobacco use and cancer disparities through systems and policy change…"
Reduce Unintended Consequences and Disparity
Praxis International
Mar 7 at 3-4:15PM EST: "where and how and for which victims an institutional practice is problematic… strategies… that produced disparate outcomes for particular marginalized communities…"
Game Theory and the Psychology of Fairness
Texas Executive Education and SDG
Mar 8 at 12-12:30PM EST: "best ways to approach decisions when there are multiple decision makers, each with different information, motives, and goals…"
onlinevents.co.uk
Mar 8 at 2PM EST:"Working in partnership with families. Record keeping, writing, and storing. Understanding emotional abuse and neglect with families…"
Helping Law Enforcement Respond to Elder Abuse Quickly
National Center for Victims of Crime
Mar 8 at 2PM EST: "training materials and resources… Elder Abuse Sample Protocols and State Statutes… Investigating Elder Abuse… State by State Reporting Obligations…"
Child Interviewing 2017: Update on Research and Practice
Midwest Regional Children's Advocacy Center
Mar 8 at 2-3:30PM EST: "latest research… how to increase productivity in child interviews… how to minimize error and miscommunication in interviews…"
Assessing Clients' Financial Well-being
REI
Mar 8 at 3PM EST: "an overview of the Financial Well-Being Assessment, how and when to use it, and how to interpret the information to assist clients in building their financial well-being through employment…"
Improving Retention, Outcomes, and Supervision with PCOMS
NAADAC
Mar 8 at 3-5PM EST: "This client-directed, outcome-informed and recovery-oriented approach takes 5 minutes (or less) to solicit feedback. Clients/peers appreciate tracking their progress from their own points of view…"
How to Prepare Youth Financially for the Rapid Economic and Technological Environment Shifts
Center for Financial Social Work
Mar 9 at 2PM EST: "technological disrupters that directly affect our children's ability to earn… new influencers that are shaping our children's financial behaviors… mold positive financial habits…"
Working with Deaf, DeafBlind, DeadDisabled & Hard of Hearing Survivors
DOVE
Mar 9 at 2PM EST: Crash Course… no description provided
Parents with Co-Occurring Disorders in Child Welfare: Implications for Direct Practice
Minnesota Center for Chemical and Mental Health
Mar 10 at 12PM EST: no description provided
Complex Trauma, Children, and the Health Home Option: Moving Research and Practice to Policy
NCTSN
Mar 10 at 12PM EST: "establish complex trauma in children as an eligible condition for health home coverage…"
Serious Mental Illness and Opioid Use Disorders
National Council
Mar 13 at 2:30PM EST: "evidence base for treating OUD and co-occurring disorders simultaneously… benefits and advantages of utilizing MAT for individuals with SMI…"
Accommodating Depression and Anxiety
JAN
Mar 14 at 2PM EST: "Many times the need for accommodations are not obvious, so there are misunderstandings about what issues or difficulties employees may be having, the cause of the issues or difficulties, and what accommodations may be effective…"
Pathways: A Guided Workbook for Youth Beginning Treatment
NEARI Press
Mar 14 at 3PM EST: "An Introduction to Using Pathways with Adolescents with Sexual Behavior Problems…"
Mar 14 at 4PM EST: "discovery and implementation of novel therapies and risk factors and prevention…"
Interactive Online SBIRT for Youth Workshop: Online vs. In-person Training
ireta
Mar 15 at 1PM EST:"small online workshop designed for interaction and problem-solving…"
It's About Time: Understanding the Science of Time Management with ADHD
ADDitude
Mar 15 at 1PM EST: "disconnect between knowing and doing … why procrastination is such a common struggle for adults diagnosed with ADHD… tips and pointers…"
How Do We Connect the Dots? Local Approaches to Preventing Multiple Forms of Violence
PreventConnect and Prevention Institute
Mar 15 at 2-3:30PM EST: " the research… local and state strategies that prevent sexual and domestic violence among other forms of violence concurrently…"
We See You: Supervising Stalking Offenders
BWJP
Mar 15 at 2-3:30PM EST: "challenges and opportunities related to the community supervision of stalking offenders/cases… resources available to assist community corrections in supervising stalking cases… recognize and document stalking behavior…"
onlinevents.co.uk
Mar 15 at 2PM EST:"most suitable for practitioners either wanting to get the most from their supervision or those thinking about stepping into supervision…"
When One Size Does Not Fit All: Addressing Issues Throughout an SBIRT Project Life Cycle
ireta
Mar 16 at 3-4:30PM EST: "multi-faceted methods for adapting SBIRT education for nursing, social work, psychology and behavioral health programs…"
Military Response to Enforcing Military and Civilian Protection Orders
BWJP
Mar 20 at 2-3:30PM EST: "key features and players within the military system and their role in the issuance, service, jurisdiction, and enforceability of protection orders to include firearms possession and use…"
Chronic Pain After Surgery: Predictive Factors and Prevention Strategies
CIRPD
March 20 at 8:30PM EST: "high incidence and severity of chronic postsurgical pain… biomedical and psychosocial risk factors for such pain… risk minimisation strategies… prevention strategies…"
Strategies to Address Language and Communication Barriers
NASW (member access)
Mar 21 at 1PM EST: "Challenges in communication arise between people of different cultures, languages, literacy, hearing ability, visual ability, or other abilities that affect communication…"
onlinevents.co.uk
Mar 21 at 2PM EST:"version of the classic Freudian Oedipal Triangle as an embodied cognition of love and the sexual energy… what children need… to create and maintain fulfilling sexual relationships…"
Working With Trauma Online? – What to Watch Out For!
onlinevents.co.uk
Mar 21 at 3:30PM EST:"additional factors we need to consider when working in the field of trauma…"
Six Types of Sex Use Disorder
NAADAC
Mar 22 at 3PM EST: "how to clearly delineate which sex use disorder one has in a relatively short amount of time… how to provide clear clinical interventions for each type of sex use disorder…"
Multisystemic Therapy for Emerging Adults (MST-EA) 
Pathways to Positive Futures
Mar 22 at 4PM EST: "Treating Young Adults Who Have Justice Involvement and Behavioral Health Conditions… no CEUs offered"
On Solid Ground: Exploring Strategies to Help Clients Create and Maintain Healthy Relationships
MFLN
Mar 30 at 11AM-12:30Pm EST: "to prevent intimate partner violence/domestic abuse and sexual assault, the speaker will provide resources, strategies, and tools throughout this presentation…"
Male Survivors of Sexual Exploitation: A Global Community Discussion
1in6.org
Mar 30 at 1PM EST :"how these traumas may manifest in adulthood, and what resources are available (or need to be available)…"
As mentioned above, please note:
This list is updated throughout the month!
Most but not all provide CEs. A few providers may require a nominal fee.
To register, click on desired green webinar title link; this will take you to the registration area.
To ask Qs or confirm CE details, please contact the sponsoring organization of the webinar that is of interest to you.
To have your free mental health webinar considered for inclusion, please provide details below.
Like this post? Please share it!