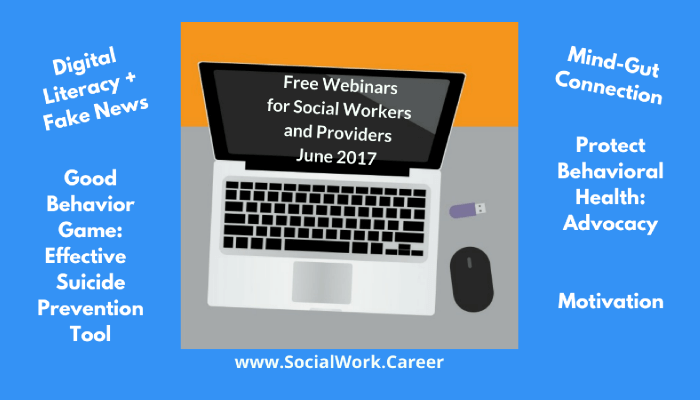 Do you want to keep up-to-date with the latest developments in the mental health arena?
Attending one of these free webinars is an easy way of doing just that !
This post is part of the monthly series, Free Mental Health Webinars for Social Workers and Providers, featuring all the free webcasts that Social Work Career could find for you this month in the field of social work and mental health.
Please note:
This list is updated throughout the month!
Most but not all provide CEs. A few providers may require a nominal fee.
To register, click on desired green webinar title link; this will take you to the registration area.
To ask Qs or confirm CE details, please contact the sponsoring organization of the webinar that is of interest to you.
To have your free mental health webinar considered for inclusion, please provide details below.
Free Mental Health Webinars, June 2017
Independent Practice Association (IPA)
MCTAC
June 1 at 11AM-12:30PM EST: "As behavioral health services move to a Value Based Payment environment…"
Unintended Consequences: What we now know about Spanking and Child Development
MFLN
June 1 at 11AM-12:30PM EST: "in-depth look at spanking, the research behind it, and its effects on children's development…"
Supply and Demand: The Roles of Traffickers, Buyers, and Gangs In CSEC
Children's Healthcare of Atlanta
June 1 at 1-2:30PM EST: "roles that traffickers and gangs play as they provide the supply of children in sex trafficking… how buyers contribute… demand reduction strategies…"
What Does Justice Mean to Your Tribe?
OJJDP
June 1 at 2PM EST: "An Introduction to Tribal Code Development & Practices in Indian Country…"
What Does Supervision of Those Who Offend Sexually "Look Like?" (part 3 of 4)
CSOM & NSVRC
June 1 at 2-3:30PM EST: "understanding and practical application of a victim-centered approach to supervising…"
Fiduciary Rule: In or Out? What Does This Mean for My Retirement Plan?
CWLA
June 1 at 3-4:30PM EST: "Regardless of the fiduciary rule's fate, plan sponsors are legally required to check their plan's fees for reasonableness, among other fiduciary responsibilities. However, more than a third of plan sponsors do not know the expense ratios of the mutual funds in their plan…"
Digital Literacy + Fake News
Library 2.0
June 1 at 3-6PM EST: "What technical skills are required for critical thinking in the digital age? … what are the new requisite skills of critical thinking and decision-making? What is digital citizenship in a global, globally-diverse, and often globally-fragmented world?…"
Advocate Lessons: How Law Enforcement Responds to & Investigates Sexual Assault Cases (Part 3)
BWJP
June 1 at 3-4:30PM EST: "better support victims of sexual assault through a legal process that may compound the initial impact of the crime itself…"
Preventing Alcohol-Exposed Pregnancies: Tools and Strategies for the Social Work Practitioner
NASW (member access)
June 2 at 1PM EST: "discussing alcohol use with women of reproductive age and delivering and implementing evidence-based interventions to prevent alcohol-exposed pregnancies…"
Safe Housing Webinar Series ~ Rapid Re-Housing / Housing FIrst Innovative Practices
BWJP
June 2 at 3-4:30PM EST: parts 4-6 are 6/5, 6/7 and 6/15… no description provided
Counselling and the Autistic Spectrum
onlinevents.co.uk
June 5 at 3PM EST: "Counselling online can work very well for people with autism. It reduces the sensory difficulties and anxieties that can be a part of meeting a counsellor face to face… variety of counselling skills online that meet their individual need…"
Using Apps and Games to Build Social Skills, Creativity, and Fitness
ADDitude
June 6 at 1PM EST: "technology's magnetic appeal to children with ADHD… ways for parents to take control over screen time… strategies for combining tech time with outdoor and family time…"
Rethinking Young Fathers: Policy Recommendations for Child Welfare Systems
CSSP
June 6 at 2PM EST: "how systems can better focus on father involvement to increase positive outcomes for fathers, their children and families…"
Immigration Basics for Advocates Serving Asian Survivors
Asian Pacific Institute on Gender-Based Violence
June 6 and 7 at 4-6PM EST: "remedies available to immigrant survivors, particularly VAWA protections, battered spouse waivers, and U-Visas… preparing and implementing safety plans…"
Group Processes
CTAC
June 7 at 1PM EST: "group process model developed by Bruce Tuckman (Forming, Storming, Norming, Performing, and Adjourning)… common challenges… effective challenge resolution…"
National Health Care for the Homeless
June 7 at 1:30PM EST: "Coffee chat… clarifying the individual's wishes and values, finding ways to determine the person's desires if he is unable to communicate them… support and self-care for staff…"
Pain Management in Indigenous People: Through the Lens of Culture, Society and Medicine
CIRPD
June 7 at 2PM EST: "dynamic in First Nations, Metis, & Inuit community between pain, trauma, and cultural adaptation… historical trauma's relevance to pain neurobiology…"
Unite to Protect Behavioral Health: Advocacy
National Council
June 7 (and 21) at 3PM EST: "latest news and advocacy opportunities out of Washington… proposed reforms to Medicaid and details on government spending for behavioral health care programs…"
Human Trafficking: Identifying & Responding to Victims in the Healthcare Setting
NCJTC
June 7 at 2-3:15PM EST: "strategies to equip healthcare professionals to identify and appropriately assist trafficked persons with victim-centered, trauma-informed care and services…"
Mental Health & Homelessness: A Closer Look
Institute for Children, Poverty & Homelessness
June 8 at 10-11:30PM EST: "struggles this vulnerable population faces, highlighting existing social and emotional supports and considering ways to increase access to trauma-informed services for teens…"
Sexual Violence, Assault, and Abuse: Best Practices
CTAC
June 8 at 12PM EST: "Nearly 45 percent of women and 25 percent of men reported experiencing some form of sexual abuse or violence during their lifetime…"
Promoting Child and Family Well-Being through Civil Rights Compliance
CSSP
June 8 at 2-3:30PM EST: "primer on Federal civil rights laws that protect children and families from discrimination in the child welfare system… discriminatory barriers found through HHS and DOJ enforcement work…"
The Good Behavior Game: An Effective Classroom Tool for Suicide Prevention
ICRC-S
June 8 at 3PM EST: "evidence behind the Good Behavior Game… suicide prevention related research… development of the GBG, its intended use, and training that is available and needed to use it…"
Firearms Surrender Orders in Domestic Violence Cases: Are They Legal?
BWJP
June 8 at 3-4:30PM EST: "law on firearms surrender policies from a historical perspective that you may apply in your community to strengthen safety and accountability…"
Substance Abuse and Intimate Partner Abuse Perpetrators: Treatment Protocols
Center for Court Innovation
June 8 at 3-4:30PM EST: "IPV perpetrators' use of alcohol and drugs as contributing risk factors to further abuse…"
mncamh
June 9 at 12PM EST: "significant trend toward medicalizing and legalizing it… summary of the research on two health issues- marijuana use by youth and medical marijuana… policy implications…"
onlinevents.co.uk
June 11 at 3PM EST: "personal and professional consideration of the uniquely intimate experience of grief in the light of significant illness and pain…"
Building Connections: Mentoring Foster Youths
CWLA
June 13 at 1-2:30PM EST: "importance of providing role models, such as mentors ("Bigs") to foster youths… systematic challenges in providing mentoring services…"
Toward Rapid-Acting Treatments for OCD
BBRF
June 13 at 2PM EST: "Increasing evidence indicates that glutamate plays a role in Obsessive-Compulsive Disorder (OCD) symptoms… may reduce symptoms of OCD without the dissociative side effects reported by patients treated with ketamine…"
Financing Medical Respite Care: A Practical Discussion to Ensure Sustainability
National Health Care for the Homeless
June 13 at 3PM EST: "medical respite care programs are filling a critical need for people who are experiencing homelessness… programs can reduce hospital lengths of stay and readmissions…"
onlinevents.co.uk
June 13 at 3PM EST: "What happens with aging that leads us so surely to die?… What do I have to do to help me or a loved one take advantage of what's known to live longer and healthier?…"
Facilitation Utilizing ROPES
CTAC
June 14 at 1PM EST: "effective group facilitation method called ROPES (Review, Overview, Presentation, Exercise, Summary)… organized and goal-oriented (themed) group…"
"What Do You Mean?" Language Processing Deficits in Children with ADHD
ADDitude
June 14 at 1PM EST: "differentiate language-processing deficits from auditory processing challenges and ADHD symptoms… Tips and strategies for addressing… at home and in school…"
Noncompliant Sex Offender Tracking: Using Open Source Intelligence
NCJTC
June 14 at 2-3:15PM EST: "analytical resources the National Center for Missing and Exploited Children (NCMEC) can provide law enforcement during their investigations of noncompliant sex offenders…"
Protecting Crime Victims' Privacy
Serving Those Most at Risk: Embracing The Challenge of Serving Trans Youth
Midwest Regional Children's Advocacy Center
June 22 at 2-3:30PM EST: "three barriers trans youth face…. two factors affecting increased risk of victimization in trans youth… three steps agencies can take to improve service to trans youth…"
Working with Victims of Torture Conference 2017
onlinevents.co.uk
June 26: no description provided
Communities Addressing Trauma and Community Strife Through Trauma-Informed Approaches
SAMHSA
June 26 at 1-2:30PM EST: "working to improve resiliency and responsiveness to community incidents… Preregistration is not required…"
The Importance of Language for Peer Specialists
Doors to Wellbeing
June 27 at 2PM EST: "examples of how your word choices can deeply impact your interactions and work with peers, especially in behavioral health settings… make intentional strength-based word choices that support the growth and empowerment of peers…"
Preventing Intimate Partner Violence Across the Lifespan
PreventConnect
June 27 at 2-3:30PM EST: "six strategies highlighted in the technical package… resources to support prevention decision-making… potential sectors to involve in intimate partner violence prevention…"
How Mothering Helps Us Value our Flaws
PsychCentral
June 27 at 8PM EST: "Often, the behaviors in our children that we find the most embarrassing or irritating relate to qualities or traits that we learned were not acceptable when we were children… Seeing our children act out these qualities… reclaim the positive aspects of these traits… accessing a sense of joy and aliveness…"
Working with Trauma Conference 2017
onlinevents.co.uk
June 28: no description provided
A Healthy Weight-Loss Guide for Adults with ADHD
ADDitude
June 28 at 1PM EST: "Why people with ADHD are at higher risk for obesity… Cognitive self-talk strategies for losing pounds… Mindful eating approaches… Parenting tips… optimizing your brain and weight…"
Community Accountability for Safety: Make Sexual and Domestic Violence a Community Responsibility
PreventConnect
June 28 at 2-3:30PM EST: "how protective factors in the sociocultural environment (e.g. social inclusion, networks, and community sanctions against violence) can prevent sexual and domestic violence…"
The Dynamics of Motivation: There's No Place Like Home
NAADAC
June 28 at 3PM EST: "dynamics of motivation… importance of motivation in the recovery process… how a professional's attitude, language, and style can increase or decrease a client's motivation…"
Race Equity Approaches to Domestic & Sexual Violence: A Community Advocacy Perspective
Center for Survivor Agency & Justice
June 29 at 1-2:30PM EST: no description provided
Behavioral Health Services for Sexual and Gender Minority Adults
National Council
June 29 at 2PM EST: "key results from the 2015 NSDUH [National Survey on Drug Use and Health], complimented with corresponding practices from three organizations that serve LGBT individuals and communities…"
As mentioned above, please note:
This list is updated throughout the month!
Most but not all provide CEs. A few providers may require a nominal fee.
To register, click on desired green webinar title link; this will take you to the registration area.
To ask Qs or confirm CE details, please contact the sponsoring organization of the webinar that is of interest to you.
To have your free mental health webinar considered for inclusion, please provide details below.
Like this post? Please share it!