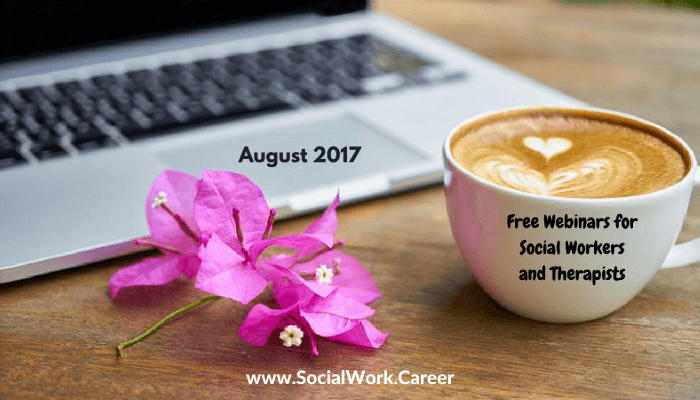 Do you want to keep up-to-date with the latest developments in the mental health arena?
Attending one of these free webinars is an easy way of doing just that !
This post is part of the monthly series, Free Mental Health Webinars for Social Workers and Mental Health Professionals, featuring all the free webcasts that Social Work Career could find for you this month in the field of social work and mental health.
Please note:
This list is updated throughout the month!
Most but not all provide CEs. A few providers may require a nominal fee.
To register, click on desired green webinar title link; this will take you to the registration area.
To ask Qs or confirm CE details, please contact the sponsoring organization of the webinar that is of interest to you.
To have your free mental health webinar considered for inclusion, please provide details below.
Free Mental Health Webinars, August 2017
Trauma Informed Care and Historical Trauma Informed Care for All Supervisory Staff
Indian Health Service
Aug 1 at 12:30PM EST: "value of self-knowledge and how it enters into the treatment relationship… key characteristics that distinguish between objective countertransference and induced countertransference…"
Toolkit of Prevention Programs for Latina Youth
OJJDP & National Girls Initiative
Aug 1 at 1PM EST: "review of new toolkit… why system-involved Latina youth need support… recommendations, an action checklist, and feedback from Latina youth, caregivers, and stakeholders…"
Suicide Postvention: The Role of the School Community After a Suicide
Kognito
Aug 1 at 1PM/Aug 2 at 2PM EST: "rationale and primary goals of postvention, the roles and responsibilities within the school community after a suicide… recommendations and resources…"
Exploring the Uses and Misuses of E-Cigarettes amongst those with Behavioral Health Conditions
National Council
Aug 1 at 2PM EST: "balanced approach to ENDS use, review existing research, and discuss implications of ENDS use amongst those with behavioral health conditions…"
Demonstrate Access: Program Assessments
National LGBTQ Institute on IPV
Aug 1 at 3-4:30PM EST: "basic tools to assess the readiness of their programs to welcome and meaningfully support diverse LGBTQ survivors… accessibility of built environments, cultural capacities…"
Data: What It Is, Why You Need It and What in the World to Do With It
National Criminal Justice Association
Aug 1 at 5-6:30PM EST: "Data. We need it to decide which problems to tackle, to choose which initiatives to fund, and to measure whether those programs are working as planned…"
Beyond Genes: How Environment and Lifestyle Impact ADHD
ADDitude
Aug 2 at 1PM EST: "How ADHD relates more to self-regulation than it does to hyperactivity or inattention… How the ADHD brain connects and wires itself… How sleep and exercise grow…"
Addressing Medical & Psychological Complications of Eating Disorders
Eating Disorder Hope
Aug 3 at 9PM EST: "new-found knowledge of medical complications of severe restriction…  severe purging… translate these findings usefully to the client and motivate recovery…"
Building an Organizational Culture of Wellness
BRSS TACS
Aug 7 at 12PM EST: "wellness models and methods for incorporating organizational wellness strategies to create a holistic work environment… downloadable organizational reflection document to improve the infrastructure for peer support services…"
Survivorship Care Plans for Behavioral Health Populations
National Council
Aug 8 at 2PM EST: "development of patient-centered survivorship plans to further increase outcomes and enhance the quality-of-life of patients in the behavioral health population…"
Inclusionary Practices from Poses Family Foundation Disability Employment and DIY Guide
JAN
Aug 8 at 2PM EST: " tools you need to accelerate your impact. You'll find fast facts, case studies, a step-by-step guide, partnership templates and more…"
Mindfulness for Cancer Survivors Living with Chronic Neuropathic Pain
CIRPD
Aug 8 at 2PM EST: "role mindfulness can play in managing pain intensity, pain catastrophising, and depression for cancer survivors living with chronic neuropathic pain…"
Searching for the Seeds of Psychosis
BBRF
Aug 8 at 2PM EST: "findings that mistakenly led American psychiatrists to believe that bad parenting caused psychosis in children a half century ago. New findings show how the ages of parents can influence the risk to children, independent of any psychological issues…"
Stick with It: The Science of Lasting Behavior Change
UCLAMDChat
Aug 8 at 2:30PM EST: "science-based, practical strategies for forming healthy habits, breaking problem behaviors, and improving our quality of life…"
Stalking on Campus: Prevalence, Dynamics and Considerations for Safety
Stalking Resource Center
Aug 9 at 2PM EST: "challenges and opportunities for building stalking cases by focusing on responses that put victim safety at the center…"
Crisis Now: Transforming Services is within Our Reach
NASMHPD
Aug 9 at 2-3:30PM EST: "framework for states and communities to develop a comprehensive crisis care system; an example from Arizona of developing and implementing a statewide model of crisis care; and a provider perspective…"
Recognizing Stalking in Intimate Partner Violence Cases
BWJP
Aug 9 at 3-4:30PM EST: "importance of recognizing the intersection of stalking in intimate partner violence cases and the various technologies being used to track and monitor victims…"
How Language Helps Shape Our Response to Sexual Violence
SAFEta.org and Kidsta.org
Aug 10 at 2PM EST: "specific examples of the language we use and explore how to discuss sexual assault in a way that more accurately depicts the crime…"
Human Trafficking Can Affect Vulnerable Populations: Those With Disabilities
Midwest Regional Children's Advocacy Center
Aug 10 at 2-3:30PM EST: "overview of human trafficking, including the economics… how to respond to human trafficking as it relates to the developmentally disabled and cognitively impaired…"
Understanding Technology Evidence in Intimate Partner Violence Cases
Stalking Resource Center
Aug 11 at 12PM EST: "ways in which offenders misuse technology, including smart phones, computers, cameras, global positioning systems (GPS), and many online spaces to harass, abuse, and stalk…"
Is Your Website Trauma-Informed?
North Carolina Coalition Against Domestic Violence
Aug 11 at 3PM EST: "When people come to your website, are you helping them feel empowered? Or are you aggravating the symptoms of trauma itself?…"
Substance Use Disorders – What You Need to Know
National Center on Addiction and Substance Abuse/MCTAC
Aug 12 at 12PM EST: "basics… scientific principles of addiction as a brain disease, symptomatology, prevalence… common misconceptions and biases about substance use disorders…"
Incorporating Reflective Practices
BRSS TACS
Aug 14 at 12PM EST: "strategies on repairing disconnections in addition to highlighting resources such as SAMHSA's Program to Achieve Wellness' Guide for Supporting Wellness Through Self-Reflection…"
Estate Planning for Families With Special Needs
Military Families Learning Network

Aug 15 at 11AM EST: "documents such as powers of attorney and trusts, including a revocable living trust and a special needs trust… considerations for needs-based public benefits such as Supplemental Security Income (SSI) or Medicaid…"
Who Decides? The Unique Dynamics of Serving Survivors with Guardians,
Vera Center
Aug 15 at 2PM EST: no decription provided
Shelter(ing)
National LGBTQ Institute on IPV
Aug 15 at 3-4:30PM EST: "re-think traditional approaches to communal emergency shelter and offer new concepts for the physical shelter environment as well as emerging best practices for "sheltering'…"
Campus Stalking: New Regulations and the Implications for Campus Responders
Stalking Resource Center
Aug 16 at 2PM EST: "primary prevention and awareness programming requirements, the development of procedures for victims and the college to follow in cases of stalking and the reporting and disclosure of stalking crimes in annual security reports…"
A Safe Place to Call Home: Transforming the Physical Environment for Violence Prevention
PreventConnect and Prevention Institute
Aug 16 at 2-3:30PM EST: "how place-based strategies can support protective factors for sexual and domestic violence prevention… ways to identify community design issues and advocate for change…"
Debunking Domestic Violence Myths
BWJP
Aug 16 at 3-4:30PM EST: "model of threat appraisal that addresses the legal requirement of self-defense in cases where an alleged IPV victim is charged in the death of an alleged abuser…"
What Adverse Childhood Experiences (ACE) Study Teaches about Maximizing Health and Wellbeing
Military Families Learning Network
Aug 17 at 11AM EST: "in-depth information on this study and its implications…"
Safer Families, Safer Communities
BWJP
Aug 21 at 3-4:30PM EST: "comprehensive implementation and enforcement of domestic violence firearm prohibitions at all levels of government…"
From Crushed to Confident: 10 Ways to Help Your Child Soar in School
ADDitude
Aug 22 at 1PM EST: "Relieve anxiety… Improve focus, attention, and impulse control… tools to succeed… Stop power struggles over homework… Help… child build new friendships…"
Reviving the Movement: Voices of Advocates
National Indigenous Women's Resource Center
Aug 22 at 3-4:30PM EST: "voices of Indigenous advocates who have helped create, shape, and grow this powerful movement to end violence against Indian women and children in tribal communities…"
Creative Approaches to Tobacco Cessation
National Council
Aug 23 at 2PM EST: "different approaches in educating staff, clients and expanding referrals for tobacco treatment as part of their larger organizational change processes…"
Successful Strategies for Preventing Fire and Burn-Related Injuries among Children 
CSN
Aug 23 at 2PM EST: "those ages 1 – 4 are at highest risk of fire and burn- related injury and death… overview of materials and resources that are offered through NFPA to target these particular risks…"
Ticket to Work and Work Incentives – A Two-Part Series Part 1: Supplemental Security Income
WISE
Aug 23 at 3PM EST: "How to identify the type of disability benefit you receive by going online… Work Incentives that are available to you if you receive SSI benefits… Ticket to Work program…"
Co-Occuring Interrelational Domestic Violence and Substance Use Disorders
NAADAC
Aug 23 at 3-5PM EST: "each disorder reinforces the other and leads to progression of each. Treatment must recognize how the two disorders interact in order to develop effective intervention and treatment strategies…"
Stalking Evidence: What to Look For and How to Get it Admitted
BWJP
Aug 23 at 3PM EST: " how to conduct thorough investigations, including evidence preservation and collection as well as investigative strategies for interviewing victims and suspects…"
Promoting Healing in Survivors of Child Sexual Abuse
Texas Association Against Sexual Assault
Aug 24 at 11AM-12:30PM EST: "overview of some ways to promote healing in survivors of childhood abuse…"
Psychological Health
DCoE
Aug 24 at 1-2:30PM EST: "latest DoD and VA mobile health apps and clinical support tools, and strategies to use them with clinical care… best practices for using mobile health technology in clinical care settings…"
Race Equity in Practice: Learning from Impact Sites
Center for Survivor Agency & Justice
Aug 24 at 1-2:30PM EST: no description provided
Reentry and Recovery – The First 30 Days
BRSS TACS
Aug 24 at 2PM EST: "essential recovery services for the first 30 days of reentry… exs of challenges… strategies for supporting successful reintegration during this critical time period…"
Vicarious Trauma & Burnout in Healthcare Providers and How a Trauma Informed System Can Help
Indian Health Service
Aug 24 at 2PM EST: "five effects of vicarious trauma and burnout on healthcare providers… strategies to prevent or treat personal burnout and effects of vicarious trauma… five core values of Trauma Informed Care…"
What's Not to Like About Student Loans
Center for Financial Social Work
Aug 24 at 2PM EST: "facts about student loans… the good, the bad and the ugly of student loans…What you should do if you are a student entering college, parent, or graduate…"
Family Engagement in the Juvenile Justice System
National Reentry Resource Center
Aug 24 at 2-3:30PM EST: "strategies, tools, examples, and best-practice models… effectively implement family engagement practices and promote positive outcomes for youth in the juvenile justice system…"
Mental Health and Wellness for Law Enforcement and Their Support
OJJDP
Aug 24 at 4-5:30PM EST: "signs and symptoms of vicarious trauma, explore stress reaction levels, provide coping mechanisms, and offer resources to law enforcement professionals…"
Play Therapy Summit
Jennifer Taylor, LCSW [host]
Aug 25-28: "20 psychotherapists… Attachment based theories and play therapy principles… incorporate dozens of practical play therapy tools for your practice…"
Select, Adapt, and Evaluate Violence Prevention Approaches
PreventConnect
Aug 28 at 2PM EST: "three types of essential elements and considerations…"
Tech Tools for a Better School Year
ADDitude
Aug 29 at 1PM EST: "Which tools benefit students with specific learning needs… importance of Universal Design for learning technology… platforms prove most beneficial (iPads, Chromebooks vs. laptops)…"
Domestic Violence is Complex: Cycles, Wheels, or Systems
BWJP
Aug 29 at 3-4:30PM EST: "challenges posed to clinicians in working with victims of violence… three patterns of system dynamics: Periodic, chaotic, and random…"fit" between time-series-derived patterns of male partners' violent behaviors and literature-based models of violence dynamics…"
Less Discussed Eating Disorder Behaviors, Such as Chewing and Spitting Rumination
Castlewood Treatment Center
Aug 30 at 1PM EST:  no CES and no description provided
MI Skill-Building: How To Recognize, Respond To, and Elicit Change Talk
ireta
Aug 30 at 2PM EST: "when people use change talk to voice their intrinsic motivations, they are more likely to make a change…technical aspects of recognizing, responding to, and eliciting change talk…"
As mentioned above, please note:
This list is updated throughout the month!
Most but not all provide CEs. A few providers may require a nominal fee.
To register, click on desired green webinar title link; this will take you to the registration area.
To ask Qs or confirm CE details, please contact the sponsoring organization of the webinar that is of interest to you.
To have your free mental health webinar considered for inclusion, please provide details below.
Like this post? Please share it!
SaveSave
SaveSaveSaveSave
SaveSave
SaveSave
SaveSave
SaveSave
SaveSave