From Marketing Researcher to Social Worker
I've always felt a strong pull towards mental health and helping people.
Presently, as a fellow and psychotherapist at the Training Institute for Mental Health, I help individuals overcome various issues such as: career challenges, anxiety, depression, trauma, anger management, and relationship difficulties.
In addition, I provide consulting/coaching for the Center for Financial Social Work (FSW) and the University at Buffalo's School of Social Work (UBSSW). For FSW, I educate social workers and community advocates on how to help their clients develop a better relationship with money, so that they may learn to take control of their financial circumstances. For the UBSSW, I coach on how to employ social media to enhance their brand awareness and social work practice, and am an adjunct instructor.
And I'm proud of having created this blog, which serves as an online resource for both mental health professionals and advocates. Feel free to also check out my articles on PsychCentral.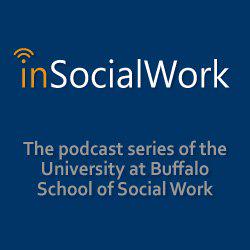 Just prior to beginning my social work career, I was a project director in the marketing research field, where I managed studies that helped firms position or optimize new products or services. But even there, as well as further back with my undergraduate courses and MBA in marketing, I was always drawn to psychology and understanding the human side of business.
So, when the economy plummeted, and my employer suffered financial difficulties, I followed my heart and returned to school to earn a Master of Social Work (MSW), preparing me to make a difference in another way, one that feels right at this point of my career. And my clinical experience at a women's health clinic and at an outpatient mental health clinic further empowered my intention to return to clinical work in 2016.
It's been especially gratifying to me to discover the parallels between coaching, consulting and therapy. All three require you to meet your clients where they are in terms of their readiness to change and adapt your style (or interventions) accordingly.
Also key to success for all three are the ability to establish rapport with your clients, being empathic, having strong listening skills, and providing consistent support to your clients through setbacks, as well as triumphs.
Having graduated from NYU's Silver School of Social Work in the Fall of 2011, I've since attained a Licensed Master of Social Work (LMSW) in New York State, a Certified Financial Social Worker (CFSW) and a certificate in Advanced Clinical Practice. I've also recently co-authored an article for the Encyclopedia of Social Work, and co-presented at the 2016 New York Conference of the National Association of Social Worker's Conference about Financial Social Work.