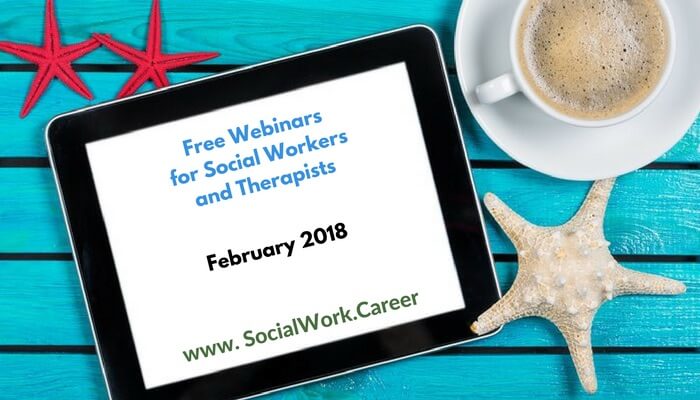 Do you want to keep up-to-date with the latest developments in the mental health arena?
Attending one of these free webinars is an easy way of doing just that !
This post is part of the monthly series, Free Mental Health Webinars for Social Workers and Mental Health Professionals, featuring all the free webcasts that Social Work Career could find for you this month in the field of social work and mental health.
Please note:
This list is updated throughout the month!
Most but not all provide CEs. A few providers may require a nominal fee.
To register, click on desired green webinar title link; this will take you to the registration area.
To ask Qs or confirm CE details, please contact the sponsoring organization of the webinar that is of interest to you.
To have your free mental health webinar considered for inclusion, please provide details below.
Free Mental Health Webinars, February 2018
Resilience Informed Service Environments (RISE) Learning Community
McSilver Institute
Feb 1 or Feb 15 at 12PM EST:"designed to support organizations committed to addressing the needs of clients affected by adverse events and conditions…"
CPR for the Veterinary Soul
VetMedTeam
Feb  1st at 2PM EST: "One in six veterinarians considers suicide at some point in their career… underlying causes of this crisis and what we can do about it…"
Improved Care for Sexual Assault Patients
Tribal Forensic Healthcare
Feb 5 at 11AM – 12:30PM EST: "how to create partnerships between victims of violence and public health fields to improve health outcomes with safety and patient-centered care…"
In Their Shoes: an inclusive LGBTQ prevention education tool
National LGBTQ Institute on IPV
Feb 6 at 1-2:30PM EST: "engaging way to talk with young people about healthy relationships and abuse. It is LGBTQ inclusive, and brings racial and social justice issues to the forefront in ways that push the envelope while still fitting within the school setting…"
Being Seriously Playful: Working And Being With Children Of Any Age
onlinevents.co.uk
Feb 6 at 2PM EST: "experiencing and contacting the vitality in our self and the open congruent connection with a child's story and deeper needs…"
Team-based CT-R for Building Empowerment and Resilience
SAMHSA
Feb 7 at 1PM EST: "he use of CT-R in multidisciplinary services, energizing both the person and the team members…"
Social-Ecological Framing for Disrupting Sexual Assault & Teen Dating Violence
Colorado Coalition Against Sexual Assault
Feb 7 at 2PM EST: "engaging youth while honoring their struggle for personal autonomy… institutional, interpersonal, and internalized oppression and dominance, the cycle of abuse… effective strategies…"
Tax Cuts and Jobs Act and Implications for Low-Income Households
Institute for Research on Poverty
Feb 7 at 2PM EST: "broader implications of the shift in tax policy, including how changes in government funding may matter for other programs and initiatives relevant to low-income Americans…"
Networking Competencies That Foster Engagement, Collaboration, & Business Results
HRDQ-U
Feb 7 at 2PM EST: "8 Networking Competencies that are needed by almost everyone, in almost every job type, at almost every level…"
Restorative Justice: A Trauma-Informed Approach to Discipline in School
McSilver Institute
Feb 8 at 12PM EST: "restorative discipline practices, including its guiding principles and several core strategies… resources for implementing restorative justice…"
Leveraging a Gendered and Cultured Lens to Improve Population Wide Mental Health and Wellbeing
Prevention Institute & Blue Shield
Feb 8 at 1PM EST: "overview of the Making Connections for Mental Wellbeing initiative and highlight community driven efforts to improve mental health and wellbeing…"
Telehealth to Assist Families of Individuals with Autism in Rural Communities
AAIDD
Feb 8 at 4PM EST: "model… emphasizes early diagnostic screening and intervention for young children at risk for ASD…"
Mother-Baby Program: Shifting from Perinatal Mental Health to Two-Generation,Trauma-Healing
Minnesota Center for Chemical and Mental Health
Feb 9 at 12PM EST: "mental health conditions during and after pregnancy… impact of Adverse Childhood Experiences (ACES)… historical and generational trauma…"
Mapping Gender: Family Courts' Treatment of Cases Involving Abuse & Alienation
BWJP
Feb 9 at 3-4:30PM EST: "national empirical study of custody courts' responses to domestic violence, child abuse, and parental alienation claims…"
Understanding the Dynamics of Counseling African-Americans
NCCU Counseling
Feb 13 at 1PM EST: "factors that shape African-Americans' self and world schemas… cultural trauma and collective identity… how it impacts African Americans' engagement in the counseling process…"
Psychotic Disorders: Current Concepts and Therapeutics
Brain & Behavior Research Foundation
Feb 13 at 2PM EST: "how a "disease" differs from a "clinical syndrome"… how the parsing of the category "schizophrenia" in terms of its clinical manifestations is key to advancing understanding of causes and the discovery of new therapies…"
Manipulation and Abuse: Getting to the Heart of the Matter
onlinevents.co.uk
Feb 13 at 3:30PM EST: "how to spot a controller, why the control drive is present, and how to help the controlled person to engage with the work and grow in themselves…"
Contract Protections
McSilver Institute
Feb 14 at 2PM EST: "Medicaid managed care… contract guidance and Behavioral Health contract protections and prohibitions that are in place for providers…"
Redefining Sanctuary: Overview of Key Findings from our Latest Research
Opportunity Agenda
Feb 14 at 2PM EST: " three-part analysis of existing public opinion research, media coverage, and social media discourse concerning sanctuary jurisdictions, DACA…"
New Hope for Alzheimer's
room217.ca
Feb 14/18 at 3:30PM EST: no description provided
Sextortion Webinar Series (part 1 of 2)
National Criminal Justice Training Center
Feb 14 at 2-3:30PM EST: "sexual exploitation in which abuse of power is the means of coercion and can be coupled with the threatened release of sexual images or information…"
Whatever Happened To The American Dream?
Center for Financial Social Work
Feb 15 at 2PM EST: "What people believe it takes to achieve the American Dream… What research tells us contributes to our success…"
Dismantling Racial Inequity #4: Slow and Steady Wins the RACE of Child Welfare Equity
NCWWI & CSSP
Feb 15 at 3-4:30PM EST: " how Connecticut Department of Children and Families… embed racial justice… to ultimately improve outcomes for children, families, and communities…"
Best Practices in Treating Infant- Early Childhood Mental Health Concerns
McSilver Institute
Feb 16 at 12PM EST: "skills and competencies providers need when working with parents and young children and strategies for supporting healthy social-emotional development…"
Current Events in Accommodation
JAN
Feb 18 at 2PM EST: "current events… incl tough accommodation situations, tricky ADA issues, and technology challenges… practical tips…"
The Teen Brain on ADHD: A Parent's Guide to Building Independence — Together
ADDitude
Feb 20 at 1PM EST: "how the adolescent brain changes and the challenges these changes present for the student with ADHD…"
100 Days To G Day – Are You Ready?
onlinevents.co.uk
Feb 20 at 2PM EST: "data protection… geared to practitioners based in the United Kingdom, however, the principles will be useful no matter where therapists are based…"
Taxes: What You Need to Know to Help Those You Serve
NNEDV
Feb 20 at 2PM EST: no description provided
Consumer Rights for Domestic & Sexual Violence Survivors
Center for Survivor Agency & Justice
Feb 21 at 2PM EST: "increasing access to economic justice for all survivors of domestic and sexual violence…"
Implementation of CT-R Across a System, Lessons of Success
SAMHSA
Feb 21 at 1PM EST: "systemic large-scale implementation of CT-R sharing evidence of culture change…"
Preventing Burnout in Human Services
Network for Social Work Management
Feb 21 at 2PM EST: "causes of burnout… symptoms of burnout… stress/response process… ORGANIZATIONAL strategies to beat burnout…"
Telemedicine Reimbursement: Understanding Your Reimbursement Options
therapy sites
Feb 21 at 2PM EST: " Important Terms & Concepts – Private Pay – Contracted Payers – Medicaid/Medicare – New Legislation…"
Mobile Health Practice Guide
DCoE
Feb 22 at 1PM EST: "available provider tools in the DoD Mobile Health Practice Guide to support best practices in evidence-based care…"
Expert Q&A ~ Strangulation and Intimate Partner Violence
Office for Victims of Crime Training and Technical Assistance Center
Feb 22 at 2PM EST: no description provided
Rights4Girls: the Abuse to Prison Pipeline
National Resource Center on Domestic Violence
Feb 22 at 2PM EST: "how the intersections of race, gender and violence cause our most marginalized girls to be criminalized for their experiences of sexual violence and sexual exploitation…"
Learning Exchange #4: Slow and Steady Wins the RACE of Child Welfare Equity
NCWWI & CSSP
Feb 22 at 3PM EST: "agency and workforce development for promoting racial equity…"
Cases File Review: What Do Sexual Assault Cases Look Like in Our Communities
BWJP
Feb 22 at 3-4:30PM EST: "process and framework for reviewing sexual assault case files as an evaluative measure for sexual assault response teams (SARTs)…"
Race, Inclusion and Equity in Learning Environments
CERA and the Society for the Psychological Study of Culture, Ethnicity and Race
Feb 22 at 3:30-5PM EST: "topics of diversity, inclusion, equity, privilege, race, and intersectionality in learning environments in ways that invite for reflection and self-analysis…"
Legal Firearms Restrictions for Perpetrators of Domestic Violence & Assoc. w/Partner Homicide
BWJP
Feb 26 at 3-4:30PM EST: "relationship between different types of firearms legal prohibitions and reductions in intimate partner homicide rates…"
Working Out Loud: Building Networks for Resilience
MFLN
Feb 27 at 11AM EST: "learn about and practice behaviors that can help you build networks to support your personal and professional resilience…"
Chronic Pain: Managing Without Opioids
CIRPD
Feb 27 at 2PM EST: "plan… often requires pharmacological as well as nondrug therapies, and very importantly large measures of clinician guided patient self-management…"
Opioids, Marijuana, and Child Protection: Legal Considerations of Recent Developments
CEBC
Feb 28 at 1PM EST: "basic legal framework for the child protection system including examining statutes legalizing marijuana and summarizing appellate case law addressing when use of these legal substances may constitute child maltreatment, including exposure in utero…"
Cultivating Change Talk
Ireta
Feb 28 at 2PM EST: "Motivational Interviewing encourages "change talk"… Recognizing, responding to, and eliciting change talk… crucial skills… to support clients or patients…"
Reducing Adverse Birth Outcomes
IRP
Feb 28 at 2PM EST: "determinants, effects, and strategies for reducing adverse birth outcomes…"
Ticket to Work: Choosing the Service Provider that's Right for You
WISE
Feb 28 at 3PM EST: no description provided
Journey Through Grief and Loss
NAADAC
Feb 28 at 3-4:30PM EST: "different losses in an individual's life… various forms of grief [i. e. anticipatory, complicated, and disenfranchised]…"
Veterans & Family Court: The Family Law Veteran's Diversion Program
BWJP
Feb 28 at 3-4:30PM EST: "unique needs of military veterans and their families when involved in family court proceedings… assessments/treatment for posttraumatic stress (PTS)… TBI…"
Use of Mindfulness Based Techniques for Clients & Practitioners in Treatment of Eating Disorders
Eating Disorder Hope
Feb 28 at 6PM EST: no description provided
As mentioned above, please note:
This list is updated throughout the month!
Most but not all provide CEs. A few providers may require a nominal fee.
To register, click on desired green webinar title link; this will take you to the registration area.
To ask Qs or confirm CE details, please contact the sponsoring organization of the webinar that is of interest to you.
To have your free mental health webinar considered for inclusion, please provide details below.
Like this post? Please share it!
SaveSave
SaveSaveSaveSave
SaveSave
SaveSave
SaveSave
SaveSave