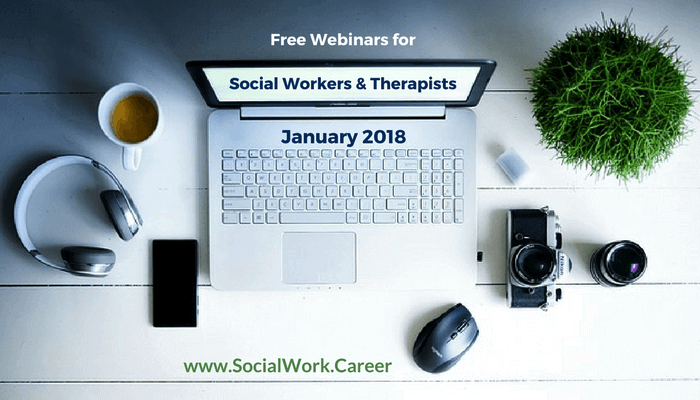 Happy New Year! Do you want to start the new year by beefing up your self-care and mental health skills?
Attending one of these free webinars is an easy way of doing just that !
This post is part of the monthly series, Free Mental Health Webinars for Social Workers and Mental Health Professionals, featuring all the free webcasts that Social Work Career could find for you this month in the field of social work and mental health.
Please note:
This list is updated throughout the month!
Most but not all provide CEs. A few providers may require a nominal fee.
To register, click on desired green webinar title link; this will take you to the registration area.
To ask Qs or confirm CE details, please contact the sponsoring organization of the webinar that is of interest to you.
To have your free mental health webinar considered for inclusion, please provide details below.
Free Mental Health Webinars, January 2018
How to Get More Done with a Lot Less Stress!
ADDitude
Jan 4 at 1PM EST: "why motivation is not activation… turn on your "get started" switch… strategies to minimize overwhelm and maximize productivity… sleep/wake cycles can super-charge your day…"
What's Advocacy Got to Do With You and the Future of Addiction Services
NAADAC
Jan 4 at 2PM EST: "NAADAC's public policy initiatives, and the NAADAC Advocacy webpages and how to stay current…"
Updates from the Training Institute on Strangulation Prevention
Training Institute on Strangulation Prevention
Jan 9 at 1-3PM EST: "Findings from our survivor focus group… Best practices for identifying, documenting, investigating, and prosecuting strangulation cases – Emerging issues in the field – medical, legal and advocacy trends…"
Get to Work! Exploring Telework, Modified Schedules, and Parking Accommodations
JAN
Jan 9 at 2PM EST: "ADA… accommodation solutions related to improving employee presence when work-related limitations arise out of commuting barriers, flare-ups associated with chronic impairments…"
The Social Brain in Anorexia Nervosa
BBRF
Jan 9 at 2PM EST: "how brain function and social perceptions differ in anorexia nervosa… vary across two stages within the disease… "
Financial Capability of Adults with Disabilities
NDI
Jan 10 at 3PM EST: "people with disabilities are having more difficulty than others covering expenses, paying bills, saving…. causes and impacts…"
Honest Dialogue Needed: Responding to Gender-Based Discrimination on Campus
BWJP
Jan 10 at 3-4:30PM EST: "Why are college administrators investigating sexual violence?… What is actually happening at universities and colleges since the 2011 Dear Colleague Letter and how does this reality differ from what we are reading and what the talking heads are saying?…"
Working with Individuals Diagnosed with Personality Disorders
NAADAC
Jan 10 at 3-4:30PM EST: "etiology, diagnostic criteria and clinical presentation… insights to the behavior behind these disorders and provide some strategies to create change…"
Fountains of Uke – Hamilton's Intergenerational Music Program
Room 217
Jan 10/18 at 3:30PM EST: no description provided
How to Transform Your ADHD Into a Strategic Advantage at Work
ADDitude
Jan 11 at 1PM EST: "most important workplace accommodation… determine whether you are in the wrong job, or just one adjustment away from happiness…"
Traumatic Brain Injury in the Military After Transition to ICD-10
DCoE
Jan 11 at 1-2:30PM EST: "how provider coding informs ongoing efforts to estimate the incidence and prevalence of TBI in the military… "clean coding" practices…"
The State Of Financial Wellbeing In America
Center for Financial Social Work
Jan 11 at 2PM EST: "distribution of financial wellbeing scores… variation in how people feel about their financial wellbeing… improve… financial wellbeing… through practice and research…"
Eating Disorder Healing Through Experiential Therapy: Psychodrama and Sociometry
Eating Disorder Hope
Jan 11 at 3PM EST: "wheel or cycle of trauma and addiction… how to use Psycho-Social Metrics (experiential therapy) to treat issues of relational trauma... how to use the Trauma Timeline…"
LGBTQ Patients and Clients: Actions of Affirming and Welcoming Practices
LGBTQ.school
Jan 11 at 4PM EST: "marketing, paperwork, and even what the frontline desk staff need to know… action items you can implement almost right away to affirm and welcome LGBTQ individuals seeking services…"
Immigration and Latino Mental Health 
Minnesota Center for Chemical and Mental Health
Jan 12 at 12PM EST: "Assessing with Awareness and Cultural Humility… "
What Hotline Workers Need to Know about Elder Abuse
DOJ's Elder Justice Initiative
Jan 12 at 2-3:30PM EST: "assessing and responding appropriately to calls from older adults who may have experienced elder abuse… case examples… relevant resources and services…"
Working Therapeutically From a Distance in Real-time or Synchronously
onlinevents.co.uk
Jan 15 at 2PM EST: "contemplate the differences that may arise both for practitioners and clients when they are located at a distance, behind a screen…"
Eating Disorders Explored
onlinevents.co.uk
Jan 16 at 6:30AM EST: no description provided
Therapeutic Treasure Deck of Cards
onlinevents.co.uk
Jan 16 at 12:30PM EST: "ideas for working on relational and developmental trauma; including discussing the release of a new resource…"
The Fundamentals of Child Sex Trafficking
Children's Healthcare of Atlanta
Jan 16 at 1PM EST: "statistics… federal and state laws (specific to GA), pathways to entry, identification of victims, and prevention strategies…"
Updates on Child Sexual Abuse Prevention with Elementary School Ages
PreventConnect
Jan 16 at 2-3:30PM EST: "How social emotional learning has emerged as an essential foundation of primary prevention… How efforts to prevent sexual abuse in schools and youth serving organizations can be inclusive of children with disabilities…"
New Approaches to Alzheimer's Diseases
UCLAMDChat
Jan 16 at 2PM EST: "new approaches to diagnose and treat Alzheimer's disease…"
Insecurity: The Driving Force of the Human World and Tools to Help People Be Secure
onlinevents.co.uk
Jan 16 at 3:30PM EST: "origin, process, and behavior as well as explore ways to help our clients cope with this, the insecure world we all live in…"
SAGE
Jan 17 at 11AM EST: "How can we develop the skills needed to evaluate fact from opinion, articulate our own perspectives, and develop well-reasoned arguments and rebut poorly reasoned ones? And what does it mean to engage critically with the biases built into technology and human cognition?…"
Resilience Informed Service Environments (RISE)
McSilver Institute
Jan 17 at 12PM EST: "Infusing programs and practice with resilience-based approaches…"
Restorative Justice / Restorative Practices
National Criminal Justice Training Center
Jan 17 at 12-1:30PM EST: "Apply different models and their uses in schools, justice systems, and communities…"
Overcome Professional Road Blocks and Rediscover Career Satisfaction
Network for Social Work Management
Jan 17 at 2-3:30PM EST: "lining up​ personal values with professional goals and aspirations… personal mission statement… practical steps in managing work-related transitions…"
Working with Families Impacted by Incarceration: A Dialogue on Practice Skills
CANTASD
Jan 17 at 2PM EST: "best practices…creating environments that build trust and reduce shame and stigma… engaging the incarcerated parent… visit coaching…"
Medicaid Innovation Accelerator Program: Reducing Substance Use Disorders
NAADAC
Jan 17 at 3PM EST: "overview of the IAP SUD program area, including recent efforts and upcoming opportunities, and highlights ways to engage in Medicaid SUD delivery system reform…"
From Margins to Center: A Video Dialogue & Report
Center for Survivor Agency & Justice
Jan 18 at 1PM EST: "video conversation to lift-up voices from the Listening Sessions and to dialogue-back with the field about racial equity for survivors…"
Stand Up for ADHD: How to Support Loved Ones with ADD
ADDitude
Jan 18 at 1PM EST: "health risks… how to deal with the resentment you may feel toward a loved one with ADHD… practical ways to help your loved one…"
National Suicide Prevention Lifeline and Your Organization
Jan 18 at 2PM EST: " Join Lifeline's membership team to gain a better understanding of the National Suicide Prevention Lifeline, including how the call routing system works, the requirements and benefits of membership as well as how your organization can join…"
The Intersection of Suicide and Suicide Prevention with Other Injuries
ICRC-S
Jan 18 at 3PM EST: "rationale for a comprehensive and highly coordinated approach to suicide prevention and describe the role that public health can play in the implementation of this approach…"
Feelings Count: Using Movies to Link Learning
Training Magazine Network
Jan 23 at 12PM EST: "the psychology behind emotion… how to select the right movie scene to tap into the power of emotion to increase retention of information…"
Best Practices in Training Service Providers in Transition Competencies
Research and Training Center for Pathways to Positive Futures
Jan 23 at 1PM EST: "research-based best practices for improving training for transition service providers…"
Human Trafficking Around the World
Children's Healthcare of Atlanta
Jan 23 at 1PM EST: "push-pull factors contributing to trafficking, the vulnerabilities experienced by migrant populations, adversities faced by victims and strategies for effective recognition and care of survivors…"
Best Practices for Legal Advocacy for People with Disabilities
Vera Institute of Justice
Jan 23 at 2-3:30PM EST: "best practices for legal advocates as well as innovative work to help survivors with disabilities and Deaf survivors navigate the legal system…"
Understanding the Complexities of Sexual Violence Response
BWJP
Jan 23 at 2-3:30PM EST: "sexual violence context, offender and victimization type, and paradigms of response… steps to change current service and response models to increase service…"
Rebalancing Work and Life: Be the Model
eXtension Military
Jan 24 at 11AM EST: "tools to assess… current life priorities… work-life balance… reprioritizing… quick 'mini' refresh tools which will allow you to give more to yourself and to others…"
The Role of Substance Use and Opioid Misuse in Child Welfare Caseload Increases
Institute for Research on Poverty
Jan 24 at 2PM EST: "study… specific mechanisms by which parental substance use has led to the rise in caseloads, and unique challenges… to child welfare system…"
Brief Intervention: Process and Techniques
NAADAC
Jan 24 at 3-4:30PM EST: "therapy/intervention methods… three assessment tools used in SBIRT as outlined by SAMHSA… motivational techniques to interpret results with clients…"
Building and Empowering Your Staff to Increase Your Agency's Organizational Capacity
Washington Coalition of Sexual Assault Programs
Jan 24 at 3:30-5PM EST: "how to assess… organization's current personnel management needs… develop staff workplans and succession plans for their organization…"
Exploring the History of Community Mental Health and Population Wide Mental Health Strategies
Dialogue4Health
Jan 25 at 10AM EST: "how improving community conditions can reduce the incidence and intensity of mental health challenges, and help activate resilience…"
Trauma-Informed and Culturally-Specific Practice with Latina Survivors
Casa de Esperanza
Jan 25 at 12:30PM EST: "evaluating trauma informed and culturally specific work with Latinas… results of a national study evaluating culturally specific and trauma informed practice with Latinas…"
Affording Prescription Medications, No Matter What Happens on Capitol Hill
National Council
Jan 25 at 1PM EST: "know the full breadth of resources that we and our community members can take advantage of in order to access the healthcare they need…"
Introduction to Positive Discipline in Everyday Parenting
CHNET-Works
Jan 25 at 1PM EST: " eliminate parents' use of physical and emotional punishment by strengthening their knowledge, empathy and problem-solving skills…"
Child Support in Child Welfare Cases
Florida's Center for Child Welfare at USF
Jan 25 at 2-3:30PM EST: "policy and procedures regarding child support, including establishment of paternity and management of support collections…"
The Science and Practice of Community Informed Risk Assessment
BWJP
Jan 25 at 3-4:30PM EST: "scientific evidence underpinning the tool and the process of engaging community stakeholders to develop the tool for state-wide implementation… practical issues…"
Social Determinants of Health for LGBT People – Part 2
National LGBT Health Education Center
Jan 26 at 12PM EST: "structural stigma, housing, employment, education, and legal support, as well as ways to engage in partnerships with LGBT community-based organizations…"
"Behind the Screen" – Myth-Busting and Q & A Session
onlinevents.co.uk
Jan 29 at 2PM EST: "queries that you may still have relating to the use of information technology in your practice and/or working as an online therapist…"
Hidden Victims of Trafficking: Issues Related to Male and LGBT Victims
Children's Healthcare of Atlanta
Jan 30 at 1-2:30PM EST: "specific conditions and concerns that affect their risk and their experiences of exploitation… recognize possible victims… prevention strategies…"
Elevating Delivery by Enhancing Care Models and Embracing Technology in a Value-Based World
Center for Mental Health in Colorado
Jan 31 at 12PM EST: "transition from limited resources to a digital care model, including lessons learned as well as real-world results and benefits…"
Part I: The Foundations of Infant and Early Childhood Mental Health
McSilver Institute
Jan 31 at 12PM EST: "unique mental health needs of infants and young children and the provision of mental health services for children under the age of 5…"
Best Practices for Addressing Opioid Addiction and Other Substance Use Disorders in LGBT Patients
National LGBT Health Education Center
Jan 31 at 1PM EST: "identifying and treating opioid addiction and other substance use disorders in LGBT adults using a trauma-informed care model and through integration of behavioral health services with primary care…"
As mentioned above, please note:
This list is updated throughout the month!
Most but not all provide CEs. A few providers may require a nominal fee.
To register, click on desired green webinar title link; this will take you to the registration area.
To ask Qs or confirm CE details, please contact the sponsoring organization of the webinar that is of interest to you.
To have your free mental health webinar considered for inclusion, please provide details below.
Like this post? Please share it!
SaveSave
SaveSave