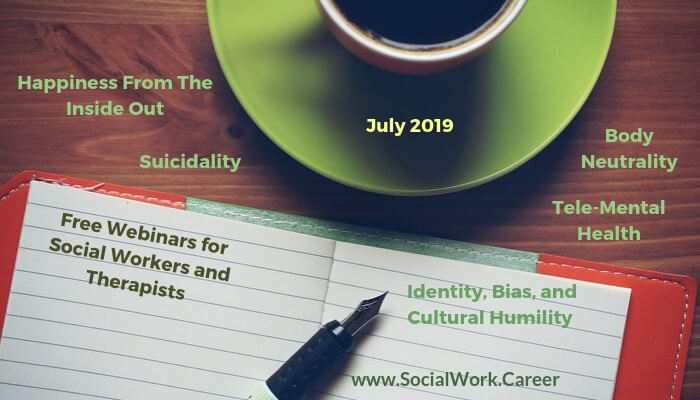 This post is part of the monthly series, Free Mental Health Webinars for Social Workers and Mental Health Professionals, featuring over 45 free webcasts that I could find for you this month in the field of social work and mental health.
If I've missed any, please feel free to add them in the comments section below!
Please note:
This list is updated throughout the month!
Most but not all provide CEs. A few providers may require a nominal fee.
To register, click on desired green webinar title link; this will take you to the registration area.
To ask Qs or confirm CE details, please contact the sponsoring organization of the webinar that is of interest to you.
To have your free mental health webinar considered for inclusion, please provide details below.
July 2019 Webinars
Diversity Training: Engaging Confidently With Other Cultures
HRDQ-U
July 8 at 2PM EST: "the four competencies that are critical to cross-cultural adaptability… how to use them as a springboard to self-awareness and cross-cultural success…"
Evidence Based Suicide Assessment: Guidance for Clinicians and Policy Makers
(VA) Health Services Research & Development Service (HSR&D)
July 8 at 3PM EST: " how evidence-based suicide-specific assessment tools can be incorporated into clinical practice… recs will be made for which combination… best suited… where routine care is provided for Veterans at risk of suicide…"
Student Earned Income Exclusion and Plan for Achieving Self-support (PASS)
National Disability Institute/Empowered NYC
July 9 at 1PM EST: "Student Earned Income Exclusion allows students under the age of 22, who are receiving Supplemental Security Income (SSI), to earn up to $7,550 a year. Those earnings do not count against SSI benefits…"
Searching for Biomarkers of Stress-Related Mental Illness and Suicidality
#BBRFWebinar
July 9 at 2PM EST: "Dr. Averill's current work aims to identify biomarkers of suicidal ideation and attempts, to inform the development of new medicines and other interventions, which could alleviate the suffering of millions struggling with suicidality…"
Wandering Behavior in Dementia Care
Alzheimer's Orange County
July 9 at 2:30PM EST: "reasons why people with dementia may wander… dangers… preventing wandering… what to do if someone with dementia is missing…"
Nuisance Ordinances
BWJP
July 9 at 3-4:15PM EST: "Nuisance ordinances… impose civil and criminal penalties on residents for seeking police or emergency medical assistance… How They Work, Who They Harm, and How to Fight Them…"
At Our Best: Caregiving Today | Kids Serve Too!
MFLN
July 10 at 11AM-12:30PM EST: "how to best address children's difficult questions and typical behaviors in military caregiving households across four areas: Comfort and strength… Sharing and talking… Routines…"
Screening, Brief Intervention and Referral to Treatment (SBIRT)
Southeast ATTC
July 10 at 2PM EST: "core components of SBIRT… impact of alcohol and other drug-related problems in the U.S… clinical application of validated screening results…"
Tele-Mental Health: The Clinician's Perspective
OJJDP TTA
July 10 at 2PM EST: " issues clinicians need to consider when deciding whether tele-mental health is an appropriate delivery option… ethical, administrative, and clinical considerations…"
OCD and ED – The Alphabet Soup No One Will Eat
Eating Disorder Hope
July 10 at 12PM/3PM EST: "inherent similarities and differences in OCD and eating disorders… how to implement evidence-based treatments for both…"
Gender Responsive Trauma Informed Care: The First 72 Hrs
NAADAC
July 10 at 3-4:30PM EST: "the first 72 hrs may determine if the client feels safe… which determines her response towards tx. During the intake process staff probe into the most personal and sensitive part of a woman's life…"
Runaway Prevention: Stories from the Field
National Runaway Safeline
July 10 at 4-5:30PM EST: " best practices… help youth build resiliency… panelists who use Let's Talk… how they implemented the curriculum within their programming…"
Girls and Sexually Exploited Youth in the Juvenile Justice System
Coalition for Juvenile Justice
July 11 at PM EST: "changes in H.R. 6964 that affect girls and sexually exploited youth in the justice system… addressing the unique needs of this population…"
July 12 at 12PM EST: "Transitioning from active addiction to recovery… How we transition from one stage of our life to the next and remain mentally, physically and emotionally well is important…"
Homelessness in Minnesota
MN Clinical Training, Research and Innovation
July 12 at 2PM EST: "what factors may contribute to people becoming homeless and how homelessness impacts children, adults, and older adults… scale of homelessness in Minnesota, ideas for addressing homelessness…"
Managing Anxiety in Children and Adolescents w/ADHD & Learning Differences
ADDitude
July 16 at 1PM EST: "prevalence of anxiety… Why evidence-based Cognitive Behavioral Therapy (CBT) is the "gold standard" … How families can develop language to help kids understand and talk about their anxiety…"
Boys: The Forgotten Sex Trafficking Victims
Fox Valley Technical College National Criminal Justice Training Center
July 16 at 2PM EST: "profiles of the traffickers and buyers… current challenges and next steps toward addressing these challenges for an effective response…"
Translating Detox into Recovery: Innovations in Opioid Treatment
National Council
July 16 at 3-4:30PM EST: "explore one organization's model for engaging clients seeking ambulatory detox and transitioning them to more formal addiction treatment services…"
Happiness From The Inside Out
OJJDP
July 16 at 3:30PM EST: "importance of having activities outside work and how your family can be an important part of those activities… simple ways you can immediately start to share the activities you enjoy with the ones you love…"
Body Neutrality: How to Exist Between Loving or Hating Your Body
Eating Disorder Hope
July 17 at 12PM/6PM EST: "Body Neutrality which offers a way to conceptualize your body as a way in which you experience life vs. something you need to change…"
Behavioral Health Considerations for Native Transgender Individuals
National American Indian and Alaska Native ATTC
July 17 at 1PM EST: no description provided
The Future of Victim Services
Office for Victims of Crime Training and TAC
July 17 at 2PM EST: "current trends and growth in the field and how to use innovation to better serve victims…"
Identity, Bias, and Cultural Humility: Connecting to Ourselves and Others
McSilver Institute
July 18 at 1PM EST: "Understanding cultural humility -Understanding one's own identity -Recognizing your biases -Recommendations and practice guidelines, including best practices for cultural humility for social service providers…"
Parents Under Pressure: Advocating for Children with Special Needs
Center for Financial Social Work
July 18 at 2PM EST: "How health, mental health, and disability affect financial well-being… hidden costs of care and coordinating care… Advocates and lawyers – are they worth paying for?…"
Effective Strategies for Treating Individuals with Stimulant Use Disorders (part 1 & 2)
Northwest ATTC
July 18 at 3PM & 4PM EST: "panel of providers presenting their experiences with effective tx strategies and evidence-based practices for working with individuals with stimulant use disorders…"
Optimize Stimulant Tx: Better Symptom Management w/o Side Effects
ADDitude
July 23 at 1PM EST: "keys to helping your prescriber fine-tune stimulants to a child's needs and body chemistry… How to best manage the "rebound effect"… limits of medication… problems with executive functioning…"
EKRA: Ramifications of the New "All-Payor" Federal Antikickback Law
National Council
July 23 at 3PM EST: "Congress enacted… EKRA… to prohibit individuals from referring patients with substance abuse disorders to recovery homes, clinical treatment facilities, and laboratories in exchange for kickbacks… steps orgs can take to review compliance with EKRA…"
How To Market Your Private Market Online: Content Creation
onlinevents.co.uk
July 23 at 3:30AM EST: "get online, on to social media and other platforms, and "promote"… our services… do this is by adding value… create great content…"
Do One-to-One Therapists Need Extra Training To Work With Couples?
onlinevents.co.uk
July 23 at 8AM EST: "topics that may come up when working with couples, such as emotional fusion (co-dependence) and differentiation… unconditional love… ways in which people are enmeshed and fused…"
Relating At Depth In Supervision
onlinevents.co.uk
July 23 at 11AM EST: "the power and importance of the relationship in supervision… difference between compassion and empathy… avoid burnout…"
Pornography: Why Children Today Accessing This Will Be Adults Tomorrow In Your Practice
onlinevents.co.uk
July 23 at 9:30AM EST: "Why the current use of this media needs to be in almost every therapists' room, why the taboo needs to become the norm. Why different client groups need a permission and how to talk about this subject to your clients…"
Creating MicroLearning in Record Time with PowerPoint
Training Magazine Network
July 23 at 12PM EST: "principles supporting microlearning best practice, like visual, dynamic, and interactive content to make it engaging… practical techniques to create microlearning content quickly and easily using PowerPoint…"
Nature-Based, Soulcentric Development Wheel
onlinevents.co.uk
July 23 at 12:30PM EST: "based on… research by Bill Plotkin… 8 stages of human development with 9 passages with mature adulthood and life-enhancing cultures being rooted in transpersonal experience and revelation…"
Multi-disciplinary Approaches to Combat Domestic Minor Sex Trafficking
Justice Clearinghouse
July 23 at 3PM EST: "girls are often criminalized for experiencing sexual violence… racial and gender disparities among victims, risk factors, and the criminalization of trauma and abuse… strategies to reduce reliance on the justice system as a response to girls' trauma…"
Digital mHealth: At What Point in the Care Pathway Are Digital Interventions Safe and Effective?
onlinevents.co.uk
July 23 at 3:30PM EST: "Each convo will centre around a series of structured Qs related to theme of the Digital mHealth Conversation…"
Screening for Hepatitis C: Making It Happen In Your Organization
National Council
July 24 at 3PM EST: "how behavioral health providers can implement HCV screening procedures… referral to care and other related services…"
The Science of Addiction and Spirituality of Healing
NAADAC
July 24 at 3-4:30PM EST: "how neuroscience supports spiritual approaches to addiction treatment… basic spiritual techniques that can be used in support of addiction treatment…"
Addressing Identity Theft in Native Communities
National Center for Victims of Crime
July 25 at 1PM EST: "the connection between identity theft and other types of victimization, focusing on the intersectionality of identity theft and domestic violence…"
Emerging Tech: What Are the Current Trends for Teens and Kids?
Midwest Regional Children's Advocacy Center
July 25 at 2-3:30PM EST: "learn about vault applications and the ability to secretly store information… different emerging technological devices and the roles they are playing in potentially manipulating children…"
Back from the Border: Mental Health Care in a Humanitarian Crisis
Minnesota Center for Chemical and Mental Health
July 26 at 1PM EST: "trauma informed mental health work… an intimate and compassionate look into the realities of those seeking asylum in the United States and a first-hand account of mental health care in times of humanitarian crisis…"
Couple Dynamics With A Triad Relationship
onlinevents.co.uk
July 29 at 3:30PM EST: "how to engage with both people in a balanced way… ways you can help the Couple engage with the work and you…"
Silence Is Golden: The Body Talks
onlinevents.co.uk
July 30 at 6:30AM EST: "'The Blossom Method: A Somatic Psychotherapy Model for Clinical and Everyday Settings'… working face-to-face with the Deaf Community… British Sign Language…"
Pesso Boyden System Of Psychotherapy (PBSP): Using Touch In Therapy (Extracts From Session)
onlinevents.co.uk
July 30 at 11AM EST: "PBSP client session (called a structure)… the way we build this up, and the shifts that the client makes… video to comment on the techniques and what we are seeing…"
Build Life-Long Executive Function Skills in Your Child with ADHD
ADDitude
July 30 at 1PM EST: "Identify triggers, reduce meltdowns, and build self-control… Improve working memory skills beyond reminders and "nagging"… Create simple, practical organizational systems…"
How to Identify, Treat, and Refer Victims of Human Trafficking
Central East ATTC
July 31 at 11AM EST: "how health care organizations need to ensure that awareness, adoption, and implementation of the National CLAS Standards are incorporated to have a more inclusive definition of culture in order to better serve victims and survivors of the human trafficking…"
Integrating DBT Skills in LGBTQ Affirmative Psychotherapy
McSilver Institute
July 31 at 12PM EST: "overview of the mental health needs and disparities faced by the LGBTQ community… unique benefits of LGBTQ affirmative psychotherapy… core principles and techniques of Dialectical Behavior Therapy (DBT)… DBT-based strategies to support resilience…"
Methamphetamine Use Trends and Consequences in the Northwestern U.S.
Northwest ATTC
July 31 at 3PM EST: "current trends, including methamphetamine use among people who inject drugs, health consequences like recent HIV outbreaks, non-fatal and fatal overdose, and treatment interest and options…"
As mentioned above, please note:
This list is updated throughout the month!
Most but not all provide CEs. A few providers may require a nominal fee.
To register, click on desired green webinar title link; this will take you to the registration area.
To ask Qs or confirm CE details, please contact the sponsoring organization of the webinar that is of interest to you.
To have your free mental health webinar considered for inclusion, please provide details below.
Like this post? Please share it!