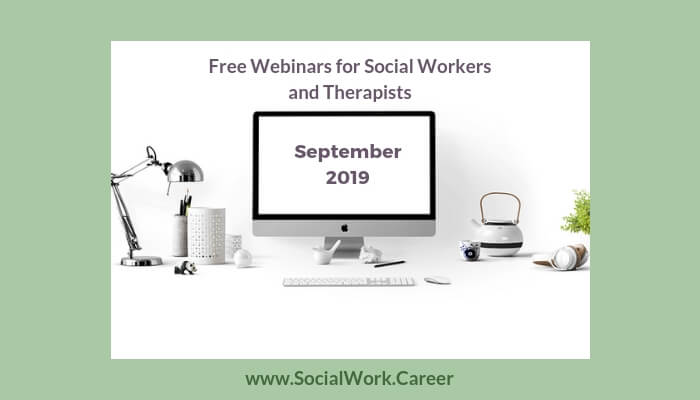 This post is part of the monthly series, Free Mental Health Webinars for Social Workers and Mental Health Professionals, featuring 50 free webcasts that I could find for you this month in the field of social work and mental health.
If I've missed any, please feel free to add them in the comments section below!
Please note:
This list is updated throughout the month!
Most but not all provide CEs. A few providers may require a nominal fee.
To register, click on desired green webinar title link; this will take you to the registration area.
To ask Qs or confirm CE details, please contact the sponsoring organization of the webinar that is of interest to you.
To have your free mental health webinar considered for inclusion, please provide details below.
September 2019 Webinars
Couple Dynamics W/Triad Relationship, How To Engage In A Non-Judgmental Way
onlinevents.co.uk
Sept 3 at 8AM EST:"the difference of the dynamic and how to engage with both people in a balanced way…"
Neuroscience For Effective Clinical Practice: Reflections On A 2-Day Workshop
onlinevents.co.uk
Sept 3 at 9:30AM EST: "what weve learned, the feedback from the participants about the online format, and how we may develop other workshops in the future…"
Supervision "Pain Points": What To Expect From Your Supervisory Relationship
onlinevents.co.uk
Sept 3 at 11AM EST: "some points that are crucial for development and sound practice that therapists should be getting in their supervisory relationship, and that supervisors should be offering to their supervisees…"
Living Well And Dying Well: Counselling Older People
onlinevents.co.uk
Sept 3 at 2PM EST: "Counselling older adults, and those at the very end of their lives, is challenging, life-affirming, and, with the rapid rate of aging, vital work…"
Reset Your Schedule for School: Create a Calmer, Happier, Easier Routine
ADDitude
Sept 3 at 2PM EST: "How to collaborate with your child to problem-solve and create a new morning routine… Strategies to address sleep problems and nighttime routines… Emotional management strategies…"
Digital mHealth Convo 2019: How Should Apps For Mental Health Be Evaluated & Endorsed?
onlinevents.co.uk
Sept 3 at 3PM EST: "What is the research evidence base for the use of mental health apps in therapeutic interventions?… artificial intelligence (AI)… in this context… most useful for therapists to know about apps before they recommend them…"
The Science of Addiction: the Brain on Adolescence
National American Indian and Alaska Native ATTC
Sept 4 at 1-2:30PM EST: "Adolescent Brain Maturation and Health: Intersections on the Developmental Highway"
Macro Social Work Practice
CSWE
Sept 4 at 1:30PM EST: "specialized practice curricular guide"
Intersection of Homelessness and Human Trafficking
Office of the Administration for Children & Families
Sept 4 at 2PM EST: "correlation between homelessness and human trafficking… research… best practices…"
How Behavioral Parent Training Can Transform Your Home Life
ADDitude
Sept 5 at 1PM EST: "What changes parents can expect to see in their children… How and when to consider adding additional treatments, such as medication… many types of BPT programs…"
Use of Geographic Information Systems (GIS) by State Behavioral Health Authorities (SBHAs)
National Council
Sept 5 at 2PM EST: "states have found linking their data to location (often using client and facility addresses) allows stakeholders and policymakers to better understand access to services, and gaps in service access… pre- and post-disaster response initiatives…"
An Overview of Cognitive Processing Therapy in PTSD
McSilver Institute
Sept 6 at 11AM EST: "overview of CPT, social cognitive theory of PTSD… evidence base supporting CPT's efficacy… application… range of traumas for adults and older adolescents… protocol's interventions…"
Mindfulness Based Strategies
New York Council on Problem Gambling
Sept 9 at 12PM EST: "ways in which Mindfulness Therapeutic Practices can be effectively used in the treatment of gambling disorder and integrated with other approaches such as Cognitive Behavioral Therapy and 12 Step Facilitation…"
Ethical And Practical Considerations For Establishing Online Only Counselling Practice
onlinevents.co.uk
Sept 10 at 8AM EST: "practicalities and use of secure/encrypted platforms…"
7 No-Fail Strategies for Getting Homework Done on Time and Without Drama
ADDitude
Sept 10 at 1PM EST: "Novel and effective approaches for helping distractible kids get started and remain on-task… How to set up an effective homework space…"
Energy Work for the Therapeutic Community
onlinevents.co.uk
Sept 10 at 2PM EST: "giving and receiving nourishment, and ways to directly refresh ourselves in the flow of life-force energy that is always available for support and sustenance…"
What Impacts Will Digital Technology In Mental Health Have On Capacity, Access, Waiting Times, & Appt Times?
onlinevents.co.uk
Sept 10 at 3:30PM EST: "structured questions related to the theme of the digitalmHealth conversation…"
Choline: A New Prenatal Supplement to Improve a Child's Mental Health
Brain & Behavior Research Foundation
Sept 10 at 2PM EST: "Choline is an essential nutrient that, amongst other things, plays a key role in the fetal brain developing well while still in the womb. Even so, one mother in five does not get enough choline in her diet during pregnancy…"
Cultural Diversity of Grief and Loss
Alzheimer's Orange County
Sept 10 at 2:30PM EST:"factors that inform one's perspective on grief and loss… personal qualities that prepare one to provide effective cross-cultural care…"
How CLAS Standards Can Empower Hispanic and Latinx Communities to Thrive in Recovery
Central East ATTC
Sept 11 at 11AM EST: "CLAS standards… Themes and Recommendations… how CLAS applies to decreasing health disparities in behavioral health for Latinx communities… how to implement the CLAS standards…"
Value-Based Payments and Behavioral Health: Results of a Nationwide Environmental Scan
National Council
Sept 11 at 1PM EST: "lessons learned and recommendations for state and federal policymakers…"
Clinical Research on SBIRT and Integrative Healthcare at a Federally Qualified Health Center
ireta
Sept 11 at 2PM EST: "use of SBIRT as a "bridge" to integrate behavioral health with medical and dental services, leading to improved health care and diminishing use of emergency services…"
Tobacco Use Disorder: The Neglected Addiction
NAADAC
Sept 11 at 3PM EST: "benefits of tobacco cessation in improving depression, anxiety, affect and overall psychological quality of life… guideline based brief intervention of 3 minutes…"
Music for Journeying Home: an Indigenous View of Music and Dying
room217
Sept 11 at 3:30PM EST: no description provided
OCD Best Practices and Treatment Recommendations
McSilver Institute
Sept 12 at 12PM EST: "understanding of OCD… clinical best practices and treatment recommendations… resources for behavioral health practitioners…"
Six Trauma-Informed Financial Healing Strategies
Center for Financial Social Work
Sept 12 at 2PM EST: "role of trauma in money problems… psychosocial component of the money relationship… trauma triggers… Trauma-Informed approach to financial wellness…"
Engage 101 – Introduction to Our New Digital, Peer-to-Peer Platform
National Council
Sept 12 at 3PM EST: "how to log in, start conversations with peers, download resources and search the member directory… innovate with thought leaders… explore new tools for practice improvement…"
Weight bias, internalization, and eating disorders: What do we know and what do we do
EAD
Sept 12 at 3PM EST: "adverse effects of internalizing weight bias… implications for eating disorders… potential interventions for preventing and reducing weight bias and its internalization…"
Understanding Latino Youth Recovery: Issues, Assets and Creating Resiliency
National Hispanic and Latino ATTC
Sept 12 at 6PM EST: "body of work of peer support programs targeting youth is heavily focused on mental health models involving young adult peer mentors… options of addressing… rising rates through peer support models…"
Adolescent Brain Cognitive Development (ABCD) Study: Adolescent Mental Health
Minnesota Center for Chemical and Mental Health
Sept 13 at 1PM EST: "overview of the study and will discuss its potential to inform our understanding of adolescent mental health…"
Orthorexia & Diet Culture
Alsana
Sept 17 at 12PM EST: "orthorexia and its origin… warning signs and client presentation… how orthorexia and diet culture are intertwined…. practical interventions to support clients in their recovery…"
Principles of Trauma-informed & Resiliency based Care in Supervision
McSilver Institute
Sept 17 at 12PM EST: "trauma-informed and resiliency-based principles… increase employee productivity, compassion, optimism, tenure and resiliency… face… continuous exposure to the trauma in the lives of the people they serve…"
5 Trends Shaping the Future of Fundraising in 2020
Nonprofit Tech for Good
Sept 17 at 1PM EST: "Embrace Flexible Work Environments… Resurgence of the 'Election Effect' as the Political Climate Continues to Heat Up… Giving Experiences and Conversations About Sustainable Impact…"
Becoming And Being A Relational Supervisor And Supervisee
onlinevents.co.uk
Sept 17 at 2PM EST: "what I have learned over many years' experience in a variety of roles in the helping professions, and a spell in university teaching, from being in therapy, and learning with many friends and colleagues…"
Are Therapies (e.g. CBT) Via Digital Technology As Effective As Face-To-Face?
onlinevents.co.uk
Sept 17 at 3:30PM EST: "conversation will centre around a series of structured questions related to the theme of the digitalmHealth conversation…"
Inclusive Community Development: A Discussion with Bank Regulators
NDI
Sept 18 at 3PM EST: "how financial institutions are assessed regarding CRA performance, what activities are eligible for CRA consideration and discuss current efforts to make CRA work better for targeted neighborhoods and populations, as well as regulated financial institutions…"
Mentoring to and through College
National Mentoring Partnership
Sept 19 at 1PM EST: "Not only can applying and getting to college be a daunting endeavor, but also navigating the higher education system, once you are there, can be an even more overwhelming and mystifying experience, especially for young people whose families never attended college…"
Child Welfare Virtual Expo 2019 Effectiveness in Child Welfare
Children's Bureau and the Capacity Building Center for States
Sept 19 at 10AM-5PM EST: "strategies that you and your colleagues can use to strengthen your practice through the collection and use of data… change organizational culture…"
Incarcerated Mothers – Understanding System & Their Unique Mental Health Needs
Maternal Mental Health NOW
Sept 23 at 4PM EST: "deeper understanding of the current statistics on incarcerated mothers… considerations on early parenting/bonding… how to support incarcerated mothers…"
Quality and Efficiency – the Value Combination in Psychiatric Practice
National Council
Sept 24 at 11AM EST: "nation is experiencing a capacity crisis when it comes to psychiatric services… one solution is readily available today. Proper use of Evaluation and Management (E&M) codes by psychiatrists will increase productivity and quality…"
Body Embrace: A Revolutionary Treatment for Body Image in Severe & Complex Eating Disorders
Alsana
Sept 24 at 12PM EST: "body image and its role in EDs… limitations of previous body image interventions for severe and complex EDs… Body Embrace interventions for body image in EDs…"
Ancestral Lineage: A Nature-Based Exploration
onlinevents.co.uk
Sept 24 at 2PM EST: "disconnected from the depth of our roots in deep Ancestral lineage, both human and more-than-human… Depression or Anxiety, and disconnection from our own authentic and Earth-given nature, dignity, and true inheritance…"
Trauma and Brain Science: Why Can't I Think My Way Out of This?
OJJDP NTTAC
Sept 24 at 3:30PM EST: "how trauma responses, protective during traumatic experience change our brain function and physiology in ways that are not subject to our voluntary control… skills that actually address the changes in brain function during trauma to prevent negative effects…"
Time for Bed! Sleep Solutions for the ADHD Brain
ADDitude
Sept 25 at 1PM EST: "various sleeps problems and disorders associated with ADHD… link between poor sleep and ADHD symptoms… ADHD-friendly strategies and interventions…"
Putting it Together: Healthcare and the Path to Employment
Social Security Administration
Sept 25 at 3PM EST: no description provided
Reducing Relapse Risk by Increasing Body Awareness Skills
Northwest ATTC
Sept 25 at 3PM EST: "Interoceptive dysfunction, or a lack of body/sensory awareness processing, is common among people with substance use disorders… importance of body awareness/interoceptive skills for promoting emotion regulation and reducing risk of relapse…"
Rites of Passage: Culture of Recovery/Recovery of Culture
NAADAC
Sept 25 at 3PM EST: " various Recovery (from dependency) cultures and exactly how the clinician and/or agency, can create healthy change…"
Violence and Mental Illness: The Real Story
AUCD
Sept 26 at 2PM EST: "stigma associated with mental illness is based in lack of understanding and fear… Recent events have led to further stigmatization… facts on the relationship between mental illness and violence…"
Ambiguous Grief and Foster Care
Child Welfare Academy
Sept 27 at 12-1:30PM EST: "majority of youth in foster care have experienced significant losses… separated from… familiar people, places and things… better understand and address the grief of non-death losses…"
What Is ADHD? Everything You Need to Know Before and After an ADHD Diagnosis
ADDitude
Sept 30 at 1PM EST: "positives and negatives of having an ADHD nervous system… diagnostic criteria for ADHD — and what ADHD looks like at different stages of the life cycle…"
As mentioned above, please note:
This list is updated throughout the month!
Most but not all provide CEs. A few providers may require a nominal fee.
To register, click on desired green webinar title link; this will take you to the registration area.
To ask Qs or confirm CE details, please contact the sponsoring organization of the webinar that is of interest to you.
To have your free mental health webinar considered for inclusion, please provide details below.
Like this post? Please share it!