Are you a social work student or recent graduate wondering what to focus on in terms of your career development?
Nancy J. Smyth, who is the Dean of the School of Social Work at the University at Buffalo, in New York, recommends that you see your MSW as "just the beginning of your education," and work on developing strong assessment/screening skills (for mental health problems, domestic violence, dissociation and trauma), as well as intervention skills (with an emphasis on cognitive therapy and motivational interviewing).
Dean Smyth brings a wealth of knowledge and experience in administration, coexisting psychiatric and substance-abuse disorders, and clinical social work with a specialty in treating adult survivors of childhood trauma, anxiety disorders and addictions. In addition, she may teach you about Second Life [make sure to check out our exchange within the comments section].
Some of you may already know Nancy by her twitter handle @njsmyth or her blog Virtual Connections: Exploring Social Work in the Digital Age and How We're Transformed by the Digital World.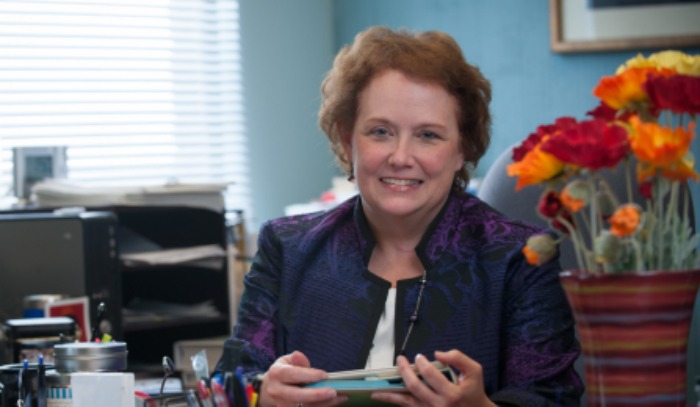 So without further ado, Nancy, could you please share with us how did you decide you wanted to become a social worker?

I chose helping people as a vocational focus early in my life, as soon as I entered college, and so I accumulated a range of experiences (paid and volunteer) before I finished my bachelor's degree: crisis hotline counselor, youth shelter worker, organizing a huge community Thanksgiving dinner, and some political work (trained as a housing organizer but worked to try and organize a union of students).
When I finished college I began working in human services in community residences for people with mental health problems. However, I quickly moved into program management positions (when my supervisor walked off the job with no notice), supervising a small staff–this had a nice mix of contact with clients and staff and community service providers. I did that work for about 6 years.
Initially I had planned to become a clinical psychologist. However, as I worked with clients more and got to know all the professionals in the service system I realized that social workers were the ones who were really seeing clients (as opposed to doing lots of testing) and that they also managed to change the system to make it better meet the needs of clients. I remember really respecting a couple of people, in particular the team leader, Terry McCormick: he was outstanding at creating teams and innovative programs that really bridged gaps in the mental health system.
As I looked more closely into the social work profession I was pleased to discover that it allowed me to integrate my love of clinical work with my passion for changing organizations, service systems, and communities. I had always felt torn between my love for organizing, facilitating teams and doing clinical work. Social work allowed me to work on all these skills–I didn't have to leave any behind.
I chose to go back for my MSW as a part-time student when the program I was running closed because of state budget cuts; I still had a job in the agency, but the jolt from the program closure made me realize I needed to start moving on getting a graduate degree. I decided to focus my MSW study on clinical work, psychotherapy in particular, primarily because it was a skill that I didn't have yet and it had always fascinated me.
What path did you take to become a professor and the dean at the University at Buffalo School of Social Work?
Early in the MSW program I had a class with the dean, Dr. Stuart Kirk: he was the first person who asked me to consider the doctoral program. I laughed at his suggestion because I had really hated college (it had almost killed my love of learning) and was new enough to graduate school that I couldn't imagine going for a PhD.
Later in the program I took an elective on suicide and depression and the professor who taught the course, Dr. André Ivanoff, offered to work with me on rewriting one of my papers for publication. I was excited about working that closely with a faculty member and writing for publication, so I took her up on her offer.
The next thing I knew she had talked me in to applying for the doctoral program at the University at Albany-SUNY. She became my mentor and helped to ensure that I acquired a wide range of experiences as a doctoral student so I could be a researcher and a faculty member.
Ultimately, a PhD program made sense to me because:
I had always loved teaching, so the idea of being on a social work faculty appealed to me; 
I also had always had a scientific bent, so I loved learning about research.
And I was very interested in social work practice–Dr. Ivanoff was a practice researcher and I was excited about bringing these skills together in the same way.
I went straight on from the MSW to the PhD program (my classmates thought I was crazy: they gave me a mug, which I still have, that said "Psychotic State" in the shape of a college emblem).  My mentor was very clear with me: if I wanted to be a practice researcher and teach practice I needed to continue to get practice experience throughout my PhD program. 
I followed her advice and did some volunteer work, then part-time work and eventually full-time primarily in addiction clinics as I worked on my doctorate. Most other faculty told me I was crazy to do this (working at these jobs while attending school full-time), but I have never regretted the decision.
I interviewed for faculty positions as I was finishing my dissertation. There's a shortage of social workers with PhDs and there is an especially high demand for PhDs who also have practice experience, so I had no problem finding a job. I took the job here at the University at Buffalo (UB) School of Social Work never intending to stay here as long as I have.
Much to my surprise, I ended up loving the region and the university. I continued to practice as a clinical social worker (part-time) once I arrived here because I felt it was essential to my development as an educator and researcher, however, I kept a low profile about it until I received tenure, partly because my dean at the time was very anti-clinical social work.
I'm an "accidental dean," I didn't intend to become one. My journey as a tenured faculty member has kept leading me back to administration: one year after I attained tenure at UB I agreed (reluctantly, because I really wanted to stay with my teaching and research) to become the Associate Dean for our new dean, Dr. Lawrence Shulman.
I found that experience in non-profit program management really helped in that job. After a few years I decided to go back to faculty so I could focus on my research and teaching. However, a couple of years later Dr. Shulman decided to retire. As a result, we ended up with an interim dean and a ongoing dean search. UB then got a new president and provost, and our interim dean left to become dean somewhere else; the new provost asked faculty to nominate a new interim dean and my name came up; I agreed to do the position for a little while.
However, after a few months the provost decided that we had exhausted the dean search process and needed to shut down the search (there's a shortage of deans in social work to start, and we had been searching at a time when the university was looking for a president and provost–few people would agree to become a dean without knowing the university leadership).
The provost didn't feel it would be good for the school to have a long term interim dean and he thought that we would work well together. After some persuasion I agreed to take the position for a few years. After doing it for a few years I decided to stay in it for few more (six years this fall) because together, the faculty, staff and I had built a lot of momentum in developing the School.
What are the parts of your work that you find most enjoyable?
I really enjoy facilitating the growth and development of faculty, staff and students. What's most exciting is when I can help connect the right people (faculty, students, staff) with a community agency/need/funder to make really innovative things happen: i.e., a new program, an exciting line of research. 
At the moment I'm most excited about nurturing these few things:
The changes our faculty have been currently making by integrating a trauma-informed, human rights perspective through our whole MSW curriculum and the project they are implementing to study what these principles look like in agencies.
Since most people aren't familiar with what a trauma-informed perspective is, let me explain this a bit further: almost all the clients that social workers work with have significant trauma histories, yet our paradigms, service systems and intervention approaches fail to incorporate this knowledge into policy and practice–instead we often inadvertently retraumatize people and pathologize them.
For example, the use of restraints on an inpatient unit, or nightly bed checks in a psychiatric hospital are both practices that can be very triggering for someone with a trauma history. If you want to know more about these concepts, check out the video on our curriculum ( http://www.socialwork.buffalo.edu/msw/trauma/trauma3.html) or a podcast with Sandra Bloom (http://www.socialwork.buffalo.edu/podcast/episode.asp?ep=10) where she describes one approach to trauma-informed care.
Our new research center/collaboration with Amrita University in India: we are partnering with the social work faculty there and the staff of the large non-governmental organization side of Amrita and are working together to develop some exciting research projects, sponsor a conference, and place some students there.
Exploring how our School can use social media to attract more people in our profession–I think many younger people have values that are very compatible with social work, but they don't know anything about what the profession is really about.
Since social media is such an important part of their lives, I'm hoping that we can use it to help people learn about what we do–that's one reason why we started our school podcast, Living Proof; in focusing on contemporary issues connected to social work, we are hoping to attract people to the profession as they discover us based on a shared interest in a particular issue.
The research project I've been working on with colleagues at the Research Institute on Addictions (Dr. Gerard Connors is the principal investigator) to investigate if mindfulness meditation enhances treatment outcome for people who have alcohol problems.
And what aspects are the most difficult/challenging?
Dealing with continued budget cuts is at the top of the list right now (and for the last couple of years). I recently decided to close down our off-site satellite programs (we had three other locations in addition to Buffalo), because it just wasn't fiscally possible to ensure quality while maintaining these self-contained satellite programs.
This was a very difficult decision for all of us at the School, but especially for the people living in those outlying communities. We are now working closely with members of those communities to develop new models for maintaining the accessibility of our program across a wide geographic region: offering more online and hybrid courses will probably be key to making this happen.
Dealing with personnel problems, grievances and legalistic-type situations. They may not happen often, but when they do happen they are sometimes contentious and consume huge amounts of time.
Trying to preserve some time for activities other than meetings, for activities like thinking/planning/writing/reading. I have many days (and weeks) that consist of nothing but back-to-back meetings: I have fantasies of starting my own 12-step group, Meetings Anonymous, that would never meet. 😉
I really miss teaching and having the time to pursue more research; while I still do some research with colleagues, my independent research on trauma and my most recent interest: identity and relationships in virtual spaces has really come to a complete halt.
Trying to preserve some time for a balanced life: I finally closed my private practice last year (when my office lease expired), just so I could free up some time for my personal life. I was sad to stop doing that work, but it is definitely the right decision for now. 
Did you find being a woman an advantage or a disadvantage in terms of getting tenure and moving up the ranks within the social work world?
I think there are still many subtle barriers to women in academe, even in social work. The situation is much better than it has ever been, but it's still not where it should be. I could talk a lot more about why I think this is true–or rather how it operates–but there are many other people who have eloquently written on the topic. 
However, I will say a few words to identify just a few of the issues: part of the problem is that women more often have skill sets which make them good at the "housekeeping" roles in departments, i.e., running committees and school-related projects. This means that they get pulled into roles which then take away time from the things that really matter in terms of promotion (i.e., scholarship).
In addition, there aren't as many women as men in the higher status jobs (full professors, endowed chairs, high level leadership positions), which means there aren't as many mentors available.
Then finally, gender roles related to family needs makes it harder for women: there are still many man in academe who have a wife/partner who does lots for him behind the scenes, especially when they have children.
When women are in academe they much more typically have spouses/partners who also have very demanding jobs, so they are sharing more of the "at home" load with their partners–this really limits the extra time available that would go into scholarship, which is very much the "coin of the realm" for promotion. There certainly are family-centered men in academe, but in my experience they are really still a minority. 
Are there any particular types of work experiences that you would recommend a graduating MSW social worker pursue if he/she were interested in ultimately working as a therapist in private practice?
I think it depends on what type of private practice one is looking to establish: children? individual adults? families? Ideally, people would get extended practice experience in settings that would give them wide exposure to many different types of client situations with that population.
Finally, what key pieces of advice do you think every newly graduating MSW student should be told as they venture out from graduate school into the real world? [Please see 10 Skills Clinical Social Workers Must Develop for an infographic summarizing Nancy's key points!]
The most important advice is that students realize that the MSW is just the beginning of your education. I recommend that students move beyond being a generalist (i.e., knowing a little about everything) and decide to learn something in real depth. This means reading, going to workshops, and getting specialized supervision/consultation.
I can't emphasize the last element enough–there are so many times that I have been sure that I understood a therapeutic approach really well–read about it, attended workshops, etc.–only to discover that in applying it with clients there was much more to it than was evident.
Supervision or consultation is the key to really learning a therapeutic approach in depth. It can be done by telephone, over the internet, or in person. And you can choose to do it alone or share the cost with others (e.g. a phone consultation group with an expert). But it's essential.
I also strongly recommend that anyone interested in private practice obtain a copy of the private practice practice guidelines developed by NASW. Guidelines like these set the standard for practice (and the boundaries for malpractice), even if you aren't a member of the professional organization in question.
I think that social workers who are looking to go into private practice with adults (which is my background) need to get a range of core competencies–here are a few that come to mind:
the ability to screen for substance abuse/alcohol problems: it is still missed a great deal because practitioners don't routinely assess for it and don't know how to assess for it. And because these problems can cause a range of mental health symptoms, it may well be the real problem that's behind clients who are not making progress.
skills in identifying/assessing and diagnosing mental health problems, ideally with use of standardized assessment scales like the Beck Depression Inventory and structured interviews. Practitioners routinely miss aspects of major mental health problems because of their failure to systematically assess these conditions.
skills is assessing for domestic violence and developing safety plans–the high prevalence rates of domestic violence (1 in 3 women) guarantee that we will be seeing many clients who are in this situation.
thorough understanding of how trauma affects people: understanding that most of the problem behaviors that we identify in our clients actually make sense when you look at what they lived through.
knowing how to assess for dissociation; in my experience, mental health professionals lack of knowledge and misconceptions about dissociative processes is one of the most common reason for client's failing to progress in treatment.
all good assessment requires understanding the need for behavioral interviewing, i.e., you don't ask "were you abused as a child?", you ask about specific behavioral experiences ("how were you disciplined?" "how would people express anger in your family?" "what was your first sexual experience?", etc.). 
really strong intervention skills in basic cognitive behavioral treatment methods, even if you're not a cognitive behavioral therapist; these methods are being used increasingly in integrative therapies because of their effectiveness in strengthening coping skills and dealing with a range of mental health symptoms. 
skills in motivational interventions (e.g., motivational interviewing,) can be really invaluable–we assume that everyone who comes to us is ready to change, but that's often not the complete picture 
strong skills in record-keeping–failure to keep accurate records according to practice standards is the #1 reason for sanctions by the NY State Social Work Licensing Board (and I suspect is true in other states as well). 
good generalist skills in working with couples and families–even if you don't specialize in this, you will may want to bring in family members occasionally as an adjunct to therapy, or address family systems issues indirectly while working with an individual
Thanks so much, Dean Nancy Smyth, for being so kind as to share with us your valuable insights and career advice on entering and working within the social work field!
And on a personal note, as an MSW in training, I am most appreciative, Nancy, for all the valuable guidance and support you have been providing since we have met via twitter 🙂 Your generosity of spirit and enjoyment of teaching come through loud and clear!
As always, please feel free to share any questions or comments that you have.