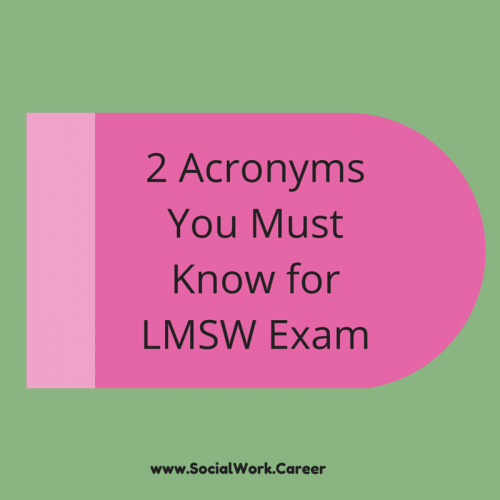 As I am going through the process of preparing for the LMSW exam, I've come across two tools that you will find most helpful.
These are two acronyms that will help guide you through the process of selecting your response among the choices offered and are well-worth memorizing (whether you are studying for the LMSW or LCSW exam).

The first acronym is "FAREAFI" (in this order) and it is most useful for FIRST/NEXT type test questions:
FAREAFI
F: Feelings of the client be acknowledged first above all. Begin building rapport.
A: Assess
R: Refer
E: Educate
A: Advocate
F: Facilitate
I: Intervene
To clarify how you use this acronym, your goal is to select the response that is closest in hierarchy to the first letter/item of FAREAFI. Typically, you will have no trouble in discarding two out of the four options provided. However, selecting the correct response among the remaining two responses gets trickier and this handy acronym reminds you which step should go first.
The second acronym is "AASPIRINS" and it most helpful for questions that ask what is
the BEST (or MOST reasonable) option/plan of action:
AASPIRINS
A: Acknowledge client/patient. Begin building rapport.
A: Assess
S: Start where the patient is at
P: Protect life (of the individual and community…this one is about
determining/preventing danger to self and others)
I: Intoxicated do not treat. Refer
R: Rule out medical issue
I: Informed consent
N: Non-judgmental stance
S: Support patient self-determination
For the acronyms to be fresh in your memory during the exam, you may want to memorize them and then jot them down for yourself on the scrap paper given during the test so that you can easily refer back to them throughout your exam.
Would you like to see how some examples of how these are applied to some questions? Check out How to Use Two Acronyms to "Go for the Gold" on the LMSW Exam!
Wishing you all the best of luck on your exam!
Had you heard of these acronyms before? Test them out with one of the tricky LMSW exam practice questions and let us know if/how they were helpful…  Also what study techniques have you found helpful? Please leave a comment so I know that you came by 🙂
You May Also Enjoy:
10 Failsafe Test-Taking Tips  (Psychology Today)
SaveSave