Eye Movement Desensitization and Reprocessing (EMDR) therapy is a well-researched, effective therapy method for trauma. This treatment can be combined with traditional "talk" therapy, used as adjunctive treatment with a separate therapist, or as a treatment in of itself.
To find out more information about this method, I interviewed Andrea B. Goldberg, LCSW, who is a clinical social worker with over 25 years of experience as a psychotherapist. She is currently working at an outpatient mental health clinic, as well as in private practice in New Jersey.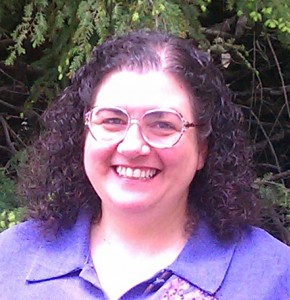 Andrea's trauma expertise includes working with clients with a broad range of incidents such as rape, assault, car accidents, the murder of loved ones and terrorist attacks. 

So without further ado, Andrea, what made you decide to become a social worker? 
As far back as I can remember, I have wanted to help people.  I knew I wanted to be a therapist since I was 9 years old.  I entered college studying psychology because I did not know anything about social work. A few things contributed to my change in career from psychology to social work.
First, I was disillusioned with the research orientation of my undergraduate psychology program when I was interested in getting clinical training. Second, I did an internship at a social work agency that introduced me to the profession and helped me to realize how much social work values match my own values.
Can you briefly describe your career trajectory of how you first started out and led you to focus on helping survivors of child abuse and trauma? Also when/how did you start your private practice?
My first job after graduate school was in a child abuse prevention program and that led to my being one of the first therapists in a new sexual abuse treatment program in my county. This is what started my career-long focus on the treatment of trauma.
Private practice came out of a need for more flexibility in my schedule after my daughter was born. Most of my career I have combined private practice with working in a hospital-based mental health clinic. This has given me the best of both worlds.
Working in a mental health clinic in an inner city community gives me a chance to give to those who are less fortunate. It has also given me more experience working with clients with dissociative disorders in the past six years, than in the 13 years prior to that in private practice.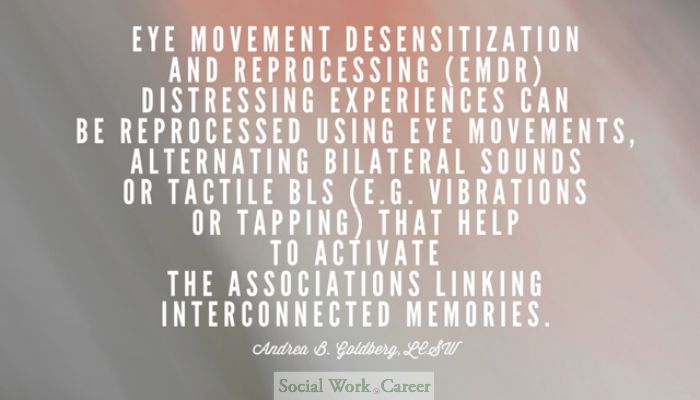 Can you explain in layman's terms what is EMDR and how it is a helpful technique to apply with trauma survivors?
EMDR is a method of psychotherapy, developed by Francine Shapiro, that is based on the theory that emotional and behavioral disturbance is often due to traumatic experiences and distressing life events.
These events are so overwhelming that the ability to fully process and gain perspective is blocked.  When our adaptive capacities are overwhelmed, EMDR facilitates reprocessing of the traumatic experiences to achieve adaptive resolution.
EMDR starts with history-taking and continues with the development of positive resources to help cope with overwhelming emotions and circumstances.  
Then traumatic experiences to target are identified and bilateral stimulation (BLS) is utilized to facilitate the reprocessing of these distressing experiences that block us from optimal functioning.
The core of EMDR treatment involves activating components of the traumatic memory or disturbing life event and pairing those components with alternating BLS. 
Distressing experiences can be reprocessed using eye movements, alternating bilateral sounds or tactile BLS (e.g. vibrations or tapping) that help to activate the associations linking interconnected memories.
Once activated, new information about improved capabilities and resources is linked with the distressing life experiences and their emotional, somatic and cognitive impact, to help overcome the unresolved issues that interfere with successful living. 
Below is a brief video clip description of EMDR.
Could you describe a case example in which you are applying EMDR with an unidentified and/or fictional client?
Robert (not his real name) had a dentist's appointment coming up and he was terrified about having to have a novocaine injection. He reported that he was afraid of needles and didn't know how he was going to be able to go through with it.
He initially had no idea why he was afraid so I asked him to float back in time to the first time he could remember being frightened by a needle. He began to recount the childhood experience of finding his cousin dead from a drug overdose with the needle protruding from his arm.
After he described the scene, I asked him what his negative belief was about himself in relation to the needle. He said the negative thought was "I'm going to die." I asked what he would like to believe and he said that he wanted to believe the positive thought "I will be safe and will survive the dentist's needle."
I asked how much he believed that when picturing the needle in his cousin's arm, on a scale of 1 to 7, where 1 is completely false and 7 is completely true and he said "3." 
He identified "terror" as the emotion he was experiencing and rated the terror as 10 out of 10 on a scale of zero to ten, where zero is not disturbance at all and ten is the most disturbance he could imagine. When asked where in his body, he was feeling the terror, he said it was in his gut.
I asked him to picture the needle from the past in one hand and the needle from the dentist in the other hand (this is an example of a two-hand interweave, Robin Shapiro, 2005). Then I asked him to think of the negative belief, "I'm going to die" and notice the sensations in his gut.
At that point, I asked him to tap on his legs with his hands, alternating back and forth from side to side until I cued him to stop or he needed to stop. After each set, he took a breath and told me what he was noticing.
After a few sets of tapping, his terror was gone (0 out of 10) and he had successfully separated the old memory from influencing the current situation. 
He completely believed he was safe and would survive the dentist's needle (7 out of 7) and the sensation in his gut was gone. Robert went to the dentist and got the shot without any problems.
Below is a brief video clip of EMDR in process.
However, in my opinion it is preferable that trainees have some training and experience with trauma treatment.  I also believe it is essential for EMDR therapists to receive their own EMDR therapy and get ongoing consultation and training to further develop their skill in this treatment method.
EMDRIA (the EMDR International Association) is the organization that approves training programs and consultants and provides certification for EMDR-trained clinicians. Their website is: www.emdria.org.
What career advice would you offer to upcoming MSW graduate students who are looking to focus on trauma related social work?
You need to be prepared to bear witness to other people's pain. If you are not sure you can handle listening to the most horrific experiences you can possibly imagine, then trauma work is not for you. 
On the other hand, if you think you can handle this, then it can be the most rewarding work you will ever do.
Finally, what are your thoughts about therapy and social media, be it via skype or through some more innovative modes being considered such as virtual reality like Second Life?
I do not have a lot of experience using social media with clients. I believe that skype could be a very useful tool when clients are unable to make it to the office, but it would not be my first choice because I think something is lost when you are not in the same room with a client. 
Visual cues may be limited when the client's whole body is not visible on skype.  There are some somatic strategies that require standing and moving around, which would be hard to keep within view of the webcam, and other somatic techniques can only be done when client and therapist are in physical proximity of each other. 
I would also be reluctant to do EMDR reprocessing via skype.  Not only would there be technical limitations with most types of bilateral stimulation, but if the client is getting over-aroused by memories, then it is not possible to use touch or scents (such as essential oils) as ways to ground the client. 
I do make extensive use of e-mail as a way for clients to contact me in between sessions.  Sometimes my clients do journaling in between sessions and are able to share it with me via e-mail. Often, all that is needed is a brief acknowledgment that I've received it and read it. 
This often helps tremendously with the development of object constancy for those clients who have difficulty believing that I continue to hold them in my heart and mind in between sessions.
Thanks so much, Andrea, for providing us with this interesting introduction to EMDR treatment! 
You can learn more about Andrea by visiting her website www.andreagoldberg.com; you can also follow her on twitter @AndreaGoldberg.
What types of experience have you had with EMDR? What questions or thoughts come to your mind about this type of treatment?