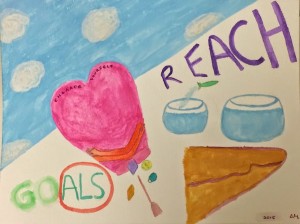 My Three Words for 2015

Have you come up with some new goals or resolutions for the new year? If yes, you may want to consider putting them in writing.
Writing down your goals will significantly increase the likelihood of your achieving them. As Brian Tracy eloquently states, "Goals in writing are dreams with deadlines."

3 Tips to Boost Your Success at Reaching Your Personal Goals:
Add an accountability component to your plan (such as regularly updating a friend, mentor or colleague on your progress)
Make a public commitment to your goal(s) (such as writing a blog/facebook post)
Establish your goals the SMART way,  that is:
Specific
Measurable
Achievable
Realistic
Time-bound
Why 3 Words for 2015?
Chris Brogan first thought of the idea that you come up with three words to represent what you would like to accomplish or work on during the year, as an alternative to your typical resolutions, back in 2006.
I came up with my first three words last year. The process of coming up with these words was not only an enjoyable and thoughtful experience, but also a source of inspiration throughout the year that helped me make some headway on some of my objectives.
My 3 Words for 2015: Clear. Reach. Embrace.
Clear – both my mental and physical space of clutter. Doing so will enable me to have a more relaxing environment to have both more clarity on my goals, as well as the ability to focus my efforts on achieving them.
"When we clear the physical clutter from our lives, we literally make way for inspiration and 'good, orderly direction' to enter," as per Julia Cameron. 
Reach – for projects/tasks and connections beyond my comfort zone. I want to try new things and look at mistakes as a natural part of any learning/new process.
Anne Lamott wisely states: "You have to make mistakes to find out who you aren't. You take the action, & the insight follows: You don't think your way into becoming yourself." 
Embrace – myself, as I am, imperfections and all. This will require self-acceptance and loving-kindness (or self-compassion).
According to Sandra Bierig, "To accept ourselves as we are means to value our imperfections as much as our perfections."
Lastly, please see the above watercolor picture for a visual representation of my three words. I hang the picture up where I can see it first thing in the morning and last thing before I go to bed.
You may want to try hanging your three words, or a visual representation of them. It makes remembering your goals/intentions very easy!
Wishing you all a happy and healthy new year!
What are your three words for 2015? What three words do you feel best describe your challenges and/or goals?