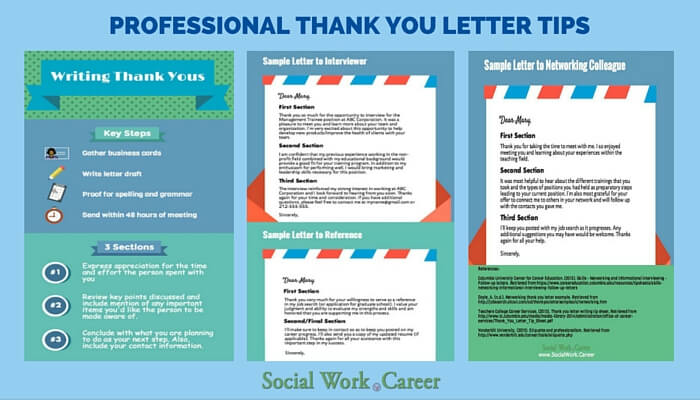 How to Write a Professional Thank You Letter
Would you like to write a professional thank you letter, but have no idea where to begin? This post will provide with some helpful tips and templates on how to express your appreciation to someone who has just helped you out, be it for networking, a letter of recommendation or an interview.
Before I jump into the whys and hows, I'd like to give a shoutout to Laurel Hitchcock, Jonathan Singer and Naoise for suggesting that I write this post!
Why Write a Thank You?
Expressing appreciation for a favor is the right thing to do.
It makes the recipient feel good about having helped you.
It will reflect positively on you/your character.
It gives you another opportunity to:

Jog the person's memory and remind him/her of your meeting.
Reaffirm your interest in the company/industry/position.
Add some additional information that you may have omitted.

The positive impression you make, in turn, increases your odds of obtaining desired job/connection.
Best Times to Express Your Appreciation
4  Steps 
Gather your business cards

To be able to spell the person's name correctly
To have the person's correct email (or full mail) address

Put together your first draft by:

Reviewing your notes from your meeting
Noting the thank you guidance and templates below
Writing!

Proof your draft for spelling and grammar
Send within 48 hours of meeting

This can typically be done via email or mail. However, if the firm appears to have a very formal atmosphere, it may be best to mail your thank you.
3 Key Sections
Express appreciation for time and effort spent.
Review key points discussed and mention any important omitted items.
Conclude with next steps.
Three thank you sample letters are provided below for:
An interviewer
Someone who served as a reference
A networking colleague

What suggestions would you add to those mentioned?
Like this post? Please share it!
References:
Columbia University Center for Career Education. (2015). Skills – Networking and informational interviewing – Follow-up letters.
Doyle, A. (n.d.). Networking thank you letter example.
Teachers College Career Services. (2015). Thank you letter writing tip sheet.
Vanderbilt University. (2015). Etiquette and professionalism.