Do you want to pass your LMSW exam on your first try?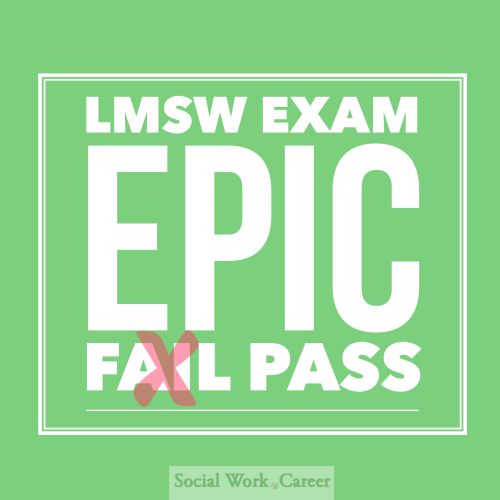 74.5% of those who take the LMSW exam nationally pass on their first try; however, 90% of those who take the National Association of Social Workers' (NASW) course pass the exam on their first try.
Below are some helpful study tips from the LMSW test prep class provided by NASW:
Don't leave any questions blank.  There are going to be many questions where you're not going to feel comfortable with the answers but you will be fine. While you have the opportunity to flag a question or leave it blank, it doesn't pay to do this. If it didn't come to you at first, it's not going to come to you later so it doesn't pay to go back to it later – this just feeds/adds to your anxiety. In terms of leaving a question blank, this counts as a mistake. If you have no idea, you might as well guess so that you have a chance of having that question count as correct.
Do not "fight" the exam.  The wording/question "is what it is." We just need to pass the exam; accept the exam with its inevitable imperfections/failings and make the best of it.
Read entire question/be clear about what is being asked.
Talk to self; reframe it to first person and paraphrase to identify key points. So what is this question asking/saying? Then read responses. Eliminate the ones you can. Reread the question. Reread the leftover options and then make your selection.
Stay with material in question. Don't jump and make assumptions or hypotheses about the person(s) described in the questions.
Look for qualifiers (such as BEST, FIRST etc.) and put them in front of each response choice as you are reading the possible responses (Am I FIRST going to…. or Is the BEST thing for me to…). The qualifiers are usually but not always capitalized on the exam.
Do not study from sample questions. This is the worst way to study. The best way to study is to study the content! You do not need to know theory in depth. Be able to talk for 3 minutes about the different ASWB Knowledge, Skills and Abilities (KSAs) Statements. Be able to describe the terms to a non-social worker in simple terms.
When studying different content topics, think about it in broad terms of: what does that look like? how will I know when I see it? what am I doing/saying?
Pay attention to the order of social work process. This is key across the different sections. For example, there is engagement, assessment, planning, intervention, evaluation and termination. We should remember this order and keep this in mind when asked questions about what the social worker should do FIRST.
Remember Maslow's Hierarchy of Needs from the perspective you always address food, health and safety first (before employing other interventions that assist in the belonging/loving, status/esteem or self-actualization levels).
The client is the expert. The social worker is there to support, assist and act as a resource to the client (not to tell the client he/she is making a poor choice even if this is what is going on).
Some exam speak: "Refer" on exam could mean just telling the client about (as opposed to sending the client away to another agency); confront could mean calling attention to something (not in a negative way) and contract could refer to a treatment plan (as opposed to safety plan).
You will have enough time to answer the questions. Only 2 people out of thousands end up having an issue with time. Therefore, this is not an issue and there is no real need to be anxious about not having enough time.
Do what you need to do to reduce your anxiety. For some, this may mean visiting the test site in advance of the test. For others, this may mean meditating. For yet others, this may mean going with a loved one to the test site on the day of the test. For yet others, this may mean not telling anyone when you are taking the test so that the expectations of your friends/family won't be an added stressor.
Make this an EPIC pass so that you are on the road to becoming an epic therapist as Mike Langlois, LCSW describes so eloquently in his post Epic Therapists,
And if by chance, you don't pass on the first time, that's ok…you can always take the exam again, 90 days later. Epic social workers don't give up!
Do you have any tips/advice that you'd like to share?
Photo Credits:
Water Seamless Pattern by Patrick Hoesly
Cogs – Pattern by Patrick Hoesly
Christmas Wrapping Paper by Patrick Hoesly
Cracked iPhone Screen by Patrick Hoesly