Therapy's Digital Future
Are you a social worker or other mental health professional who is curious about online therapy? 

DeeAnna Nagel, LPC, DCC, gave an informative presentation about Therapy's Digital Future at the 2013 Psychotherapy Networker Symposium. While I was not able to personally attend DeeAnna's talk, I was fortunate to be able to listen to the audio of it. Isn't today's technology wonderful?!
Below are some of my key take-aways from DeeAnna's presentation:
To be HIPAA [Health Insurance and Portability Accountability Act] compliant, all electronic communications need to be encrypted. 
This means that when we use email for therapeutic communications, they should be encrypted. One example of an email service with encryption is hushmail.  It is very user-friendly and has great customer service. The paid version costs $40 per year. There is also a free version which many of her clients use. The catch with the free version is that you must log in every 3 weeks.
Similarly, when using instant message or a chatting capability with a client, it needs to be encrypted in order to be HIPAA compliant. 

HIPPOmsg

 is an example of a free HIPAA compliant texting platform.
Skype is encrypted but is

not

HIPAA compliant; therefore, it is

not

secure for therapeutic communications. The Perils of Using Skype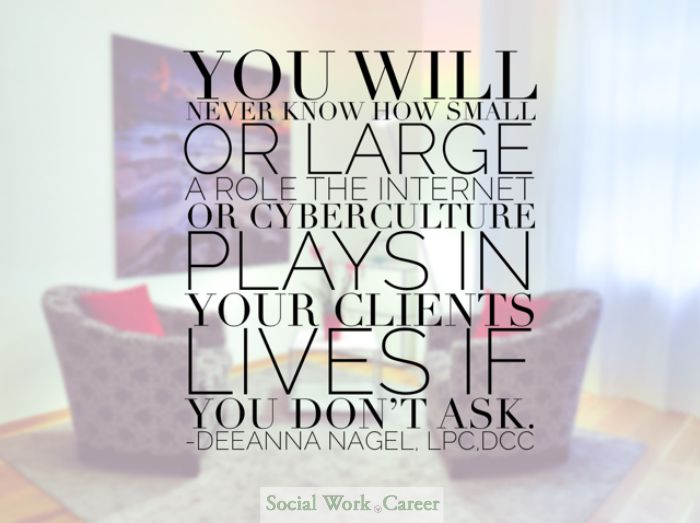 Counsol is a secure portal that enables you to hold video conferencing, email,  maintain client notes, records, make appointments and more. It costs about $35 per month. 
Breakthrough – video conferencing option that was originally created for therapists but the company has since licensed its platform out to insurance companies
VSee is another example of a HIPAA compliant video conferencing platform. 
My EAP is an [employee assistance program] app in which you are providing email counseling 
Inworldsolutions – a HIPAA compliant virtual world for therapy, training and education.
 Cryptainer is software that allows you to encrypt data on a USB drive.
When talking to a client on the phone about issues other than making an appointment, make sure to use a landline. A mobile phone is not encrypted. The exception to this is when your client is in danger; safety always takes precedence.
DeeAnna shared how most of her American-based clients are concerned with issues around ethics and HIPAA; this is markedly different from her foreign-based clients who are far more interested in discussing the actual process of online therapy.
Below is a copy of DeeAnna Nagel's presentation:
We [therapists] need to have a paradigm shift. We need to understand cyberculture; it is another culture for us to learn -> once we understand it, our work with clients who are immersed in this culture will become more meaningful.

To get a taste of some of the internet cyberculture, DeeAnna recommends that you watch the movie "Life 2.0." It is a documentary film about people whose lives are transformed by their virtual world interactions.
Below is the movie trailer for Life 2.0
Below is the (2 hr) Life 2.0 movie :
You will never know how small or large a role the internet or cyberculture plays in your clients lives if you don't ask. 
To get a feeling for how important the internet is in the lives of your client, ask them as part of your intake: How many hours do you spend online? And for what purpose?
A natural way to start providing online therapy is to provide it as an option to your current face-to-face clients for when they cannot make it in due to them having to travel for business or vacation. Some clients may take you up on such an offer and some may not but it's a good way to get your feet wet, so to speak.
Additional helpful sources from DeeAnna include: 
Please share any comments, thoughts or questions you have below.  I love hearing from you 🙂