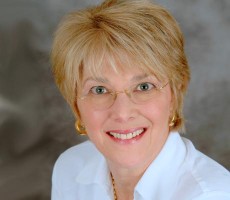 Lynn Grodzki, LCSW, MCC
Key Therapy Practice Success Strategies
Are you a social worker or other mental health provider thinking about entering private practice? Or are you looking for a way to boost your private practice business?
Lynn Grodzki, LCSW, MCC, provided some valuable guidance on how to do so in her talk  "Navigating the New Psychotherapy Marketplace"  at the 2014 Psychotherapy Networker Symposium.
As per Grodzki, the [private practice] mental health marketplace has become very competitive vs. 15 or so years ago. In addition to there being a large number of therapists out there, you face:
Lower insurance reimbursements for providing therapy (since 2000, insurance companies have reduced their mental health outlays from 15% to 1%)
A reduction in both the number and frequency of sessions per client
A preference for medication over talk therapy (despite evidence showing that over the long-run, talk therapy either equals or supersedes medication alone)
Clients/insurance companies/employers have a utilitarian perception of therapy
Changes in the healthcare/insurance arena, developments in technology/internet, as well as the ways in which many individuals are now viewing and seeking therapy are all playing a role in the field of psychotherapy.
To run a successful practice in today's competitive environment, Grodzki recommends that you adapt some business strategies that work especially well with educated consumer shoppers.
Below is an infographic summarizing the main take-aways that you need to know.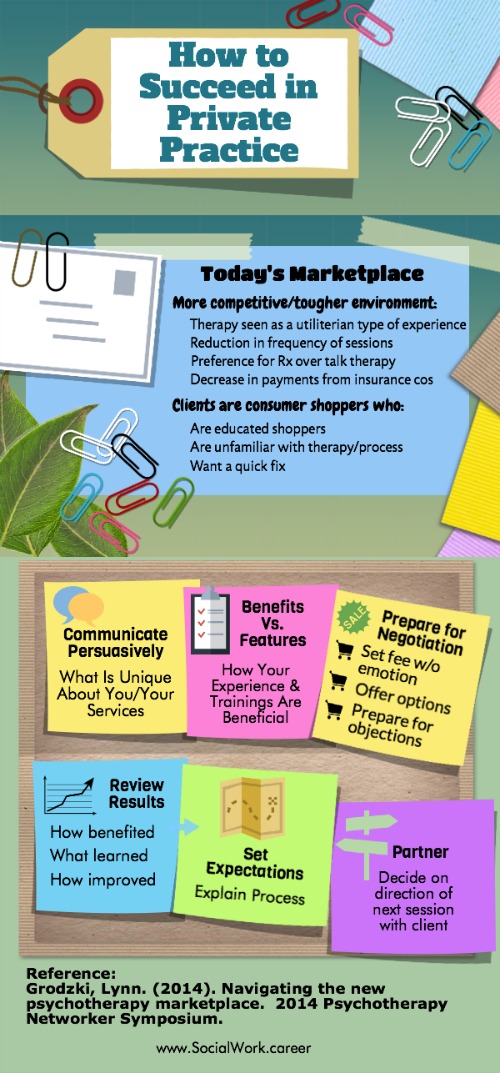 Marketing Is Critical
Communicate Persuasively
Your Unique Selling Proposition – Indicate on your website what is unique about you/your services.
Your Benefits vs. Features – Translate your experience and training into a benefit that is meaningful to consumers who are are likely to be new to therapy.
Prepare for Negotiation – This includes thinking about your vision for your practice, setting your fee(s) without emotion, providing a variety of options or packages, and preparing for objections.
Prepare for First Contact –

Do not accept a phone or email inquiry the second it arrives or even during your 5 or 10 minute break. This automatically places you at a disadvantage.
Email/call when you have lots of time and then schedule a 15, 20 or 30 minute time to speak with prospective client. In this manner, the prospective client gets a brief introduction to what therapy feels like (there are boundaries, appointments are scheduled in advance, and he/she will get a little experience of you as a therapist).
Think through your intentions for this call

First Half: Are We a Good Fit?

What things do you want to learn about the client?
Can you establish a little rapport?
Are there some disqualifiers ?  People who have X problem are not right for me…
Do you want to try out an intervention? (to see if your styles are compatible)

Second Half: Closing the Call

Summarize main issues raised
Share what you think you can offer
Talk about logistics (what you charge and how you work)

Objections may arise at this point…
"I need someone who takes my insurance." – Think through in advance of how you want to respond to such statements and then stick with your decision.
Adapt Working Style
Review Results in Every Session – track goals and progress

You want to be able to tell your clients how they are changing, improving and/or achieving their goals.

Set Expectations – provide a metaphor to your clients of what therapy is like and how it may feel to them

This will help them understand the therapy process and be able to understand that setbacks are part of the process (vs. an excuse for stopping therapy).

Partner with Client – over the direction of the next session; have an agreement with client session by session.
Grodzki provides valuable guidance that every mental health professional may benefit from. It is also very much in line with what Taibbi advises in 4 First Session Strategies Every Therapist Should Know.
What are your thoughts/reactions to these ideas? Which of Grodzki's suggestions are you ready to start putting into action?
Like this post? Please share it!
You May Also Enjoy:
Grodzki, L. (2013). Shopping for therapy. Psychotherapy Networker.
Reference: Grodzki, L. (2014). Navigating the new psychotherapy marketplace. 2014 Psychotherapy Networker Symposium.