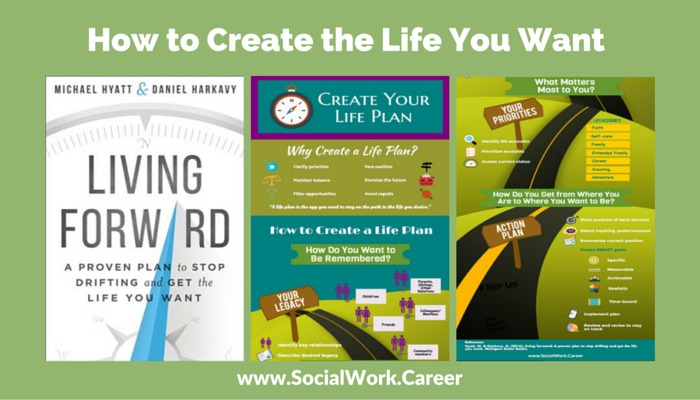 How to Take Control of Your Life
Are you looking for a helpful tool to help steer your life to where it is that you would like it go, vs. just wherever it may be? Or are you looking for something to use to encourage your clients take on a more proactive vs. reactive role in their lives?
If yes, you are likely to find Living Forward: A Proven Plan to Stop Drifting and Get the Life You Want , [affiliate link] the book Michael Hyatt co-authored with Daniel Harkavy, the answer you have been looking for!
It provides you with important reasons why you (or your clients) would want to take the time to create a life plan, the 3 critical questions you would need to answer to create your life plan, as well as an action plan to carry it out.
Creating a life plan feels completely feasible and inspiring due to the many examples the authors provide throughout the book to both clarify and illustrate its various components. The various templates and online tools are also a huge help!
As a social worker or other mental health professional, having a tool like this that enhances overall wellbeing can be powerful. In our efforts to focus on the care for our clients, some of us may forget to tend our own gardens. However, as Michael and Daniel state: "You can't take care of anyone else unless you first take care of yourself."  In other words, we must take care of ourselves to provide the best care for our clients.
Secondly as they wisely state, before being able to support and empower our clients, we must "Practice before you preach." Or to put it another way, we can only ask and encourage our clients to take control of their lives after we have written our own life plans.
Now, without further ado, below are the key ingredients Michael and Daniel recommend for creating your life plan.
What Is a Life Plan?
As per the Living Forward authors, a life plan is akin to a GPS app that you need to stay on track to the path of the life you want. It is usually a short written document (5 to 15 pages) that:
Is created by you and for you
Describes how you want to be remembered
Articulates your personal priorities
Specifies the actions necessary to take you from where you are to where you want to be in every major area of your life
Is a living document that you will tweak and adjust over time
Why Create a Life Plan?
To increase your likelihood that you will get to where you want to go + live a more fulfilled and balanced life!
Clarify Priorities – You will avoid overanalyzing or second-guessing; what's most important to you will be clearer.
Maintain Balance – You will be able to give appropriate attention to each of your life areas (i.e., you may grow at work without diminishing other areas of your life).
Filter opportunities – You are able to manage your opportunities rather than be managed by them.
Face realities – You must acknowledge any problems you may have in health, work or at home etc., to be able to address and improve them.
Envision the future – You focus on what you see; choose a future/vision that compels you.
Avoid regrets – You can dramatically increase the chances of doing what you want to do.
Create Your Life Plan
How Do You Want to Be Remembered > Your Legacy
Identify key relationships

Children
Parents
Extended Family
Friends
Colleagues
Mentees
Community Members
Others?

Indicate how you would like to be remembered by each relationship

Visualize how you would like to be remembered when you are gone? This is your legacy. You have the ability to change the direction of how they will remember you now!
What Matters Most to You > Your Priorities
Identify your life accounts (for example)

Faith
Self-care
Family
Extended Family
Career
Creating
Adventure

Prioritize accounts

To avoid the cultural drift, you have to choose where you want to go.

Assess current status

Accounts either have a growing, consistent or declining balance.
Use the online Life Assessment Profile tool to see whether each account is getting what it needs.
Aim for a positive balance in each of your life accounts.
How Do You Get From Where You Are to Where You Want to Go > Action Plan
State purpose of each life account – describe your primary responsibility as if you were assigned the role of wife/mother etc.
Describe envisioned future – employ all five senses to describe how the account looks when your account is functioning at its best as if it is already a reality. Use present tense to further solidify this feeling, belief and confidence in yourself and your ability to achieve your goal.
Select an inspiring quote for each account
Summarize current status – a few simple bullets of where you stand for each life account
Commit to a few specific SMART actions that are specific, measurable, actionable, realistic and time-bound
Dedicate 1 day to creating your life plan – it takes a full day to get it right; block time off on the calendar and unplug.
How Do You Implement Your Plan?
Triage your calendar – Templates are provided to help!
Schedule priorities
Use the Yes-No-Yes technique to say no to more requests
Maintain a schedule for reviewing and tweaking to keep your plan on track!
To elaborate a bit more on why using Living Forward [affiliate link] may be particularly helpful to working with clients:
Clients often come to social workers and other helping professionals looking to improve one area or another of their lives, not being aware of how one area may be impacting other areas. Other individuals may come in feeling a drift from where they want to be and/or seek to improve their relationships.
By encouraging clients to create their own life plans, you may help them gain quicker clarity over what their needs and issues are, determine their desired destination in all the areas of their lives and start making improvements within their relationships and other realms.
Now, that I've finished the book and this post, I can't wait to set aside a day to put together my plan!
What are your thoughts about putting together a life plan, or using the book in your work with your clients?

Like this content? Please share it!
Disclosure of Material Connection: I received one copy of the book mentioned above for free in the hope that I would mention it on my blog. Regardless, I only recommend products or services I use personally and believe will be good for my readers. I am disclosing this in accordance with the Federal Trade Commission's 16 CFR, Part 255: "Guides Concerning the Use of Endorsements and Testimonials in Advertising."