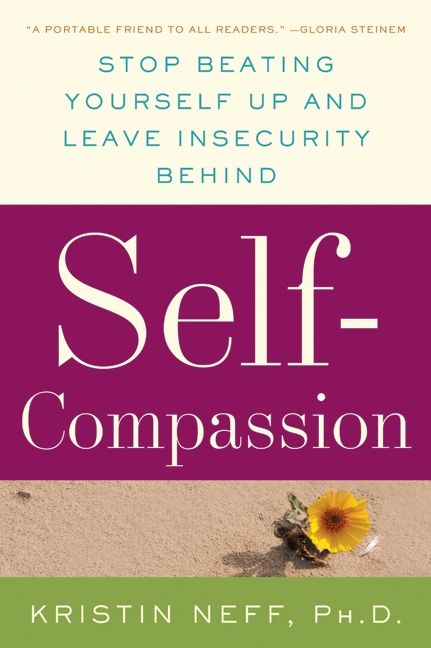 Do you tend to be kind and compassionate toward others but have difficulties in showing such kindness toward yourself? Do you find yourself being too critical about yourself in some areas and then you beat yourself up for not being able to quiet that inner critic?

I know that I need some work in this regard… In fact, it is because my self-critical voice has recently started bashing me that I found myself drawn to Dr. Kristin Neff's work about self-compassion.
According to Dr. Neff, the author of the book Self-Compassion: Stop Beating Yourself Up and Leave Insecurity Behind, (affiliate link) we should have compassion towards our [harsh] self-critical voice. This is because our inner critic believes that it is doing what is necessary in order to ensure our success and safety!
Why Should We Have Compassion for Our Self-Critic?
Our biological response to danger is the fight, flight or freeze response; the inner critic reads a mistake on par to a real-life danger to our very essence, to our ability to be loved/accepted by others and/or to our ability to provide for ourselves.
It is trying to protect us [to ensure our safety, keep us being loved and accepted]
It thinks that the best way to motivate us [to improve/to prevent future mistakes] is to be harsh
It thinks that the best way to get us through a painful situation is to ignore the pain [otherwise, we may drown in our sorrow]
But in Reality Our Self Critic Is Wrong:
Harsh criticism may motivate in the short term but in the long term, this is discouraging, demotivating and may lead to anxiety and depression
The best way to motivate us is through self-compassion [no negative side-effects]
Acknowledging the suffering enables us to get through the pain
A more effective and positive way to both motivate and care for ourselves is to be self-compassionate.
Self-compassion has 3 main components:
Self-Kindness
A Sense of Common Humanity
Mindfulness
Self-Kindness refers to taking a warm and understanding approach towards ourselves when we are suffering, have made a mistake, are feeling inadequate vs. the stiff-upper lip variation of ignoring the pain or punishing ourselves with self-criticism.
A Sense of Common Humanity is the recognition that both suffering and personal inadequacy are part of the shared human experience. Often, it may feel as if you were the "only" person suffering or making mistakes, leading to an irrational feeling of isolation but this is not true.
All human beings suffer. You are not the only one. Recognition of this can help us feel less alone and less judgmental of our personal failings.
Mindfulness denotes to becoming aware of when you are suffering. It also means striving for a non-judgmental mind state in which you are able to observe your thoughts and feelings as they are, without trying to suppress or deny them.
Below is 20 min. video clip with Dr. Kristin Neff
By employing the elements of Self-Kindness, Common Humanity and Mindfulness together, you can create a self-compassionate frame of mind, that is, a kind and understanding tone towards yourself when suffering occurs due to either external circumstances or personal failures/inadequacies.
Meditation is one method that is recommended in order to both increase your capacity for mindfulness and self-compassion. [There are also specific meditations geared towards building self-compassion such as Lovingkindness etc.]
Below is a description of a simple and kind self-compassion building exercise that Dr. Neff describes in her Compassion for the Self-Critic talk for SoundsTrue.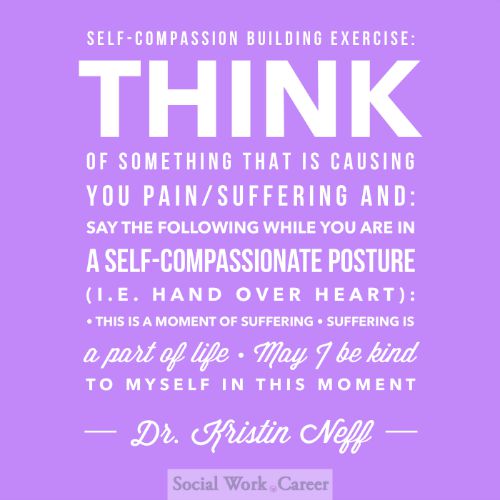 Self-Compassion Building Exercise:
Think of something that is causing you pain/suffering and:
Say the following while you are in a self-compassionate posture (i.e. hand over heart):
Optional: Have compassion for the self-critical voice that is trying to protect you and/or motivate you; Thank you for trying to help me; I'm going to try to motivate myself with some kindness now.

This is a moment of suffering

Suffering is a part of life

May I be kind to myself in this moment
Alternatively, you could say:

This is really hard right now

This is part of shared human experience

May I give myself the compassion I need

Or you could come up with your own variation.
The main idea is to provide yourself with some physical comfort by placing your hand over year heart, hand on your cheek or shoulder, or hands crossing your body as if in a hug.
This is because we are mammals and therefore we will respond in a positive way to the warm soothing touch.
The second part is to speak in a soothing tone as if to a friend or child whom we care about, a self-compassionate message to honor and accept our humanness. Things will not always go that way we want them to. We do not have control over things.
We will all encounter frustrations, mistakes, losses, suffering and the more we are able to accept this [and stop fighting this], the more we will be able to feel compassion for ourselves and everyone in this journey of life.
Ideally, it would be great if we could practice this type of exercise on a daily basis. In this way, we would be slowly training our minds to incorporate self-compassion as a new habit.
You could also try doing this exercise whenever you are feeling bad or inadequate and see how you could offer yourself some comfort in this manner…
Personal Application:
I will be trying to employ this exercise over the next couple of weeks in the hopes that it will increase my ability to be more self-compassionate. After all, beating myself up for not being able to do more than what I am able to do will not change my current circumstances.
However, showing some self-compassion and acceptance may enable me to focus more on the positive things that have taken and/or are taking place during my unplanned detour. In addition, it may encourage me to be more understanding and accepting of the painful parts of this detour and to realize that this will eventually pass, albeit at a different time schedule than what I had thought.
What are your thoughts about self-compassion? Is self-criticism something that you wrestle with? If you have given Dr. Neff's self-compassion building exercise a try, how did it feel?
SaveSave
SaveSave