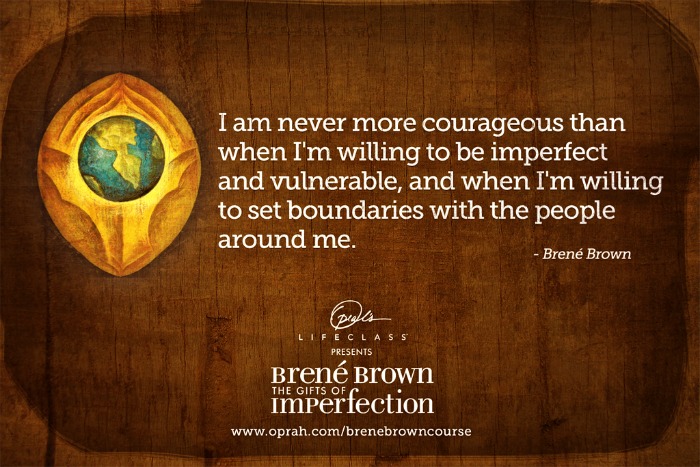 Have you wanted to try art journaling but weren't quite sure what was involved?

Art journaling can be a fun way of engaging in self-care while tapping into your creative side and you don't even need to know how to draw :)Some of the benefits to art journaling, according to Malchiodi (2010),  are that:
It's fun
It's a form of self-care
It allows you to explore your feelings
It enables you to review life experiences
It helps you plan or envision goals
It further develops creativity
It provides you with some health/stress benefits [such as: reducing your heart rate, increasing serotonin flow and decreasing stress responses]
A journal, some art supplies and writing utensils.
If you want some specific suggestions, Brené Brown recommends the following supplies in her journaling class [described below]:
Medium-sized wire bound sketchbook [suggested paper weight 80-100 lbs to enable you to paint in journal with watercolors]
Waterproof colored pens and/or markers
Double-sided tape
Watercolors
Whatever art materials you have on hand and want to use to decorate your journal [stamps, stickers etc.]

What Do You Art Journal About? 
It is up to you – you are free to play with your supplies in your journal in whatever way you would like. At times, you may wish to express your feelings or thoughts about something; at other times, you may want to relive a past memory or create/attach keepsakes of a current event as a memory to cherish.Sometimes, you may want to write down your thoughts [as in a traditional diary] with or without decorations. Other times, you may be in the mood to see what flows when you pick up the paint brush and/or other materials.
To get started with art journaling, you may want to take a class or look at some fun journal prompts/ assignment ideas that you could use [or adapt] for your own purposes.
2 creative bloggers who provide many free journaling ideas are:
What Would a Social Worker or Mental Health Professional Art Journal About?
A clinician may use an art journal in the same manner [with similar ideas] as a lay person. In addition, below are a few prompts you may find helpful as a starting point:
Did you have a difficult day at work? You could try expressing your emotions and/or difficulties via a collage of words, images or colors.
Did you have a pleasant or unpleasant countertransference with a client? You could try to explore the source of your feelings via words or paint in your journal [or a combo].
Are you feeling a bit run-down? You may enjoy making a page of uplifting quotes. This may not only lift you out of your current funk but be something you'll enjoy looking at over time.
Are you having difficulties with a particular task? You could try writing/illustrating a scene in which you surmounted a past obstacle so as to inspire yourself to get past the current challenge.
Once you have made a few journal entries, you'll soon find that you will be inspired with ideas of your own for subsequent entries.
Journaling a la Brené Brown
I started journaling thanks to Brené Brown's "Letting Go of Perfectionism" art journaling class this Fall/Winter.
It was a wonderful 6-week online class [with weekly inspiring recorded video individual visits from both Brené Brown and Oprah Winfrey] that consisted of various art journal projects and reading assignments from Brene's book "The Gifts of Imperfection."
This class embraced the concepts of self-acceptance, courage, compassion and connection. It was a class that not only I enjoyed and found meaningful, but my daughter did as well.
Working on our art journals became a shared and fun activity to look forward to doing together and it strengthened our connection 🙂
We're both so happy that Brené Brown will be offering a Part II of this course in March 2014!
To give you an example of some of the exercises we had done, when we first began, we were told to make a page of "permission slips."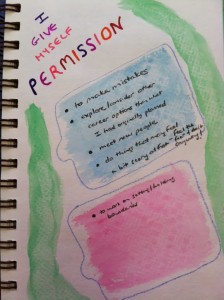 This was essentially to jot down a list of things that we feel we could benefit from permission [or freedom] to do.
For example, I gave myself permission to:
Explore and try out new things
To the right, you see my journal entry in all its imperfection!
This was a wonderful way to begin working on the journal because it released you from thinking you need to be [or do things] in a certain way.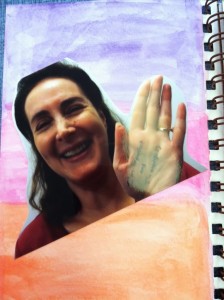 The second activity involved:
1) Writing on your hand: "I'm imperfect and I'm enough"
2) Taking a picture of yourself with this sentence appearing on your hand
3) Placing this picture in your art journal [and decorating the frame/page as you like]
The purpose of this exercise was to remind ourselves to embrace our imperfections.
Having this visual reminder in our journals will help us counteract the old critical scripts in our brains.

What are your thoughts about art journaling?
Like this post? Please share it!

References: