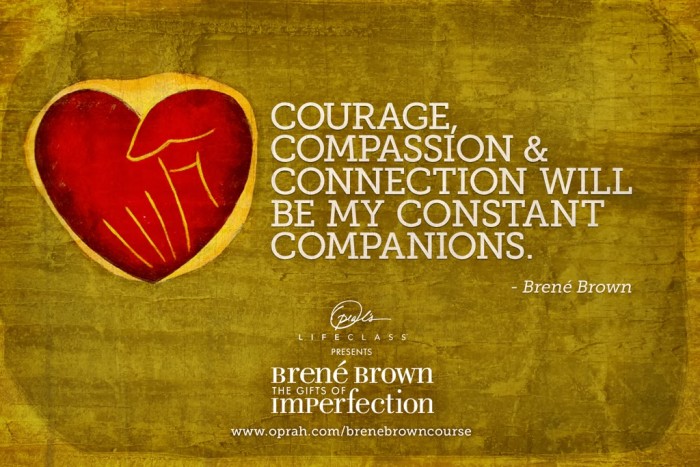 Courage, Compassion and Connection
Wholehearted living,
Courage, compassion and connection,
Such lovely, powerful, words,
But what do they really mean?
According to Brené Brown,
It is about engaging in our lives,
From a place of worthiness,
Embracing our imperfections,
And feeling that we are enough,
This means letting go of who,
We think we're supposed to be,
And embracing who we are.

It is possible; it takes intention,
And practice… lots of practice,
It is through the three Cs,
Courage, compassion and connection.
You know that feeling you get inside,
When someone says something hurtful,
Or when you've made a mistake,
And shame starts to wash over you…
Different people may respond in,
Various ways to this emotion,
Some may feel heart palpitations,
Sweat or other symptoms of anxiety.
You may get red in your face,
Feel pain/pressure in your chest,
Want to disappear or run away,
However if you practice the 3 Cs,
You are able to stop shame in its tracks!
Practice COURAGE to be vulnerable,
And share your story of what happened,
the pain, the mistake, whatever it is,
That made you feel just awful,
To someone special whom you trust,
Who sees and values you as yourself,
Who will not judge you.
Establishing this CONNECTION is priceless,
It enables you to draw sustenance and strength,
Regain your equilibrium and puts into perspective,
That which you wish had not happened.
Last but not least, practice COMPASSION,
With yourself for what happened,
Mirror your confidant's compassion,
Loving acceptance of your imperfections.
Shame can no longer exist…
It may only survive,
When kept hidden and in the dark.
Therefore, try to practice your 3 Cs…
Are any of you participating in Brené Brown's 6-week online art journaling course? My daughter and I are doing it together. It is not only fun and meaningful but I am full of gratitude for the course deepening our connection.

What are your thoughts about living wholeheartedly?
Reference:
Brown, B. (2010). The Gifts of Imperfection. Hazelden. Minnesota.
SaveSave